The mannequin challenge continues to plod along as an ostensibly pointless, hugely viral social media trend that will eventually prove boring to the masses and disappear from feeds. 
If you are one of those already sick of it, you're in good company. A bored looking Robert De Niro seemed less than impressed to be involved in one alongside other high-profile figures receiving their Presidential Medal of Freedom from Barack Obama.
The 'challenge' involves everyone in a room standing completely still while someone on video weaves in and out, capturing the scene on camera. So far we have seen Hillary Clinton and her campaign team, including Bon Jovi, complete the challenge as well as a reunified Destiny's Child. On Tuesday, prior to the awards ceremony, the number of famous people in one room essentially playing a game of statues reached new heights.
Barack Obama hands out his final Presidential Medal of Freedom awards
Barack Obama hands out his final Presidential Medal of Freedom awards
1/10 Tom Hanks

Barack Obama smiles before presenting actor Tom Hanks with the Presidential Medal of Freedom

Getty

2/10 Cicely Tyson

President Barack Obama presents the Presidential Medal of Freedom to actress Cicely Tyson

Getty

3/10 Michael Jordan

Michael Jordan waits to receive his medal

Getty

4/10 Melinda and Bill Gates

Melinda and Bill Gates receive their medals

Getty

5/10 Ellen DeGeneres and Robert De Niro

Robert De Niro comforts Ellen DeGeneres after she becomes emotional accepting her medal

Getty

6/10 Eduardo Padron

President Barack Obama awards the Presidential Medal of Freedom to higher education advocate and Miami Dade College President Eduardo Padron

7/10 Diana Ross

Diana Ross and President Obama

Getty

8/10 Robert De Niro

Obama awards Robert De Niro the Presidential Medal of Freedom

Getty

9/10 Kareem Abdul-Jabbar

Barack Obama congratulates National Basketball Association all-time leading scorer and social justice advocate Kareem Abdul-Jabbar

Getty

10/10 Ellen DeGeneres

Comedian and talk show host Ellen DeGeneres wipes away tears as her citation is read before being awarded the Presidential Medal of Freedom by U.S. President Barack Obama

Getty
Tracee Ellis Ross, the Black-ish actress and daughter of Medal of Freedom honouree Diana Ross shared the video on Instagram where Tom Hanks and his wife Rita, Michael Jordan, Bill Gates and more can be seen standing perfectly still. The clip kicks off with a blinking De Niro suggesting he did not fully grasp the concept, or just couldn't care less.
The Taxi Driver actor, who became the subject of a viral video himself throughout the election campaign, probably had bigger things on his mind and may well have been contemplating the Trump presidency while standing in the White House. Last week he described his battle to come to terms with a Trump presidency, comparing the feeling to the way he felt after 09/11.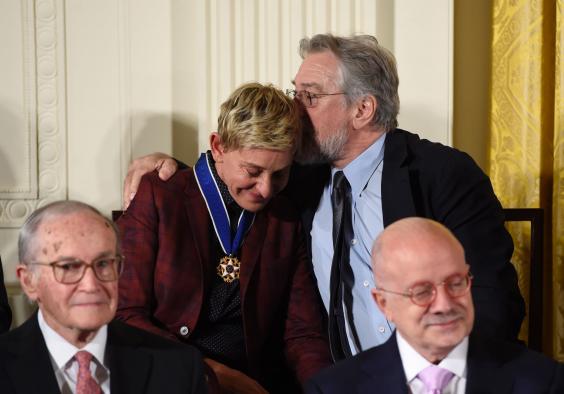 The 73-year-old's stern exterior dropped when he was on hand to comfort Ellen DeGeneres who was overcome with emotion after Mr Obama commended her bravery in coming out 20 years ago and the work she has done for LGBT rights since. 
Reuse content