You. Reader. Might. Care. Probably. Not.
But Robert Downey Jr. is set to welcome his third child.
And he announced the news, somewhat uncharacteristically, in a big, monosyllabic, social media overshare.
The Iron Man actor has only been on Twitter for a matter of months, and shared just 31 tit-bits of information with his two million followers – mostly pictures of him on the set of The Avengers, casually dining with Samuel L. Jackson and sporting sunglasses that would make Elton John deeply envious.
So some were surprised when the usually private star not only revealed the personal news about his wife Susan's condition on the social networking site, but also the gender and due date of their future child:
Yo. Susan. Me. Baby. Girl. November. Scorpio?

Robert Downey Jr (@RobertDowneyJr) July 9, 2014
He followed up his post with a further message via his official Facebook account: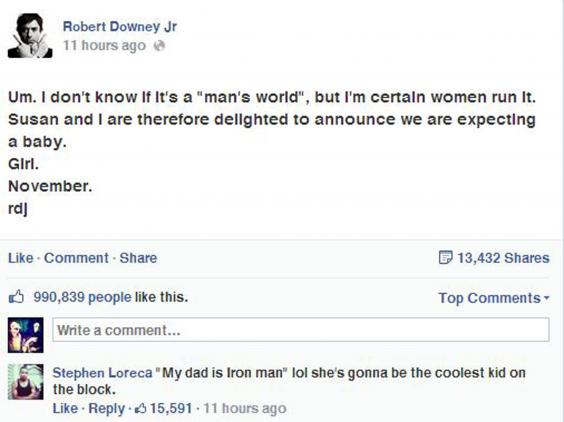 Downey Jr. married Susan in 2005. They are already the proud parents of their son Exton, two. Downey Jr. also has a 20-year-old son Indio from a previous relationship.
Indio hit the headlines recently after he was arrested for possession of cocaine.
Downey Jr., who spent years battling his drug-related addiction before quitting in 2003, released a statement to the media about the incident, claiming that his son had inherited the trait.
"Unfortunately there's a genetic component to addiction and Indio has likely inherited it," he said.
"There is a lot of family support and understanding, and we're all determined to rally behind him and help him become the man he's capable of being."
Reuse content