A rare 2010 television interview with the brother of Robert Durst, the New York property scion suspected of at least three killings, reveals the complete lack of contact between Durst and the rest of his extended family.
The interview aired in 2010 and was shown in episode five of the HBO documentary The Jinx. It shows Douglas Durst, another New York real-estate guru, talking to Budd Mishkin about his troubled brother.
"I have no direct contact nor does anyone in my family have any contact with my brother," he told NY1 on camera. "Unfortunately, there is no haven from what's going on with my brother as it's in the papers quite frequently, but it's not something that we discuss and not something that we have any involvement in.
"There is no way to describe what my family and I, my entire family, extended family, go through because of this."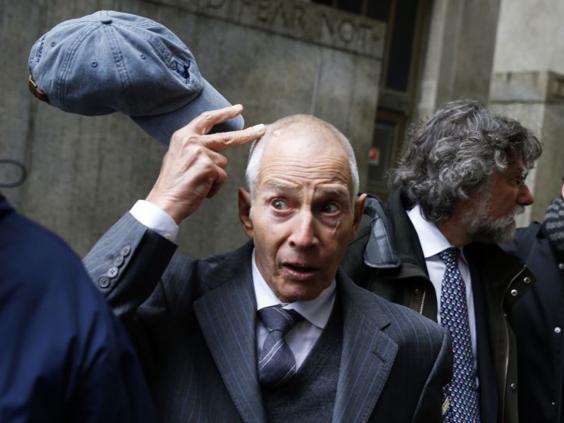 Robert Durst, 71, was arrested in New Orleans on Sunday morning in relation to the death of his friend Susan Berman, who was shot in the back of the head in 2000.
Durst, estranged son of the billionaire Seymour Durst, has long been the subject of police inquiries into the killing of Berman and the 1982 disappearance of his first wife, Kathleen Durst.
Durst was formally charged with first-degree murder on Monday over the death of Berman and will stand trial in Los Angeles.
In the HBO documentary, Durst is caught talking to himself in an unguarded moment. "There it is. You're caught," Durst is heard to say to himself in the lavatory. "What the hell did I do? Killed them all of course." It is not clear whether he was speaking sincerely.
Ahead of the documentary, Douglas spoke to the New York Times about his brother and their sibling rivalry since a young age, mentioning how he kept a piece of pipe on his desk "to protect myself", as Robert had a sharp-pointed plumber's wrench on his.
Douglas did say that, while his 2010 interview said there was no direct contact, in recent years Robert has now twice appeared at his home just outside of New York City, once with two guns and the other time in a ski mask.
"There's no doubt in my mind that if he had the opportunity to kill me, he would," Douglas told the New York Times.
The New York Times contacted Robert Durst's lawyers to discuss the matters raised by Douglas, but they declined.
Reuse content