Steve Martin has led relatives, Hollywood actors, directors and friends in tributes for the late Robin Williams, who has died at the age of 63.
The Oscar-winning actor and comic was found dead at his home in Northern California from an apparent suicide on Monday morning.
The beloved star, who appeared in hugely popular films including Mrs Doubtfire and Good Will Hunting, was last seen alive at his home, where he lived with his wife Susan Schneider, at around 10pm on Sunday.
Fellow comic and Waiting for Godot co-star Martin expressed his shock at his friend's passing on Twitter, writing: "I could not be more stunned by the loss of Robin Williams, mensch, great talent, acting partner, genuine soul.
In his final posting on Instagram on 1 August, Williams had wished his daughter Zelda a happy 25th birthday with a photo of the pair, saying: "Quarter of a century old today but always my baby girl. Happy Birthday @zeldawilliams Love you!"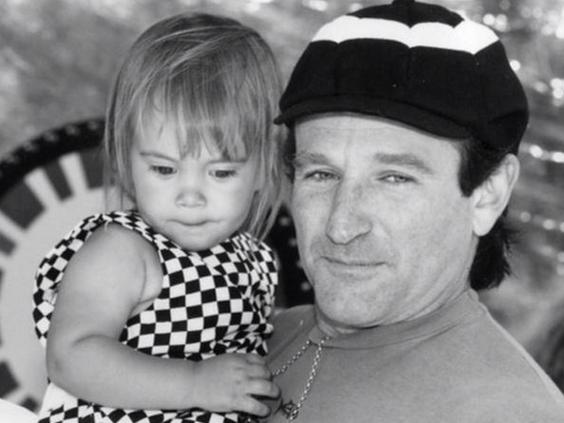 Shortly after news of her father's death was announced, his daughter Zelda shared a quote from Antonie De Saint-Exuprery's book The Little Prince, which read: "You - you alone will have the stars as no one else has them... In one of the stars I shall be living. In one of them I shall be laughing.
She added: "I love you. I miss you. I'll try to keep looking up. Z."
As word of his death spread, tributes from inside and outside the entertainment industry have continued to pour in, with many describing just how much Williams loved to make people laugh.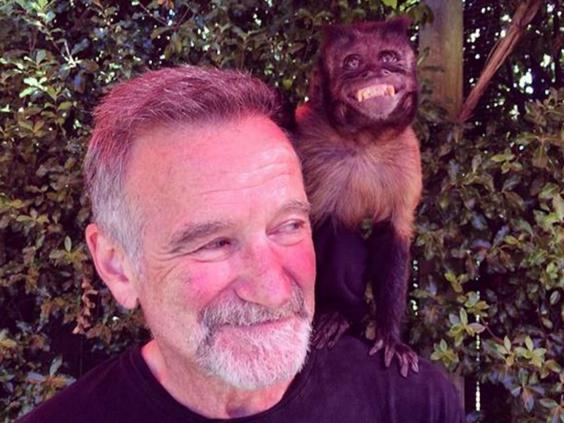 Arnold Schwarzenegger described Williams as "a legend", while Wesley Snipes said: "the world has been a better place as a result of him."
Robin Williams made the world laugh & think. I will remember & honor that. A great man, artist and friend. I will miss him beyond measure.

; Kevin Spacey (@KevinSpacey) August 12, 2014
Actor Johnny Depp said "the world lost a legend of an actor and an extraordinary man today", echoing a sentiment expressed in numerous tributes.
Night At The Museum co-star Ben Stiller praised Williams' "kindness and generosity" adding "And he could not help but be funny all the time.
"He would do something as long as it would keep you laughing. He made many, many film crews laugh out loud before the audiences ever saw it
A tweet cannot begin to describe the hugeness of Robin Williams heart and soul and talent. This is so sad. #RobinWilliams

; Ben Stiller (@RedHourBen) August 12, 2014
Williams shot to fame in the late 1970s as an alien in the US TV comedy series Mork And Mindy, which became the spring board for a career spanning four decades and roles in critically acclaimed films such as Dead Poets Society ,The Fisher King and Good Morning, Vietnam.
Pam Dawber, his Mork and Mindy co-star, voiced her sadness at her friend's passing with: "I am completely and totally devastated. What more can be said?"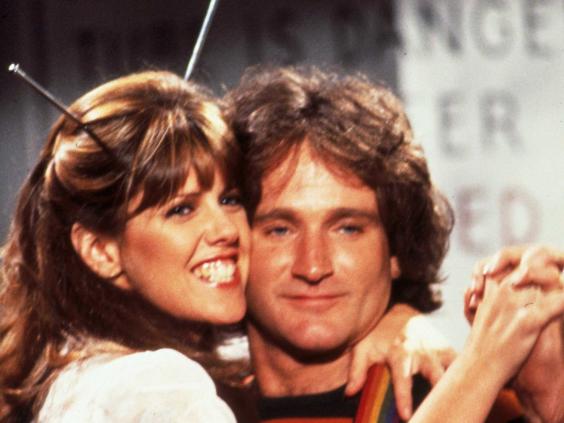 Gary Marshall, the producer who cast Williams in his break-out role, said simply: "He could make everybody happy but himself."
Comedian and actor Billy Connolly, a close friend of Williams, said: "Robin was both my friend and my hero, a unique talent and a kind and generous man; the world will be a much poorer place without him."
One of Williams' most memorable roles came in the form of a housekeeper in the comedy Mrs Doubtfire, a film that endeared Williams to the hearts of many. The film's director, Chris Columbus, said in a statement: "We have lost one of our most inspired and gifted comic minds, as well as one of this generation's greatest actors. To watch Robin work, was a magical and special privilege."
In pictures: Robin Williams 1951 - 2014
In pictures: Robin Williams 1951 - 2014
1/25 Mrs Doubtfire

Robin Williams with Sally Field in Mrs Doubtfire

2/25 Oscar

He won the Best Supporting Actor Oscar for 'Good Will Hunting' in 1997

Getty

3/25 Mork and Mindy

In Mork and Mindy, the TV series that launched his career in the 1970s

Rex

4/25 The Tonight Show

On 'The Tonight Show with Jay Leno' in 2004. Williams was renowned for his hyperactive appearances on talk shows

Getty

5/25 Williams' hand and footprint ceremony

Williams with two of his children, Cody (centre) and Zelda, and his wife, Marsha, during his hand and footprint ceremony outside the Mann's Chinese Theatre in Hollywood in 1998

6/25 Premiere of Old Dogs

Robin Williams and his wife Susan Schneider at the premiere of "Old Dogs" in Los Angeles on 9 November 2009

7/25 Tour de France

US cyclist Lance Armstrong chatting with US actor Robin Williams after he won the 91st Tour de France cycling race between Valreas and Villard-de-Lans on 20 July 2004

8/25 Annual People's Choice Awards

Presenter Robin Williams speaks during the 35th Annual People's Choice Awards held at the Shrine Auditorium on 7 January 2009 in Los Angeles, California

Getty

9/25 The Big Wedding

All star cast: Susan Sarandon, Robert De Niro and Robin Williams star in The Big Wedding

10/25 Building homes

Robin Williams Helps Build Homes With Habitat For Humanity, 4 December 2000 in Wilmington

Getty

11/25 Premiere of Man of the Year

Robin Williams and wife Marsha Garces Williams arriving for the premiere of Universal Pictures "Man of the Year" at Grauman's Chinese Theatre in the Hollywood section of Los Angeles on 4 October 2006

12/25 CW, CBS And Showtime 2013 Summer TCA Party

Robin Williams at the CW, CBS And Showtime 2013 Summer TCA Party on 29 July 2013 in Los Angeles, California

Jason Kempin/Getty Images

13/25 Holiday Troop Visit

Robin Williams and US celebrity Lewis Black (L) laughing in the back stage during the entertaining performance of "Holiday Troop Visit" by US celebrities for Christmas at boardwalk stage of the Kandahar Air Field, Afghanistan on 16 December 2010

14/25 Andre Agassi's Grand Slam for Children press conference

Robin Williams speaks during the Andre Agassi's Grand Slam for Children press conference at the MGM Grand Hotel, 2 October 2004 in Las Vegas, Neveda

Getty

15/25 Golden Globe

Robin Williams holds his Golden Globe after winning for best actor in a comedy for his role in 'Mrs. Doubtfire' 22 January 1994

Getty

16/25 Premiere of Happy Feet Two

Robin Williams attends the Premiere of Warner Brothers Pictures' "Happy Feet Two" at Grauman's Chinese Theatre on 13 November 2011 in Hollywood

17/25 Good Will Hunting

Matt Damon and Ben Affleck pose with actor Robin Williams with their Oscars they won for 'Good Will Hunting' at the 70th Annual Academy Awards 23 March in Los Angeles

Getty

18/25 Mork and Mindy

Robin Williams in 1980 with Pam Dawber, his co-star in the Mork and Mindy TV series

Rex

19/25 The Crazy Ones

Robin Williams with his Mork and Mindy co-star Pam Dawber in The Crazy Ones series, 2014

20/25 Yankees versus Pittsburgh Pirates

Robin Williams attends a game between the New York Yankees and the Pittsburgh Pirates during the Grapefruit League Spring Training game on 13 March 2008 at Legends Field in Tampa, Florida

Getty

21/25 Posing

Robin Williams poses for a portrait during the 35th Annual People's Choice Awards held at the Shrine Auditorium on 7 January 2009 in Los Angeles, California

Michael Caulfield/Getty Images for PCA

22/25 Cecil B. DeMille Award

Robin Williams holds his Cecil B. DeMille Award with award presenter Pierce Brosnan at the 62nd annual Golden Globe Awards show 16 January 2005 in Beverly Hills

Getty

23/25 Happy Feet Two

Robin Williams laughs with Elijah Wood on arrival for the world premiere of the movie 'Happy Feet Two' in Hollywood on 13 November 2011

Getty

24/25 Tony Awards

Robin Williams speaks during the 65th Annual Tony Awards at the Beacon Theatre on 12 June 2011 in New York City

Getty

25/25 AFI Life Achievement Award honoring Mike Nichols

Actor Robin Williams speaks on stage during the 38th AFI Life Achievement Award honoring Mike Nichols held at Sony Pictures Studios on 10 June 2010 in Culver City, California

Kevin Winter/Getty Images for AFI
Director Steven Spielberg, who also worked with Williams on the Peter Pan spin-off, Hook, remembered his long-time friend as "a lightning storm of comic genius".
"Our laughter was the thunder that sustained him," he said. "He was a pal and I can't believe he's gone."
Actress Minnie Driver, Williams' co-star in the film that earned him his only Oscar for best supporting actor, added: "I never met anyone who loved making people laugh more than Robin.
My Heart's broken. Robin was a beautiful, kind soul. Can't bear that he's gone. So incredibly sorry for his family.

; Minnie Driver (@driverminnie) August 11, 2014
John Travolta, who starred alongside Williams in the 2009 comedy Old Dogs, said he had never known "a sweeter, brighter, more considerate person that Robin".
"Robin's commitment as an artist to lifting our mood and making us happy is compared to none. He loved us all and we loved him back."
Glenn Close, Williams' The World According to Garp co-star, said: "I am absolutely heartbroken. Robin was a national treasure and a beautiful soul."
Actress Sarah Michelle Gellar, with whom Williams also made a return to TV last Autumn in CBS's The Crazy Ones, simply posted a collection of photos of the pair together.
August 12, 2014
Williams will appear in upcoming film Night at the Museum: Secret of the Tomb, playing the statue of Teddy Roosevelt who comes to life at night, and holiday comedy Merry Friggin' Christmas. He was also attached to a sequel to 1993 hit Mrs. Doubtfire.
We mourn the loss of our friend Robin Williams, who always made us laugh and smile. pic.twitter.com/UOY8LTjVRA

; Sesame Street (@sesamestreet) August 11, 2014
An autopsy is due to take place on Tuesday.
For confidential support call the Samaritans in the UK on 08457 90 90 90, visit a local Samaritans branch or click here for details.
Reuse content