Roy Keane has launched legal proceedings against Paddy Power after they used his face in an advertising campaign.
The ad saw Ireland's assistant manager mocked up as Mel Gibson's character William Wallace from the film Braveheart, with the words 'You may take our points, but at least we have our freedom (ya we p****ies)' across the top.
The billboard was fixed to the back of an articulated truck, which was then parked near the Aviva Stadium in Dublin on the day of the Republic of Ireland versus Scotland Euro qualifier.
The bookmaker has been involved in a number of provocative stunts in the past, including ads about immigration and the result of the Oscar Pistorious case.
The latter was deemed by the Advertising Standards Authority as bringing 'UK advertising into disrepute' last year.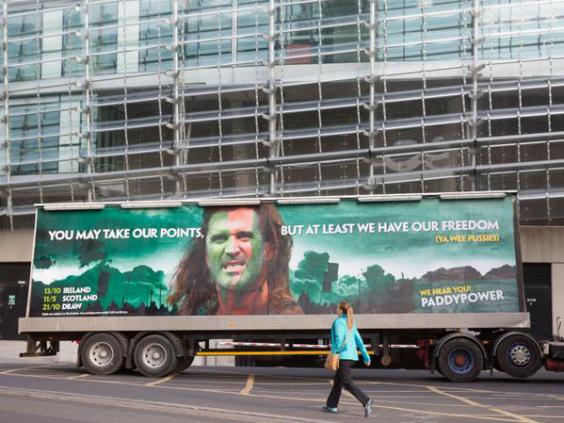 Keane filed a High Court action in Dublin on Monday, following a complaint from his solicitors that the billboard infringed his image rights.
A Paddy Power spokesman told the Times: "Roy Keane has taken legal action against us following his face appearing on our Braveheart billboard ahead of the Ireland-Scotland game.
"It's with the lawyers now so obviously we can't talk about it, but hopefully they won't take our freedom to have a bit of craic."
Paddy Power also seemingly responded the legal proceedings on Twitter this morning:
Gonna have a coffee and a browse of the ol' internet here. See if there's anything about Paddy Power in the news... pic.twitter.com/69ZGCd7U8W

— Paddy Power (@paddypower) July 10, 2015
Reuse content