When Ruby Joy, a New Zealand-based singer and songwriter, woke up on Sunday morning she found herself in a dark place. Having long battled anorexia, her parallel struggle with depression had tipped her towards suicidal thoughts.
Then Ms Joy read the recent postings of a British Facebook acquaintance whose son had days earlier taken his own life, imploring others to "look after the people you love". The poignant observations of this grieving mother persuaded Ruby that she could not inflict upon her own family and friends the pain her death would cause.
What Ms Joy did not realise was that her Facebook friend was a UK literary celebrity - the author and journalist Julie Burchill - who in turn harnessed the power of social media to show Ruby that, as the singer subsequently put it herself, "life is precious, that lots of people are good".
Ms Burchill, 55, had announced on her own Facebook page last week the death of her son, Jack Landesman, who took his life at the age of 29 after suffering depression throughout his adult life. In her posting Ms Burchill wrote: "'My beloved son Jack Landesman killed himself earlier this week. Look after the people you love, as I tried to and failed."
It was these words that Ms Joy woke up to read last weekend after finding herself in the grip of a depressive episode which had left her believing that no-one would mind if she "just disappeared".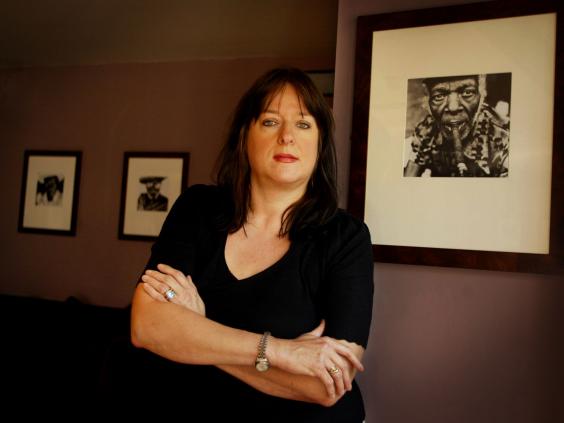 Ms Burchill's words inspired the singer to change her mind. Ms Joy said: "I realised that my brain had tricked me, I realised that as this mother grieved for her child so to would mine grieve for me, I thought of her son and the life he had and then suddenly didn't have and it made it real, I thought of my friends and people close to me that I would hate to hurt and put the pills away."
After messaging Ms Burchill to thank her, the writer posted her own reply, asking others to show their support for Ms Joy while the time difference meant she was asleep.
Ms Joy, writing on Monday, said: "Today I woke up with hundreds of comments and messages of love and support from strangers. It has shown me that life is precious, that lots of people are good, and that God is still doing miracles."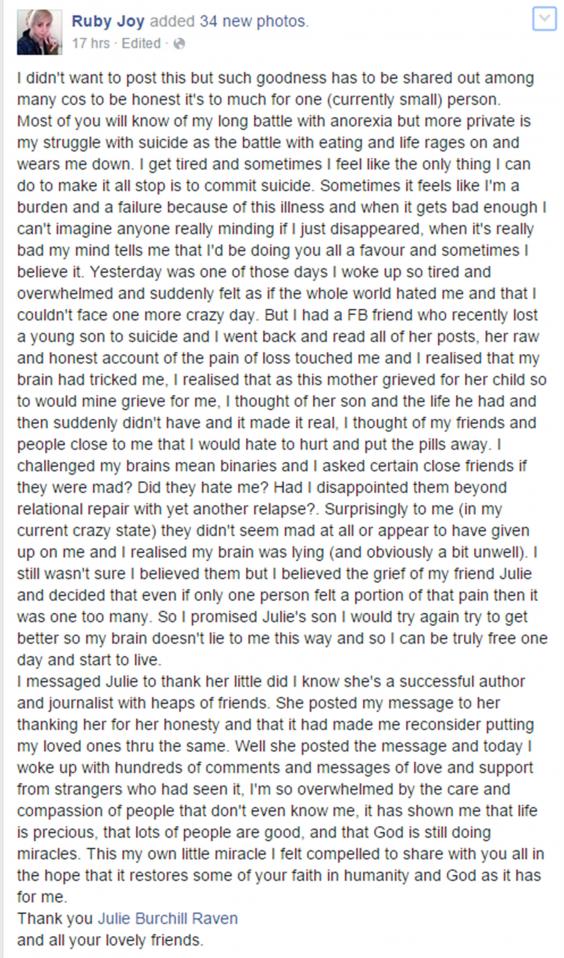 "The world is a better place with you around, dear," wrote one commenter Katherine Rosen.
Larissa Perry wrote: "You're a role model, Ruby, for courage, honesty and kindness. Lots of love and wishes to you (that's something my youngest son used to say when he was small: love and wishes, and I think it's perfect for you) and glad to be part of making you feel happy xxx"
The Samaritans helpline is open 24 hours a day: 08457 90 90 90
Reuse content