Rupert Murdoch and Jerry Hall have celebrated their wedding at a ceremony attended by a number of famous faces, from playwrights to Cabinet ministers.
The couple, who announced their engagement in January, officially married in a private ceremony at Spencer House in London on Friday.
Following Friday's ceremony, Murdoch told his 745,000 Twitter followers he would be taking a break from social media following his nuptials. 
They have now held another ceremony, which was expected to include around 100 guests, at St Bride's Church – which proclaims itself "the journalists' Church" - in the heart of Fleet Street.
The 84-year-old media mogul arrived at the Church with his sons wearing a navy suit just before 10.30am this morning.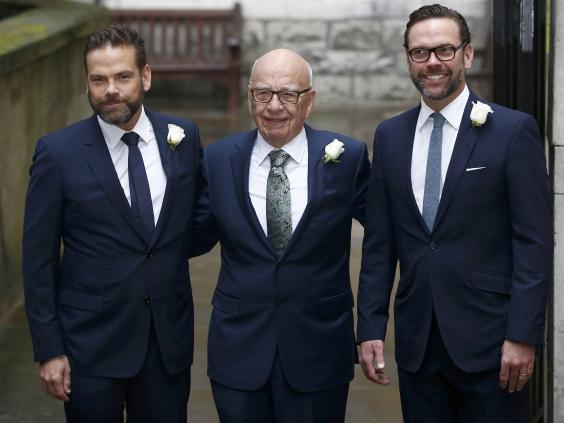 The comedian Barry Humphries, better known as Dame Edna Everage, joked as he made his way into the Church: "I'm not getting married", when reporters asked how he was feeling.
"I'm very happy. I think it's great, I like them both," he said.
Among the guests seen entering the church on Saturday morning were Sir Bob Geldof, Andrew Lloyd Weber, Richard E Grant, Sir Michael Caine and the artist Tracey Emin.
Murdoch and Hall wedding blessing
Murdoch and Hall wedding blessing
1/14

Suzanne Accosta, Bill Wyman, Jeanne Marine and Bob Geldof

AP

2/14

Rupert Murdoch with his sons Lachlan, left and James, right

3/14

Jerry Hall arrives at St Bride's for the ceremony to celebrate her marriage to Rupert Murdoch

4/14

Rebekah Brooks and her husband Charlie

5/14

Andrew Lloyd Webber and Madeleine Gurdon

6/14

Tracey Emin arrive at St Bride's

7/14

Michael Caine arrives for the service

8/14

Barry Humphries and Lizzie Spender

9/14

Justice Secretary Michael Gove

10/14

Paul Dacre, editor of the Daily Mail

AFP/Getty Images

11/14

Mick Jagger's daughter Jade Jagger

PA

12/14 Georgia-May Jagger

Georgia-May Jagger arrives for her mother Jerry Hall's wedding

Ben Pruchnie/Getty Images

13/14 Chloe and Grace Murdoch

Bridesmaids Chloe and Grace Helen Murdoch leave the wedding ceremony

Ben Pruchnie/Getty Images

14/14 Bianca Jagger

Bianca Jagger leaves St Brides Church

Ben Pruchnie/Getty Images
Notable media figures were, of course, also on the list including Alan Yentob, Rebekah Brooks, the Daily Mail editor Paul Dacre and the editor of The Sun Tony Gallagher.
Ms Hall, 59, then arrived. According to the Sydney Morning Herald, Hall's bridesmaids would include all of her and her and Murdoch's daughters, which totals six. Hall's daughters Georgia-May and Lizzy Jagger were seen wearing blue bridesmaids dresses as were Murdoch's daughters Grace and Chloe on Saturday morning.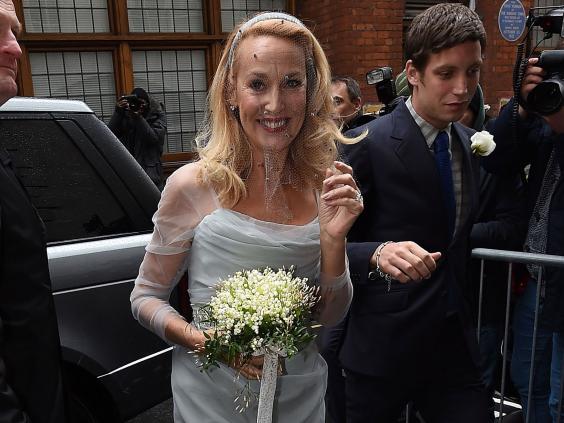 A number of politicians including Michael Gove and employment minister Priti Patel were also in attendance.
The marriage is Murdoch's fourth and Hall's first, she was previously in a long-term relationship with Rolling Stones frontman Mick Jagger.
The chosen venue for today's blessing has not been without controversy. Some Fleet Street journalists expressed anger at the venue choice, given his effective shut-down of the street's historic link with the industry after he relocated printing presses to Wapping, east London in the 1980s.
Additional reporting by the Press Association.
Reuse content