His first Newsnight appearance prompted howls of outrage when he dismayed democrats by espousing the virtues of not voting.
But a follow-up encounter with Jeremy Paxman's replacement, Evan Davis, on the same programme on Thursday night has generated greater levels of anger after the comic suggested he was "open-minded" about the notion that the US government had masterminded the 9/11 attacks.
In the latest appearance to promote the publication of his new book Revolution, Brand sought to highlight the links between former President George Bush and Osama bin Laden.
Questioned over the long-running conspiracy theories which have surrounded the tragedy, the comic said: "At this time when we have so little trust in our political figures, where ordinary people have so little trust in their media, we have to remain open-minded to any kind of possibility. Do you trust the American government? Do you trust the British government?"
Davis challenged the comic over claims in the book that the Twin Towers appeared to have been brought down by a "controlled explosion" and said that it was "ridiculous" to suggest that the assault had been carried out by anyone other than the terrorist group. Brand responded: "You can read the book in whatever manner you like."
Russell Brand's Most Controversial Quips
Russell Brand's Most Controversial Quips
1/19 On puberty:

"By puberty I learned that nothing worth having could be easily attained and to succeed one must be single minded."

PA

2/19 On changing the world:

"I want to change the world, and do something valuable and beautiful. I want people to remember me before I'm dead, and then more afterwards."

3/19 On being strong:

"Strength does not have to be belligerent and loud."

Getty

4/19 On grammar:

"I couldn't possibly have sex with someone with such a slender grasp on grammar!"

5/19 On manners in England:

"In England we have such good manners that if someone says something impolite, the police will get involved."

6/19 On junkie v vegetarian:

"Even as a junkie I stayed true [to vegetarianism] - 'I shall have heroin, but I shan't have a hamburger.' What a sexy little paradox."

7/19 On the future:

"People don't realize that the future is just now, but later."

Rex Features

8/19 On sex addiction:

"Boggle with sex addicts is up there with go-kart racing with junkies."

Reuters

9/19 On life:

"My life is just a series of embarrassing incidents strung together by telling people about those embarrassing incidents."

Frazer Harrison/Getty Images

10/19 On happiness:

"If you want to be happy stop being so self-obsessed and start considering other people."

Getty Images

11/19 On drug addiction:

"The mentality and behavior of drug addicts and alcoholics is wholly irrational until you understand that they are completely powerless over their addiction and unless they have structured help, they have no hope."

Getty Images

12/19 On sitcoms:

"I do have a regard for the musicality of language that came from BBC sitcoms like Fawlty Towers."

13/19 On life motivation:

"That's what keeps me alive, perversion and star quality."

Getty

14/19 On love:

"When you fall in love you recognise you're not the most important person in the world, and your focus becomes another person."

Getty Images

15/19 On threesomes:

"I like threesomes with two women, not because I'm a cynical sexual predator. Oh no! But because I'm a romantic. I'm looking for "The One." And I'll find her more quickly if I audition two at a time."

16/19 On Conservatives:

"Conservatism appeals to our selfishness and fear, our designer and self-interest."

PA

17/19 On surfing:

"Surfing should be called "foam-choking" or "sea stabbing."

Getty Images

18/19 On Demi Moore:

"I've not made love to her yet, but it's a matter of time."

STEVE MORGAN/AFP/Getty Images

19/19 On success:

"When I was growing up, I thought I'd be a lot happier if I was famous and successful and if I had money."

Getty Images
He added: "What I do think is very interesting is the relationship that the Bush family have had for a very long time with the Bin Laden family. What I do think is very interesting is the way that even the BBC report the events in Ottawa to subtly build an anti-Islamic narrative. I think that's very interesting. I think it's interesting is the way that these tragic events are used to inform further controls on us like this snooper's charter."
However, he later appeared to back down following a shouty exchange, during which Davis pleaded at one point: "I'm trying to take you seriously".
Brand insisted that he was not there to discuss "daft conspiracy theories" when he was asked whether he really believed the Bush family had been responsible for the outrage. The confrontation prompted a blizzard of condemnation on social media.
Jonathan Russell, political liaison officer of the anti-extremism group Quilliam Foundation, said the remarks were "irresponsible". He said: "For someone as high profile as Brand to make spurious accusations about the biggest terrorist act in living memory is irresponsible at best and offensive to the families of the 3,000 victims that died."
Brand was sacked from his job at MTV in 2011 when on the day after the attack he showed up for work dressed as the al-Qaeda leader.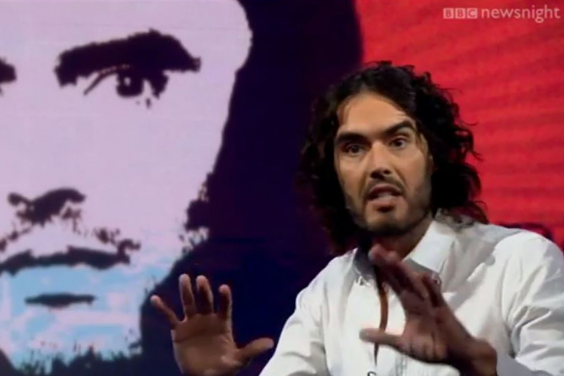 A BBC spokesperson said the corporation had received nine complaints following the appearance. "Love him or loathe him Russell Brand has been one of the most eloquent voices articulating the anti-politics mood that all British politicians are currently struggling to engage with," the spokesperson said.
In 2008 Brand prompted 42,000 complaints when he and broadcaster Jonathan Ross left obscene messages on the answerphone of the Fawlty Towers actor Andrew Sachs.
Psychologist's view: 'a seduction'
First, I'd better declare an interest. Years ago, before Russell Brand became a mega-star, I played his therapist in RE:Brand, a cable-TV show that put him in various strange situations. He blamed his father for many things and decided to fight him in a boxing match. My job was to prep him psychologically.
The young man I prepped was rather nervous and very different from the ebullient persona we saw on Thursday night. No other Newsnight interview has been so tactile. I can't think of another Newsnight piece when interviewer and interviewee held hands. I counted over 12 times when Russell put his hand on Evan's knee.
Normally we touch someone to reassure them or come on to them, but, after the Paxman interview last year, this wasn't the first time we've seen such a seduction scene in the current affairs flagship. Russell used his body language to comfort, as if to say: "Evan, mate, I'm not going to eat you, I'm not a dragon. My views may be sharp but I'm sweet."
Evan at first seemed to cower in his media shell, but Russell managed to put him at his ease. And bamboozle a bit. Evan didn't comment on the many times Russell broke out of their intimacy to face the camera directly. That was the real audience.
The confident can become overconfident and Russell, reclining in his chair, knees spread apart, was a bit too "Lord of the Universe". Bravado Brand will go down though as a memorable interview where the interviewee was in complete control. 
Dr David Cohen is a psychologist and expert in body language. He is the author of 'Body Language' (Sheldon)
Reuse content