Russell Brand has taken a rare step away from attacking media coverage of current affairs to focus his attention on the grubby world of tabloid gossip.
In particular, recent reports speculating over the gender of Bruce Jenner, the former Olympian and stepfather of Kim Kardashian West.
Celebrity rag In Touch, famed for their controversial covers, splashed with an altered image of Jenner wearing heavy make-up.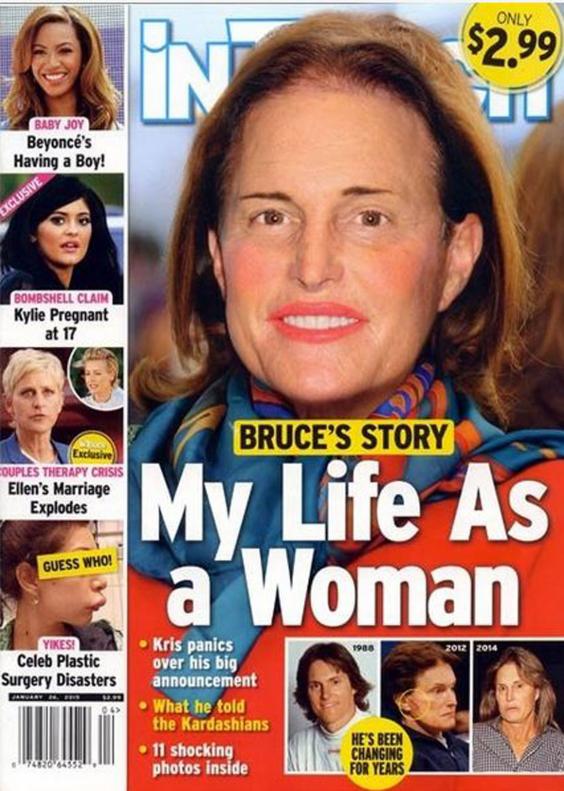 'My Life As A Woman,' the strapline reads, despite the fact the magazine had not spoken to or acquired an interview from Jenner at all.
Gossip site TMZ ran a similarly exploitative broadcast, during which male members of the office laughed as they came to the conclusion that while they can't be sure whether or not Jenner was transitioning into a woman, he "wasn't doing a very good job of being a man".
"This is bullying," Russell Brand countered on his most recent episode of The Trews. "Stop. Bruce Jenner is a human being.
"For some sections of the media, transphobia seems to be the most recent and encouraged form of prejudice, now that racism and homophobia are not tolerated.
"We can't be homophobic anymore… Can't be racist anymore… But still can be transphobic though, can we?"
"Don't this seem like when you see Blade Runner, or some dystopian thing – when you see a bit of telly in a film from the future, and everything's a bit 'hello, we're evil now!'
"It's such a celebration of the worst aspects of human values. What this does is it sanctions people being judgemental and cruel towards transgender folk.
Russell Brand's Most Controversial Quips
Russell Brand's Most Controversial Quips
1/19 On puberty:

"By puberty I learned that nothing worth having could be easily attained and to succeed one must be single minded."

PA

2/19 On changing the world:

"I want to change the world, and do something valuable and beautiful. I want people to remember me before I'm dead, and then more afterwards."

3/19 On being strong:

"Strength does not have to be belligerent and loud."

Getty

4/19 On grammar:

"I couldn't possibly have sex with someone with such a slender grasp on grammar!"

5/19 On manners in England:

"In England we have such good manners that if someone says something impolite, the police will get involved."

6/19 On junkie v vegetarian:

"Even as a junkie I stayed true [to vegetarianism] - 'I shall have heroin, but I shan't have a hamburger.' What a sexy little paradox."

7/19 On the future:

"People don't realize that the future is just now, but later."

Rex Features

8/19 On sex addiction:

"Boggle with sex addicts is up there with go-kart racing with junkies."

Reuters

9/19 On life:

"My life is just a series of embarrassing incidents strung together by telling people about those embarrassing incidents."

Frazer Harrison/Getty Images

10/19 On happiness:

"If you want to be happy stop being so self-obsessed and start considering other people."

Getty Images

11/19 On drug addiction:

"The mentality and behavior of drug addicts and alcoholics is wholly irrational until you understand that they are completely powerless over their addiction and unless they have structured help, they have no hope."

Getty Images

12/19 On sitcoms:

"I do have a regard for the musicality of language that came from BBC sitcoms like Fawlty Towers."

13/19 On life motivation:

"That's what keeps me alive, perversion and star quality."

Getty

14/19 On love:

"When you fall in love you recognise you're not the most important person in the world, and your focus becomes another person."

Getty Images

15/19 On threesomes:

"I like threesomes with two women, not because I'm a cynical sexual predator. Oh no! But because I'm a romantic. I'm looking for "The One." And I'll find her more quickly if I audition two at a time."

16/19 On Conservatives:

"Conservatism appeals to our selfishness and fear, our designer and self-interest."

PA

17/19 On surfing:

"Surfing should be called "foam-choking" or "sea stabbing."

Getty Images

18/19 On Demi Moore:

"I've not made love to her yet, but it's a matter of time."

STEVE MORGAN/AFP/Getty Images

19/19 On success:

"When I was growing up, I thought I'd be a lot happier if I was famous and successful and if I had money."

Getty Images
"This climate of bullying and judgement and cruelty is a violence of its own nature."
His comments come after reports that Jenner's separated wife Kris Jenner (Kim Kardashian West's mother) has severed ties with all Bauer publications in the wake of the In Touch cover.
"They won't get any 'real' quotes from the family, and will be banned from Kardashian-Jenner red carpets, events, premieres and fashion events," a source told New York Daily News.