As her Prime Minster husband gears up for this year's general election, Samantha Cameron has opened up about how raising a severely disabled son brought her close to "breaking point".
The 43-year-old businesswoman and wife of Conservative leader David Cameron spoke about the "shattering" struggle of caring for Ivan, who died aged six in 2009 after suffering from epilepsy and cerebal palsy, in a recent interview.
"Looking after a disabled child pushes you to the limits of what you can cope with…physically, emotionally," she told The Mail on Sunday's You magazine.
"There's this baby, this child that you love more than you can possibly imagine, in some way more than a normal child because you worry about them 24 hours a day. But at the same time you are so, so proud of them."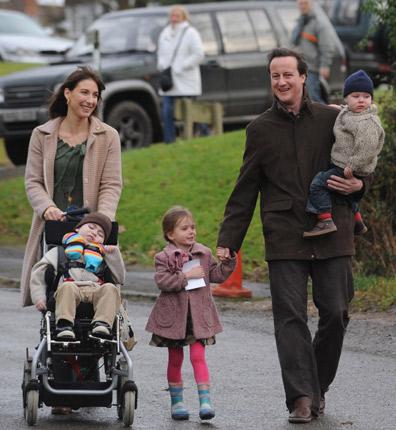 Cameron describes Ivan as "one of the great gifts in our lives" but admits that dealing with his illness was "tough, lonely and isolating" at first.
"He wasn't feeding well and was making funny, jerky movements; I thought something wasn't right," she said. "This was not until day five or six. A health visitor came round and said all new mums worry, "Don't panic". It's your worst nightmare."
"You're living in a completely different world to your friends who've had babies at the same time," Cameron added. "You're suddenly in this weird world of doctors and social services. You know your child is never going to meet the normal milestones."
Ivan's death came as a shock shortly before his seventh birthday and Cameron still sees a grief counsellor on occasion.
"It happened so quickly," she said. "We had built our entire lives around him and suddenly he's not there anymore. It takes a long time before you see sunlight poking through the dark fog but never does the pain go as it's so connected to the love."
Reuse content