Nicola Sturgeons' party has been likened to Robert Mugabe by Samantha Cameron's stepfather.
In a Spectator article entitled "Should we fear a Mugabe-style land grab in rural Scotland?" the fourth Viscount Astor - who is David Cameron's father-in-law - wrote of his fear of being forced out of his home country under SNP reforms.
The Scottish Government plans to change the law of succession, which may pressure current owners to sell their property. Sturgeon has argued that land should be "an asset that benefits the many, not the few".
In Scotland, 432 people own half of the private land in Scotland, but Viscount William Astor believes that doesn't factor in the nature of the land they own.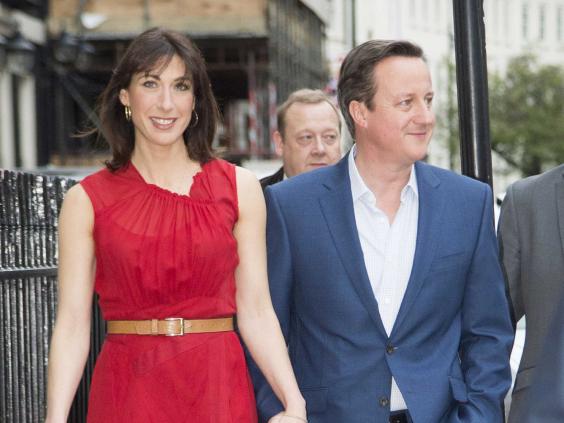 He wrote: "Are we really going to have to defend owning so many acres of hill when 500 acres of hill may be only worth the same or even less than one acre of good farmland in the lowlands of Scotland?
"Is it because we don't sound Scottish? We should not all have to sound like Rob Roy. If the SNP wants us all to speak with a certain type of Scottish accent, what does that say to the many hundreds of thousands in the immigrant community who have lived in Scotland for a long time but still speak with the accent of their birth? Are they not Scottish?"
Writing about the community involvement intrinsic to maintaining an estate, Astor added that maintaining a Scottish estate was an expensive endeavour and a labour of love.
"West coast Scottish estates require constant investment," he wrote, "but the beauty and ambiance of the place, the people and its culture have always made it all worthwhile."
Robert Mugabe in pictures
Robert Mugabe in pictures
1/20 Mugabe celebrating his 89th birthday

He spent £400,000 on his celebrations. Mugabe and his supporters tucked into an 89kg cake and 89 cattle were presented to him from the country's central bank. A lot of his country are starving

2/20 Robert Mugabe

Robert Mugabe, 1976

3/20 Mugabe meeting Thatcher

Mugabe said he thought he could 'trust' Thatcher but didn't believe anything Tony Blair said

4/20 Robert Mugabe and David Lange

Zimbabwe's Prime Minister Robert Mugabe (R) welcomes his New-Zealand's counterpart David Lange at Harare airport, 1985

5/20 Robert Mugabe and Indira Gandhi

Robert Mugabe, President of Zimbabwe and Indian Prime Minister Indira Gandhi at the Summit of Non Aligned in New Delhi, 1983

6/20 Robert Mugabe receives the Hunger Project award

Zimbabwe's President Robert Mugabe holds up the Hunger Project award as recipient of the Africa Prize for Leadership 15 September in New York, 1988

7/20 Robert Mugabe and Fidel Castro

Zimbabwe's President Robert Mugabe (L) is greeted in Havana by Cuban President Fidel Castro, 1992

8/20 Robert Mugabe and Bill Clinton

US President Bill Clinton points to items of interest on the White House grounds to President Robert Mugabe of Zimbabwe during his visit, 1995

9/20 On Blair's criticism

"So, Blair keep your England, and let me keep my Zimbabwe"

10/20 Robert Mugabe with his wife and Queen Elizabeth

Britain's Queen Elizabeth with President Mugabe of Zimbabwe and his wife, pose for photographers after being the Queen's guest at Buckingham, 1997

11/20 Robert Mugabe with Nelson Mandela and Sam Nujoma

South African President Nelson Mandela (C) and his counterparts, Zimbabwean President Robert Mugabe (L) and Namibia's Sam Nujoma (R), shake hands after a joint pressconference in Pretoria, 1999

12/20 Robert Mugabe prays

Zimbabwe's president Robert Mugabe prays at Harare Catholic cathedral church during a special requiem prayer for the late the country's founding father and liberation war hero Joshua Nkomo, 1999

13/20 Robert Mugabe and Idriss Deb

Presidents Idriss Deby of Chad (L) and Robert Mugabe of Zimbabwe attend a tree-planting ceremony on the African Union (AU) square in Ouagadougou, 2004

14/20 A controversial appearance on behalf of Nandos

Colonel Gaddafi sprays Robert Mugabe with water in the TV advert. His role in the spoof was played by a lookalike

15/20 On the West

"Countries such as the U.S. and Britain have taken it upon themselves to decide for us in the developing world, even to interfere in our domestic affairs and to bring about what they call regime change"

Getty Images

16/20 On voting

"Our votes must go together with our guns. After all, any vote we shall have, shall have been the product of the gun. The gun which produces the vote should remain its security officer - its guarantor. The people's votes and the people's guns are always inseparable twins"

17/20 On food aid

"We are not hungry... Why foist this food upon us? We don't want to be choked. We have enough" 1.5 million people were starving in 2005, especially in the drought-stricken south. Food aid became politicised

18/20 On power

"It may be necessary to use methods other than constitutional ones"

19/20 Robert Mugabe with his family

Zimbabwes President Robert Mugabe (R) and his wife Grace (L) with their 24-year-old first-born child and only daughter Bona Mugabe (C) pose after the convocation at MDIS-University of Wales graduation ceremony in Singapore, 2013

20/20 Robert Mugabe votes

Zimbabwe President Robert Mugabe (L) casts his vote by his wife Grace and daughter Bona (R) at a polling booth in a school in Harare, 2013
Robert Mugabe, the president of Zimbabwe, embarked on his controversial land grab programme in 2000 to redress the balance of land ownership after white colonisation. However, the campaign has been criticised for being violent and relying on intimidation tactics. Under Mugabe, white farmers have been forced off their land without compensation.
Astor is a hereditary peer in the House of Lords and deputy chairman of Silvergate Media - a children's TV production company.
His father - the third Viscount - was alleged to have had an affair with showgirl Mandy Rice-Davies during the Profumo scandal.
Rice-Davies made the Oxford Dictionary of Quotations aged 19. When told that Astor had denied the affair she responded: "Well, he would, wouldn't he?"
Reuse content