Veteran singer and actor Sir Cliff Richard has enjoyed a career spanning 50 decades, during which he has sold 250 million records world-wide.
Sir Cliff was born Harry Rodger Webb in 1940 and spent his childhood years in India, where he and his family lived in Howrah.
The family relocated to England in 1948 and settled in a house in Hertfordshire, where Sir Cliff enrolled at the Cheshunt County Secondary School.
It was at this school that Cliff and his school friends formed The Quintones and would perform at their local youth club.
At the age of 16, he went on to form The Drifters with Terry Smart and Norman Mitham and Ian Samwell. He adopted the stage name 'Cliff Richard' and his backing group become The Shadows.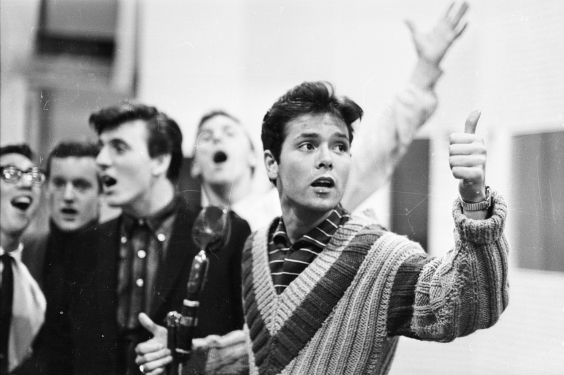 Later in life, Sir Cliff would site rock'n'roll and artists such as Elvis Presley as among his biggest influences, with Sir Cliff admitting he "idolised" Presley.
In 1958, he shot to stardom, reaching Number Two in the British charts with their first hit single, Move It. His fifth record, Living Doll, went onto reach Number One.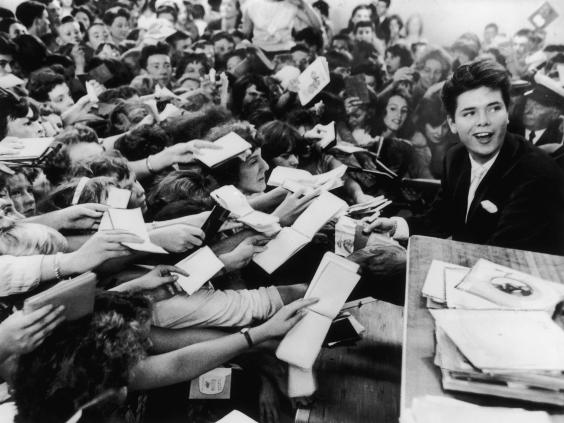 He also embarked on a film career including The Young Ones and Summer Holiday which made him the UK's biggest box office attraction in 1962 and 1963.
In 1964, he became an active Christian. Sir Cliff's popularity was undimmed after his embrace of Christianity, setting him a world away from the wild behaviour of some rock stars
Cliff Richard: Life in pictures
Cliff Richard: Life in pictures
1/22 Cliff Richard

Richard aged 18 at the Hulton Boys and Girls Exhibition at Olympia's Disc Theatre in August 1959 when he was lead singer of the Drifters

2/22 Cliff Richard

Pictured in 1962 with members of the Shadows, his backing group. Next to him is Bruce Welch, who played rhythm guitar

Getty Images

3/22 Cliff Richard

With his backing group, the Shadows, Richard became a massive pop star in the 1960s with a string of hit albums and singles including 'I love You' (1960), 'the Young Ones (1961), Bachelor Boy (1962) and 'Summer Holiday (1963)

4/22 Cliff Richard

With his mother, Dorothy, and one of his sisters in 1964

Michael Stroud/Daily Express/Hulton Archive

5/22 Cliff Richard

Outside the Royal Albert Hall where he represented the UK in the Eurovision Song Contest in October 1967

6/22 Cliff Richard

Cliff Richard in 1968

7/22 Cliff Richard

Cliff Richard poses in front of his disc awards in the 1970s

8/22 Cliff Richard

On stage at the 1981 Royal Variety Performance, at the Theatre Royal, Drury Lane in London

9/22 Cliff Richard

In an interview with the Daily Mail in 2008, Sir Cliff is reported as saying: "Of all the women I've known, there were only two that I've come close to marrying. One was Jackie Irving, a dancer whom I met in Blackpool. She was utterly beautiful and for a while we were inseparable. The other girl I came close to asking was Sue Barker, whom I met in 1982"

10/22 Cliff Richard

Orchestrating a round of singing as rain delays play during the 1996 Wimbledon tennis championships

11/22 Cliff Richard

Performing a duet with Flemish singer Helmut Lotti during a rehearsal of Lotti's album and TV broadcast 'Pop Classics' on 6 August 2003 in Brussels

12/22 Cliff Richard

Performing on stage during the 'Intelligent Finance Cliff Richard Tennis Classic' at Birmingham National Indoor Arena on 18 December 2004

13/22 Cliff Richard

Arriving with Brian May at the Royal Film Performance and World Premiere of 'The Chronicles Of Narnia' at the Royal Albert Hall on 7 December 2005 in London

14/22 Cliff Richard

Unveiling a plaque of his handprints in Wembley Arena's Square of Fame on 9 November 2006 in London

15/22 Cliff Richard

Sir Cliff Richard and The Shadows performs live on stage at the O2 Arena in London on 28 September 2009

16/22 Cliff Richard

Cliff Richard attends a press conference to announce details of his new album at Gilgamesh on 7 March 2011 in London

Getty Images

17/22 Cliff Richard

Queen Elizabeth II is introduced to Sir Cliff Richard backstage after the Diamond Jubilee, Buckingham Palace Concert on 4 June 2012, along with Sir Elton John, Sir Tom Jones, Paul McCartney, and Shirely Bassey

18/22 Cliff Richard

Sir Cliff Richard at the 2012 US Open. The crooner claimed One Direction still compete with him to 'look cool'

Getty Images

19/22 Cliff Richard

Performing on stage during the Diamond Jubilee concert at Buckingham Palace in 2012

Getty Images

20/22 Cliff Richard

Cliff Richard attends the 'Willkommen bei Carmen Nebel' show at Volkswagen Halle on 23 November 2013 in Braunschweig, Germany

21/22 Cliff Richard

Richard, 73, is one of the most successful British recording artists

22/22 Cliff Richard

Sir Cliff, born Harry Webb, has sold an estimated 21.5 million singles in the UK and 250 million worldwide during a career spanning over 50 years

Getty Images
Sir Cliff represented the UK in the Eurovision song contest for the first time in 1968, where he lost to Spain by one point. In 1968, the Shadows split and Cliff went on tour with his own gospel album.
Between 1970 and 1974, he fronted his own television show, It's Cliff Richard, which also starred, Hank Marvin, Una Stubbs and Olivia Newton-John.
In 1973, he starred in the film Take Me High. He also represented the UK for a second time with his entry, Power to All Our Friends, coming third.
His career was relaunched with the aim of showcasing Sir Cliff as a rock'n'roll star again in 1976 with the album I'm Nearly Famous. It included the guitar-led track Devil Woman, which enjoyed some success in America and reached Number Six in the charts.
By 1979 he had teamed up with producer Alan Tarney for his hit We Don't Talk Anymore, the biggest-selling single of his career. He became a figure of fun in anarchic BBC2 comedy The Young Ones - named after one of his hits - during the 1980s, but he graciously appeared with the stars of the show on a Comic Relief version of Living Doll.
Despite enjoying commercial success for over five decades in the UK, he has only seen eight singles reach the top 40 charts in the US.
In 1980, he officially changed his name by deed poll to Cliff Richard.
The singer was knighted in 1995 and in 1996 famously led the Wimbledon centre court crowd in singing during a rain delay, with a performance that included Summer Holiday and Bachelor Boy.
He had his first Christmas number 1 in 1988 and became the first British artist to release 100 singles in 1989. His second Christmas number one would be with Saviour's Day in 1990.
The Millennium Prayer, a rendition of the Lord's Prayer sung to the tune of Auld Lang Syne,  reached number one in 1999, despite many stations refusing to give it airplay. 
Sir Cliff has released nine studio albums between 2001 and 2013. He has sold more singles than any other male British artists in the UK and released his 100th studio album, The Fabulous Rock 'n' Roll Songbook, in November 2013.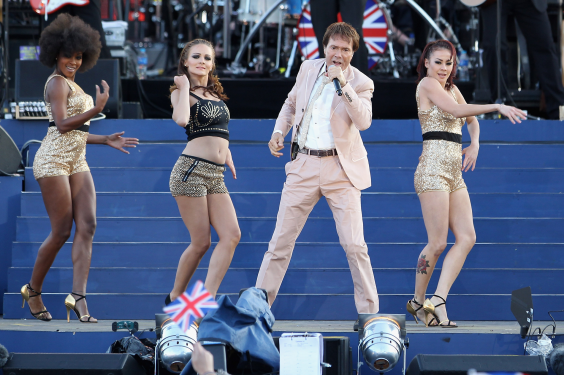 Sir Cliff also performed at the Queen's Diamond Jubilee concert at Buckingham Palace in 2012.
He has had 14 Number one singles in Britain and is the only singer to have topped the UK singles chart in five consecutive decades, from the 50s to the 90s.