He's been one of Britain's best loved naturalists for more than 70 years.
But it's only now that Sir David Attenborough has been bestowed with the honour of having his first living species native to the UK named after him.
The presenter, 88, has lent his moniker to a new wild flower called The Attenborough's hawkweed, or 'Hieracium attenboroughianum'.
It was discovered over a decade ago in the Brecon Beacons in south Wales. However, it took 10 years for scientists to decipher whether or not it was actually new.
First found on a rocky ledge on Cribyn, its closest relative is the daisy.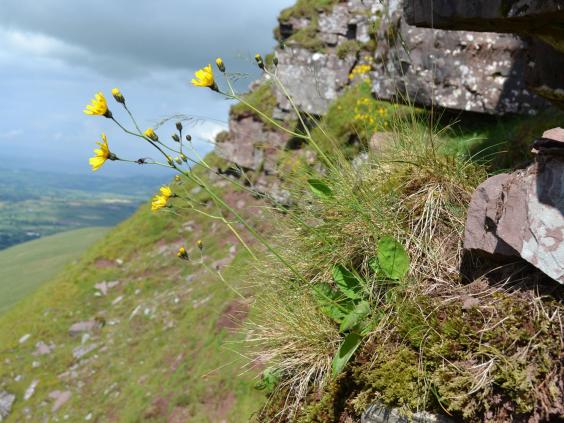 It is believed to have evolved in the area since the last ice age.
"Bestowing a name on a new species is surely one of the greatest biological compliments and I am truly grateful," Attenborough said.
David Attenborough's wild encounters
David Attenborough's wild encounters
1/10 David Attenborough

Creature comforts: David Attenborough makes friends with meerkats in 'Life Story'

BBC

2/10 David Attenborough

Naturalist David Attenborough presents 'Attenborough's Fabulous Frogs', the final instalment of the current 'Natural World' series

BBC

3/10 David Attenborough

Sir David Attenborough who has said Young naturalists have become an 'extinct' species in the British countryside

PA

4/10 David Attenborough

Sir David Attenborough: 'It's not beyond possibility that warming will actually cause sea level rises which could threaten the centre of London'

BBC

5/10 David Attenborough

Sir David Attenborough filming Frozen Planet, fears the melting permanent ice will cause the most dramatic changes

Vanessa Berlowitz

6/10 David Attenborough

Nicky the baby rhino with David Attenborough in the last of BBC1's Africa series

BBC

7/10 David Attenborough

Sir David Attenborough, whose BBC programme Nature's Great Events was scrutinised in Brett Mills's research

Gareth Cattermole/Getty Images

8/10 David Attenborough

David Attenborough's Conquest Of The Skies

2014 BSkyB/Colossus Productions

9/10 David Attenborough

Sir David has a spider, a pitcher plant and now a beetle named after him

10/10 David Attenborough

Sir David Attenborough and gorillas in Rwanda, 1979

BBC
"It is an added joy that Hieracium attenboroughianum should be so beautiful and live in such a lovely part of the country."
Dr Tim Rich, the plant taxonomist who named the species after his idol, told the Telegraph: "Finding a new species is a really exciting moment and something you dream of as a naturalist.
"I decided to name this special little plant found in the mountains of the Brecon Beacons after David Attenborough as he inspired me to study ecology when I was 17.
"This is a personal thank you for the years of fascination he has given me going to different places to search for new things."
The 'Hieracium attenboroughianum' now brings the number of animals and plants in the UK named after Sir David up to a grand total of 11.
These include a species of plant from Gabon and a flightless weevil beetle from Indonesia.
Reuse content