Almost anything Jeremy Corbyn does seems to attract attention as he continues to dominate the Labour leadership contest, but one of his forthcoming talks has drawn particular interest after it emerged a "socialist magician" had been invited to perform.
The left-wing Labour hopeful will speak at a fund raiser in his constituency of Islington on Friday, which has been organised by the "socialist rabble-rousing" band, Thee Faction.
A number of other performers have also been invited to perform at the event, but Ian Saville's listing quickly caught The Sun's attention, which claimed his presence proved just how "totally bonkers" Corbyn's campaign was.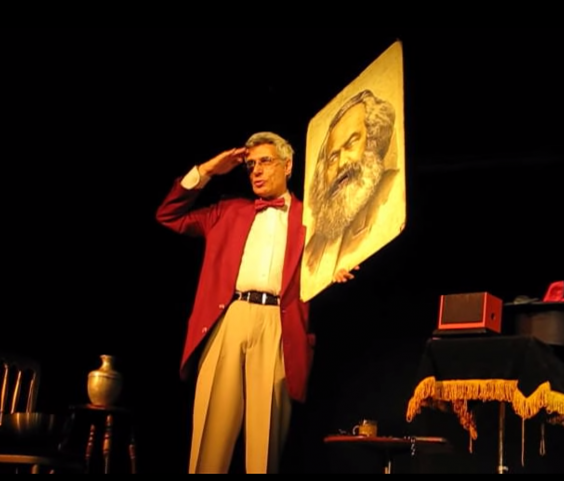 Mr Saville was described as an "out of work magician" by the newspaper, but said he had simply not updated his gig list and will be travelling to New York to perform next month.
He said he has shared a platform "many times" with Corbyn through various events, such as the Stop the War campaign.
Mr Saville told The Independent this particular performance would revolve around one or two socialist magic tricks. "One will be with money," he explained. "It'll reveal what money is, which fits in nicely with one of Jeremy's ideas about quantitative easing."
His second trick will focus on unity and sticking together on the left. "They are mostly funny tricks," he said. "In general people laugh quite a lot at my act and I will put in some socialist ideas and some good magic, so thats how it works."
The sudden surge in support for Corbyn's left-wing, socialist policies have led to infighting within Labour and repeated claims that he will make the party unelectable. Yet his supporters are unfazed by these threats and he continues to lead the way in opinion polls.
When asked why Mr Saville supports Corbyn, he replied: "I think there is now somebody who is on the left. I believe that it is really about time the Labour party actually had somebody who would stand up to some of the economic and social orthodoxy that the Conservatives are putting forward which is not supported by the most serious economists.
Labour leadership: The Contenders
Labour leadership: The Contenders
1/2 Jeremy Corbyn

Jeremy Corbyn started off as the rank outsider in the race to replace Ed Miliband and admitted he was only standing to ensure the left of the party was given a voice in the contest. But the Islington North MP, who first entered Parliament in 1983, is now the firm favourite to be elected Labour leader on September 12 after a surge in left-wing supporters signing up for a vote.

PA

2/2 Andy Burnham

Andy Burnham started out as the front-runner in the leadership election, seen as the candidate of the left until Jeremy Corbyn entered the race. The former Cabinet minister has found himself squeezed between the growing populism of Corbyn's radical agenda and the moderate, centre-left Yvette Cooper, not knowing which way to turn. It has attracted damaging labels such as 'flip-flop Andy', most notably over his response to the Government's Welfare Bill. He remains hopeful he can win enough second preference votes to take him over the 50 per cent threshold ahead of Corbyn.

PA
"The idea of austerity to get out of a crisis is something I don't agree with and neither do all those Nobel prize winning economists, the vast majority of whom think it's a very bad thing. Austerity is not going to help us get out of the economic situation we are in at the moment.
"We have had a Labour party which has gone along with the way in which Conservatives see the world and Jeremy will be able to clearly put forward a different point of view."
Reuse content