The Standard Hotel has sacked the security employee who sold video footage of Solange appearing to attack her brother-in-law Jay Z in a lift to gossip site TMZ for a reported fee of $250,000 (£149,022).
Management said the individual's contract had been terminated for "breaching security polices of the hotel and recording the confidential CCTV video".
They added that that were "shocked and disappointed" by the security breach and admitted they would be turning over "all available information to criminal authorities".
The statement came shortly after a Page 6 report, which claimed that the tape had been sold for upwards of $250,000 following a five-day bidding war.
It went on to allege that The Standard Hotel had employed lawyer to the stars Marty Singer (currently defending X-Men director Bryan Singer in a string of sexual assault law suits) to investigate who had sold the tape.
"There are only a handful of people who'd have access to that tape," a source claimed. "The Standard owns that tape."
What Jay Z Said To Solange... In Memes
What Jay Z Said To Solange... In Memes
1/9 The tour-related meme

2/9 Carlton Banks Z meme

3/9 Someone hacked Solange's Wikipage... Hilariously

4/9 The Matrix = The obvious meme

5/9 Thrown like Jazzy Jeff out of the elevator. By Solange, obviously

6/9 The button mashing meme

7/9 Blue Ivy reaps revenge meme

8/9 Michele Obama's 'Save Our Solange' meme

9/9 The 'Lolz Beyonce literally did nothing' at the B Ball with Jake Gyllenhaal meme
"Once it was out, Jay Z's people felt they couldn't control it," they continued. "They were reluctant to try and publicly fight this."
TMZ posted the soundless three-minute clip on Monday, which showed the siblings in the same outfits they'd worn for the Met Ball Gala earlier the same evening. It features Solange Knowles being held back by security as she lashes out at the rapper. Beyoncé stands passively in the background.
Speculation over the words exchanged between the brother and sister-in-law to have inspired such an extreme reaction have been far-reaching and spurious.
The most plausible so far is the theory that  Jay Z had chastised his sister-in-law for getting into too many arguments at the Met Ball Gala.
"Jay Z was biting his tongue all night as he watched Solange in action," a source told The Sun.
"At one point he was speaking to Hugh Jackman but couldn't take his eyes off her.
"She had already had words with designer Rachel Roy and seemed to be on a roll.
"Before they got into the lift, he said a couple of things to her and she didn't take kindly to it."
Others suggest that the incident coincides with Solange's increasingly erratic behaviour, which she has herself attributed to her having ADHD in the past.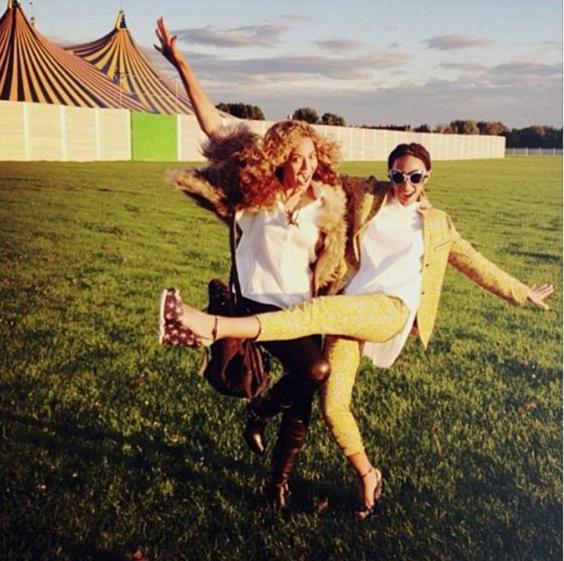 "People think I'm high even when I'm sober," she said in a previous interview.
"I tell lies. Not proper lies, just little lies. I started telling them — jokes I should call them — when I was young.
"I've always had a sense of humour but people haven't always shared it."
 Beyoncé's lack of reaction, it has been suggested, could indicate that the sudden outburst was something she is possibly used to seeing.
Yesterday, she quashed rumours of a continuing feud between her and Solange by posting four retrospective Instagram pictures of the siblings laughing and joking together. She also posted one of her posing with Rihanna at the Met Ball Gala.
Meanwhile, reports emerged that Jay Z and Solange had reconciled just a day after the incident. The pair were seen on a shopping trip to a jewellery store in Manhattan the following day.
Reuse content