Sophie Ellis Bextor's musical achievements are frequently underestimated.
They shouldn't be.
There are few female pop artists in the UK that can lay claim to the vocals of the most played song on UK radio spanning an entire decade (See DJ Spiller collaboration "Groovejet (If This Ain't Love)"), have three Top 10 albums, scores of Top 10 singles and still – three children and 13 years later – achieve Silver record status with fifth studio LP Wanderlust, released in January this year and climbing straight into the Top 5.
Her apparent musical comeback, that saw her successfully step away from electro-disco and charter more alternative terrain, came after an impressive waltz onto reality TV competition Strictly Come Dancing.
She Charlestoned her way into the grand final, and, despite not winning, back in the collective consciousness of the buying British public.
She's just released her second single, "The Deer And The Wolf", and is about to embark on tour in October that will, as well as several dates across the UK, see her head back to Russia to play to her ever-growing fanbase over there.
Here, she tells us why she won't be joining the ever-escalating entertainment boycott of the politically controversial country, how motherhood has helped, rather than hindered, her career, and how she lives in fear of suffering an Ian Botham moment on Twitter.
On new single "The Deer and the Wolf" being absolutely nothing to do with animals whatsoever…
"It's about opposites, not being attracted exactly, but balancing and making things really work. And it doesn't have to be a romantic thing. In some ways, Ed Harcourt, who I wrote the album with, we are a bit like that. On the surface we're quite different people. I'm more of the deer side of things and he's more of the wolf… When we're out and about he can be a lot more wild and unpredictable. I'm a lot more safe and light and organised about things. We work quite well together in that respect.
It's more about extreme personalities, and how sometimes the more gregarious character might need that tempering from someone who's not quite such an extrovert."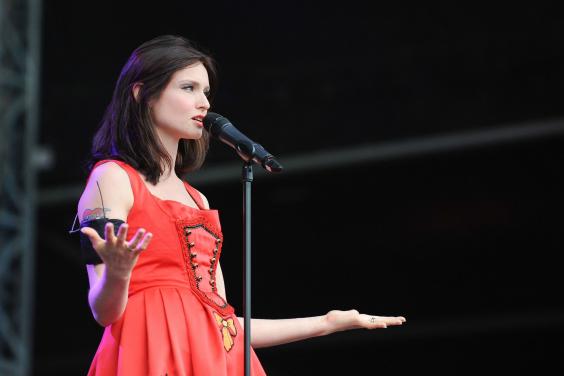 On being happier in the corner than the centre of the action…
"Weirdly, I'm not that much of an extrovert. If I'm in a room full of people I'm quite happy just to be in the corner not being the centre of attention. Probably more comfortable being an observer, really. I've found my own terms for when I want to say, 'OK, over here now'. And when I'm on stage, it feels appropriate. But if I'm hanging out at a party I won't be the one going, 'OK guys, have you heard the one about…'I'd rather talk one-on-one to people than hold a lot a people's attention."
On why she won't be joining the boycott of Russia over its anti-gay laws when she plays in St Petersburg and Moscow at the end of October...
"I go a couple of times every year at least, sometimes way more than that. I've got a massive gay following and I have done from the beginning and it's something I'm incredibly proud of. So I perform in Russia because I love the fact that music can bring everyone together, and everyone is welcome at my gigs and I like to think that it's a place where they can get their hands in the air to the disco music and that we could connect. That's what, for me, performing is.
"There's no positive spin on it at all, it's just bad through and through. It's actually quite heartbreaking, really. The idea that those people have grown up that way. The first time I started doing shows there they were club shows, and it kind of built, and now I do loads of public shows. And I've looked those people in the eye, I've seen my gay fans in Russia. I've met them. So it's really hard. But I'm not going to stop going there if it gives them somewhere to go and I can have a moment with them. That's nice."
The A-list opposing Russia's anti-gay laws
The A-list opposing Russia's anti-gay laws
1/15 When Madonna performed in Russia, she took to the stage with the words "No Fear" scrawled across her back. "Show your love and appreciation to the gay community," she urged her audience.

2/15 "In solidarity. From Russia with love," Tilda Swinton posted alongside this photograph of her holding a rainbow flag in support of the LGBT community outside the Kremlin in Moscow.

3/15 "As a gay man, I can't leave those people on their own without going over there and supporting them," Elton John said ahead of his boycotted string of shows in Russia in 2013. "I don't know what's going to happen, but I've got to go."

4/15 "The Russian government is criminal," Lady Gaga tweeted in August. "Oppression will be met with revolution. Russian LGBTs you are not alone. We will fight for your freedom." She later noted: "Sending bravery to LGBTs in Russia. The rise in government abuse is archaic. Hosing teenagers with pepper spray? Beatings? Mother Russia?"

5/15 "I think we should do more than just send gay Olympians there," the Star Trek actor said in a recent interview. ''What's happening there in terms of gay rights or the lack of it is extraordinary and awful."

6/15 Gay Star Trek actor George Takei that Russia's "cynical and deplorable actions against the LGBT community have given license to hate groups within its borders to act with violence and impunity against a group, based solely on whom they were born to love."

7/15 Prisonbreak star Wentworth Miller publicly came out in an open letter to Russia regarding its anti-gay laws. "I am deeply troubled by the current attitude toward and treatment of gay men and women by the Russian government," he wrote, turning down an invitation to a Russian film festival. "The situation is in no way acceptable, and I cannot in good conscience participate in a celebratory occasion hosted by a country where people like myself are being systematically denied their basic right to live and love openly."

8/15 Jamie Lee Curtis was one of many celebrities who joined the 'Love Conquers Hate' T-shirt initiative, lauched by the Human Rights Campaign, the largest gay rights activist group in the US.

9/15 Kevin Bacon also joined the 'Love Conquers Hate' initiative."We stand with Russia's LGBT community and their allies," said HRC President Chad Griffin. "We are committed to doing as much as we possibly can to support their efforts to repeal this heinous law."

10/15 "I'd boycott Russian goods if I could think of a single thing they made besides the rest of the world depressed," Hugh Laurie posted on Twitter in January 2014.

11/15 "I can't name names but my friend called who is a big oligarch over there, and asked me if I'd like to be an ambassador for the Olympics and open the show," Cher told Maclean's writer Elio Iannacci. "I immediately said no. I want to know why all of this gay hate just exploded over there."

12/15 Putin "is making scapegoats of gay people, just as Hitler did Jews," Stephen Fry warned in his appeal to the IOC.

13/15 "For real: Tell Russia & the @Olympics that #LoveConquersHate. Join @HRC and share your pic. #Sochi14," actress Kristen Bell tweeted, promoting her gay rights advocacy T-shirt scheme.

14/15 "Help us show Russia & the world that #LoveConquersHate," Wolf of Wall Street star Jonah Hill tweeted as part of the same campaign alongside a picture of himself wearing the T-shirt.

15/15 Grammy-winning singer Melissa Etheridge released a song, "Uprising of Love", in support of the Russian LGBT community, and partnered with Bruce Cohen to launch a coalition of celebrities and influential public figures, too.
On how she makes the moral decision where and who to play shows for…
"It has to come down to each gig, how it comes across, how it could be read, and yes, there have been things, I'm not going to go into them, but there are things that I have said no to that just didn't feel right. Everything I think you do, whether it becomes a political issue or an artistic issue or anything, I think it's always bespoke, and it all comes down to how well you sleep at night with all the decisions you are making. You've got to do things with the right motivations, really."
On how having children helped, rather than hindered, her career progression…
"It's made me a better performer, a better artist, a happier person. It's evolving. For me, it was a massive deal for me to have my kids. It made me think differently about things. I wouldn't say it's harder. In fact, I think it's made a lot of things have real clarity for me, actually. I wouldn't have done half the things I've done if I hadn't become a mum."
On weighing up the benefits of being a working "showbiz" mother compared to a working mum with an office job (and doing a reverse Gwyneth)…
"Any working mother can relate to exactly the same things as me, whether it means I'm going on stage or to the office. In actual fairness, it's easier for me because I have the benefit of being able to take my children to work with me, I get to decide which days I work. When I did festivals at the weekend, they came with me. If you're doing an office job, you can't say 'Can my kids sit in the corner?' It's not an option. I've had a full-time nanny for my children so that I can work. For a lot of people that is a real conundrum how they're going to balance that, so I think, in my situation, I've actually had more benefits because of what I do."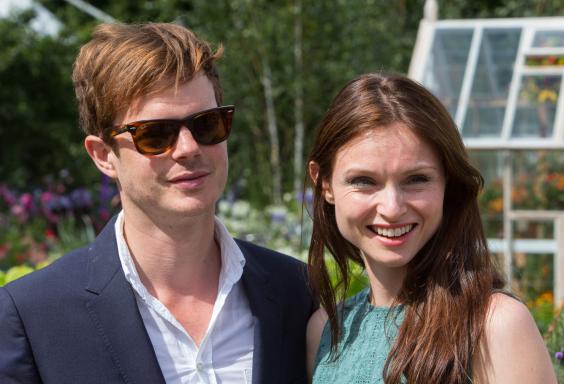 On being quoted as saying she's happier that she's got three boys instead of three girls, because of the hyper-sexualisation of young women in pop music…
"It made me sound like I didn't want girls, like I had a problem with that idea. I think little boys can be equally confused by that stuff too and still affected by it. The other day, I was surprised my five-year-old was hanging out with a five-year-old little girl, and she put a hairband on, and he said something like, 'In Girl-ish, you're pretty.' Which is really sweet, but I also thought that's interesting that he is aware that girls get that adjective, because of course boys don't really get that adjective. I think it affects both genders in different ways."
On the importance of realising there is life after, during, before Strictly Come Dancing…
"[The new contestants] should enjoy it for all the fun that it is, but remember, you know, that there was a world outside of Strictly. It's like Strictly-ville. Everything on the set looks incredible, it's Saturday night telly, it's fully live, it's really heady. And all people talk about while you're there is Strictly as well. So its like a mini obsession that everyone's in on at the time. It's like eating loads of sweets or something'; like gorging on your favourite things. It's really fun, but you know it can't last forever."
On what makes an artist decide to potentially throw credibility to the wind and risk appearing on reality TV…
"I think you've got to be wanting to shake things up a little bit. It's obviously not how people normally know you, and it's a very public way to learn a new skill. For me, I'd already made the album, and the whole of last year was the desire to not get stuck in a rut, to push myself, to see what I was capable of, to be a bit scared and to take a couple of risks, and Wanderlust and Strictly… seemed on the surface of it incredibly different, but the decision was made in the same part of my head. I was 34 and not ready to go, 'Oh, OK, I know how to do everything. Thank you very much.'"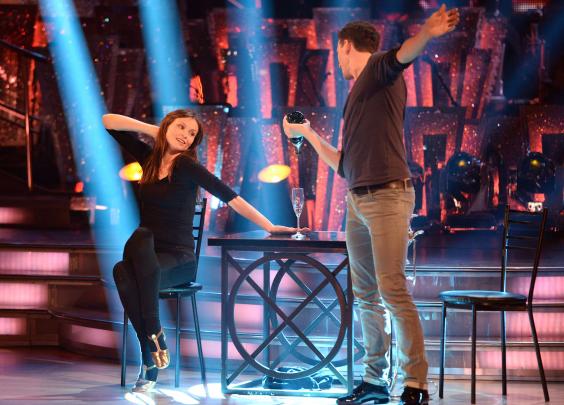 On how using reality TV to orchestrate a publicity stunt is unsustainable…
"You have to do it purely for the love of it and purely for the joy, and to indulge something that's really lovely. I thought it was such a lovely thing to do – to spend all day dancing. I was always bringing my mates along to watch rehearsals, my family, Brendan met everyone that I know. You're never going to get anything like that again. And I did actually learn some stuff. Like how to be really terrified."
On Strictly being one of the few reality shows or celebrity competitions that isn't about humiliation…
"It doesn't necessarily mean that people come across that way, but I think things like I'm A Celebrity… Get Me Out Of Here you're being pushed. Probably Celebrity Big Brother they turn the screws and want people to go a bit crazy. Some people cope with that incredibly well, but I would not, I would find that hard. Even a little bit with Strictly, I was like 'Oh, God, what if there are people I just really don't get on with?' Which luckily wasn't the case. But with CBB, what happens if there are just characters in there, and you can't even take a book in there, can you? There's no escape. So that would do your head in a bit. You'd have to keep quite zen. You'd have to have a mental strategy about it."
On Kelly Maloney's activist decision to take part in Celebrity Big Brother…
"I think it's incredibly brave and brilliant to do something like Celebrity Big Brother in terms of promoting people thinking about [transgender politics] and hopefully them receiving it well, and hopefully [she's] being a good spokesperson. It's just very soon to be in an environment like that, I guess, but then I'd say that about any of them, because its just a bit of a pressure cooker in terms of how they suddenly deprive them of food for two days."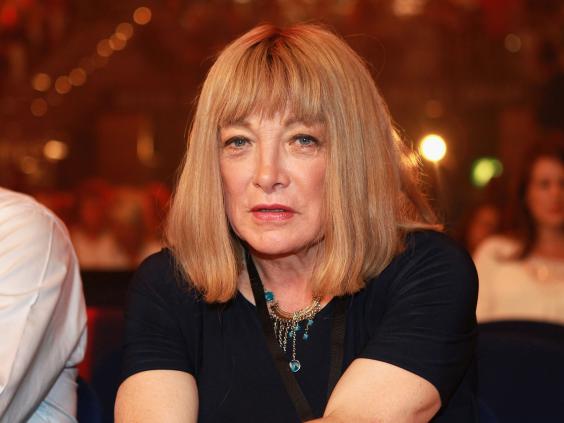 On the rules of using 'unfiltered' social media if you're a famous person…
"If you're not sure whether or not you should post something, don't do it. It's a really strange forum, Twitter. I'm still not convinced I completely love it. You have to use it in the right way. If you're tweeting, you have to tread the line between not boasting, but not being too boring."
On the terrifying prospect of 'doing an Ian Botham'…
"I do find that element really scary. I could put a tweet out that's really offensive, and then that's the end of it. That's terrifying. And it might not be me that does it. Maybe I should delete it. Just in case my kids get in there. They'll think it's hilarious to do something stupid. It's a really good way to rebel and get back at your parents."
On 'making up' her next album as she goes along…
"It might be [that I start writing] just before Christmas, or it might be the New Year. I'd like to make it with Ed [Harcourt] again, that would be fun. But I don't know what it's going to sound like. It's all a bit vague, but then I didn't know what I was making last time, and I think it's really lovely to make an album that way. I don't think there's any big expectations, so I think I'll make it up as I go along."
Reuse content