The suspected mastermind behind the murders of six people in a restaurant in Paris' Jewish quarter more than 30 years ago has been arrested in Jordan, French officials have revealed.
Paris prosecutors alleged that Souhaur Al-Abbassi, also known as Amjad Atta, was the "supervisor" of the horrific attack on Chez Jo Goldenberg in the Marais district of the French capital in August 1982.
Between three and six people threw grenades and fired machine guns into the restaurant, which had about 50 customers inside. As they escaped, the gunmen also shot at passersby. Six people, including two Americans, were killed and 22 were injured.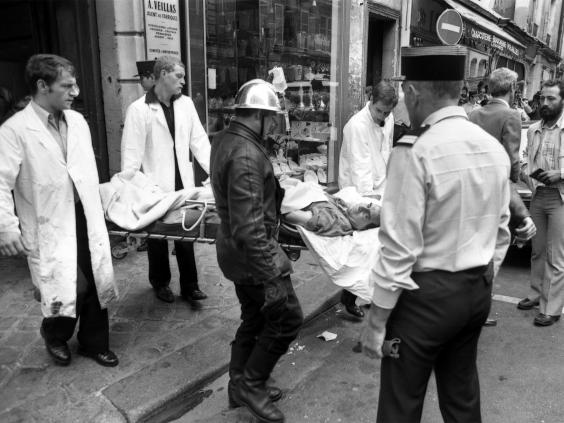 A member of staff who narrowly escaped being shot, Natali Tvaouri, told the New York Times: "I was bringing dishes down to the ground floor when I heard a big explosion. When I got to the bottom, I saw one of the terrorists… he was spraying the customers with bullets. I ran to the back and the man saw me and went after me, firing away. I jumped out of a window and just as I got out, a burst shattered it after me."
At the time, Ibrahim Souss, a Palestine Liberation Organization official, condemned the attack, describing it as deplorable and sending condolences to the victims' families.
The Palestinian group, the Abu Nidal Organisation, was blamed for the attack but no one has ever been convicted.
French prosecutors said they were requesting the extradition of al-Abbassi, who was detained on 1 June.
In March this year, arrest warrants were issued for three men, including al-Abbassi, in connection with the attack, the AFP news agency said. The others were Mahmoud Adra, also known as Hicham Harb, of Ramallah, the West Bank, and Walid Abu Zayed, alias Souhail Othman, of Norway.
Alain Jakubowicz, president of the International League Against Racism and Antisemitism, said the arrest warrants sent "a strong message to terrorists", particularly after the attacks at the Charlie Hebdo magazine and a Jewish grocery in January.
"The message to the criminals and the terrorist is that they cannot hide – that however long it takes they will be identified, found and brought to justice," he said. "This is also an important message for the families of the victims to have faith in the justice system."
Chez Jo Goldenberg, which opened before the Second World War, was well known for serving Ashkenazi food and remained in business until 2006. Its former owner, Jo Goldenberg, died last year at the age of 91.
Reuse content