He's the moody, silently brooding action star known for his portrayal of loose cannons, reckless psychos and a belligerent chef.
But instead of a leather-jacket wearing, ass-kicking maverick, Steven Seagal's new role seems to be defending President Vladimir Putin's actions in Crimea.
The hard-man film star, who is thought to be an acquaintance of Putin because of a shared love of martial arts, has expressed his support for Russia's actions in Crimea in a 2,000 word interview with state-run newspaper Rossiskaya Gazeta.
According to The Moscow Times, Mr Seagal, who is currently shooting a new film in Romania, said President Vladimir Putin's "desire to protect the Russian-speaking people of Crimea, his assets, and the Russian Black Sea military base in Sevastopol … is very reasonable."
In pictures: Ukraine crisis
In pictures: Ukraine crisis
1/12 Ukraine crisis

People shout slogans during a pro Russian rally at a central square in Donetsk. Pro Russian activists continued to gather on Saturday in the eastern Ukrainian city of Donetsk, as Russia was reported to be reinforcing its military presence in Crimea.

2/12 Ukraine crisis

In the same pro Russian rally, demonstrators show their support. Ukraine's ambassador to Russia and a deputy Russian foreign minister held a "cordial" meeting on Saturday, Moscow said, without giving details of any discussion of Russian-occupied Crimea.

3/12 Ukraine crisis

Crimean ethnic tatars stand on the roadside as Russian troops move towards to Simferopol in the settlement of Kok-Asan, some 70 kilometres from Simferopol in Crimea.

4/12 Ukraine crisis

Russian troops stand on a roadside in the settlement of Opytnoye, some 70 kilometres from Simferopol.

5/12 Ukraine crisis

Armed members of the first unit of a pro-Russian armed force, dubbed the "military forces of the autonomous republic of Crimea" march before the swearing-in ceremony in Simferopol, Ukraine. Some 30 men armed with automatic weapons and another 20 or so unarmed, were sworn in at a park in front of an eternal flame to those killed in World War II.

6/12 Ukraine crisis

A group of Cossacks march past a statue of Soviet revolutionary leader Vladimir Lenin in Simferopol as tensions in the area continue to rise.

7/12 Ukraine crisis

An armed member of the first unit of a pro-Russian armed force, dubbed the "military forces of the autonomous republic of Crimea" signs the oath during the swearing-in ceremony in Simferopol,

8/12 Ukraine crisis

9/12 Ukraine crisis

Ukrainian soldiers load their armed personnel carriers (APCs) into boxcars in the western Ukrainian city of Lviv. Pro-Kremlin militia fired warning shots as unarmed foreign observers tried to enter Crimea on the 8th.

10/12 Ukraine crisis

An abandoned naval ship sunk by the Russian navy to block the entrance is seen in the Crimean port of Yevpatorya on March 8th.

11/12 Ukraine crisis

Ukrainian sailors stand guard on top of the Ukrainian navy ship at the Crimean port of Yevpatorya.

12/12 Ukraine crisis

Crimea's pro-Moscow leader Sergei Aksyonov speaks to the media in Simferopol on the 8th March. He has defended a decision to hold a referendum on whether the region should join Russia, saying on Saturday that "no one" could cancel the voting.
In the interview Seagal reportedly says he considers Putin "one of the great living world leaders" and that he "would like to consider him as a brother." He also criticises what he describes as the "idiotic" US policy on Ukraine.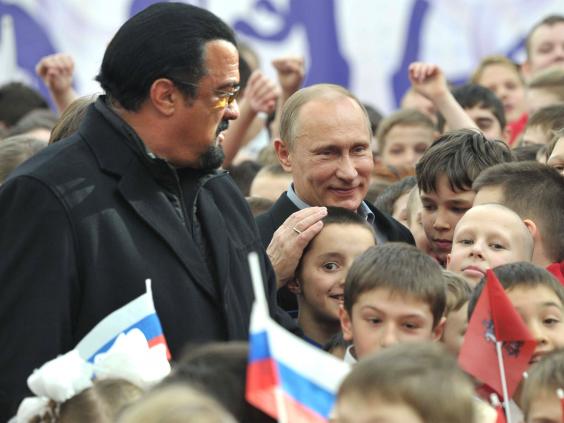 These are not his first comments on the situation. Seagal, who is a Republican, also appeared on Russia Today last month as an expert panelist on the crisis.
And in an interview last year the star said of Vladimir Putin that: "I would like to think I know him well. But I know him well enough to know that he is one of the greatest world leaders, if not the greatest world leader alive."
Seagal is not the only ageing action star to have waded in on the subject of Crimea.
Former governor of California, Arnold Schwarzenegger offered some less-than-helpful advice for world leaders when asked about Crimea in a recent interview to promote his new film 'Sabotage'.
"I think what they all need to do now, is stop whatever they are doing and watch the movie 'Sabotage'", he said.
Reuse content