Taylor Swift gave an emotional performance of a song dedicated to a four-year-old boy who died of cancer as his mother watched on in the audience.
The singer wrote her 2012 song 'Ronan' in honour of Ronan Thompson, who died in 2011 from neuroblastoma, a rare form of cancer that mostly affects young children. 
Ronan's mother Maya documented her son's treatment and his tragic death in a series of moving blog posts. She has now set up her own charity, The Ronan Thompson Foundation, and continues to blog about her son regularly.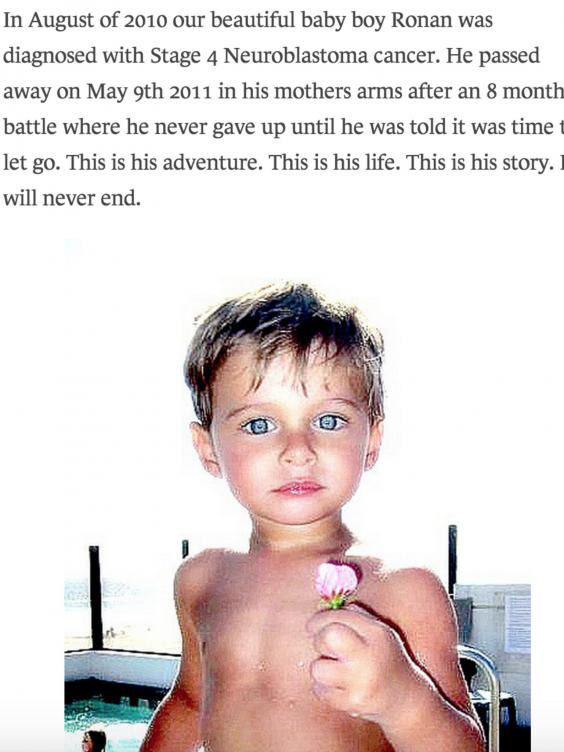 Her story caught Swift's attention and inspired her to write the track Ronan, which was released in 2012 as a charity single, proceeds of which go to The Ronan Thompson Foundation and other causes. Swift also credited Maya as a writer on the track.
Swift, whose mother Andrea was diagnosed with cancer in April, took a moment to remember Ronan while Maya was in the audience in Glendale, Arizona watching.
"In my opinion, one of the bravest things that a human being could ever do is to go through something absolutely unbearable and then share their experience with the world. And I think the braver you are, the more brutally honest you are," Swift told the crowd.
"There's a woman here tonight named Maya Thompson. I wouldn't know half as much as I know about childhood cancer and childhood cancer research if she hadn't shared her story about her son Ronan.
"She has this blog called Rockstar Roman, and I would read it every night.
"I can't promise that I will sing it well or not get really emotional, but I'm gonna try...I think because Maya's here tonight, I think she deserves it." 
Maya thanked Swift in a post on Instagram, writing: "I still can't believe tonight. I still can't believe you did this. This will forever be one of the most special moments of my life. Thank you @taylorswift for your beautiful heart and for never forgetting my Ro. I love you to the moon and back."
Reuse content