A woman who claims she was made to have sex with the Duke of York has said she was paid £10,000 by her then-employer Jeffrey Epstein, and alleges that Prince Andrew knew she was just 17 years old at the time.
Speaking in an interview with the Mail on Sunday, the woman identified as Jane Doe #3 in fresh US court papers last week said it was "made clear to me that my job was to do whatever pleased him", saying she "wouldn't have dared object".
Buckingham Palace has issued an unprecedented denial in relation to the new claims, denying that the Duke had "any form of sexual contact or relationship" with the woman who it names as Virginia Roberts.
Ms Roberts waived anonymity in relation to the case when speaking to the Mail, saying it was time "to fight". Her identity has not been independently verified.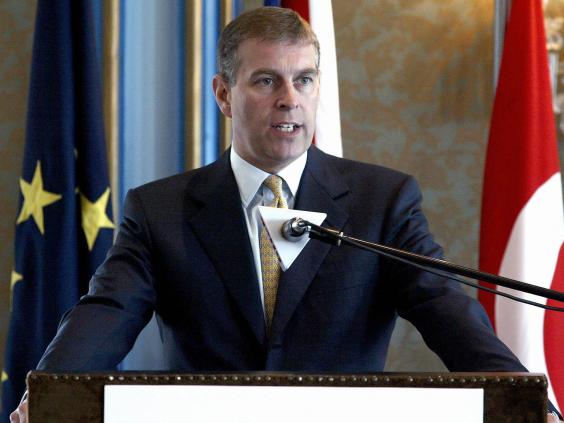 In the US court papers, the woman, reported to be Ms Roberts, claims that between 1999 and 2002 she "was forced to have sexual relations with this prince when she was a minor" in London, New York and on a private Caribbean island owned by her then-employer and friend of Prince Andrew Jeffrey Epstein. While the age of consent is 16 in the UK, it was and remains 18 in Florida, where the court papers were filed.
Now a convicted sex offender, Epstein used hidden cameras to picture underage girls in his properties – and may have taken photos of Prince Andrew and Ms Roberts at the time, the Sunday Mirror reported.
According to the newspaper, original court papers filed by Ms Roberts six years ago stated that "on the Day of his arrest, police found two hidden cameras and photographs of underage girls on a computer in [Epstein's] home".
Prince Andrew: Life in pictures
Prince Andrew: Life in pictures
1/15 Prince Andrew

Prince Andrew, Duke of York arrives at the Royal Albert Hall on 8 November 2014 in London

2/15 Prince Andrew

Prince Andrew, the Duke of York (L) speaks to Queen Elizabeth II on the Queens stand during Derby day at the Epsom Derby Festival, in Surrey on 1 June 2013

3/15 Prince Andrew

Prince Andrew with his daughters Princess Eugenie and Princess Beatrice on the Balcony at Buckingham Palace, 2013

4/15 Prince Andrew

Princess Beatrice (C) poses for photograph with her parents, Britain's Prince Andrew, the Duke York (L) and Sarah Ferguson following her graduation ceremony at Goldsmiths College, in London, 2011

5/15 Prince Andrew

Prince Andrew's 'pointless plunge' down the Shard was the moment to take stock of his usefulness

Getty Images

6/15 Prince Andrew

Prince Andrew is the first royal to take and tweet a selfie

7/15 Prince Andrew

Prince Andrew with Bahrain's Crown Prince Salman bin Al-Khalifa at Royal Ascot in 2010

Getty

8/15 Prince Andrew

Prince Andrew with Ilham Aliyev, president of Azerbaijan in 2009

Rex Features

9/15 Prince Andrew

Prince Andrew with Indonesian President Susilo Bambang Yudhoyono on the first day of his state visit to London

Getty Images

10/15 Prince Andrew

Duke of York in his uniform

REX FEATURES

11/15 Prince Andrew

Britain's Prince Andrew speaks to the press during a meeting with Turkish Businessmen at Ciragan Palace in Istanbul on 26 May 2004

12/15 Prince Andrew

Wearing a traditional Guatemalan ceremonial jacket, Britains Prince Andrew, the Duke of York, turns on the tap innaugurating an irrigation system sponsored by the European community on 7 March 2002 in Nevaj, Guatemala

13/15 Prince Andrew

The newly wed Prince Andrew, the Duke of York and his wife Sarah Ferguson, the Duchess of York, wave to crowds on 23 July 1986 from the balcony of Buckingham Palace in London while Queen Elizabeth II and Queen Mother look on

14/15 Prince Andrew

Prince Andrew and Prince Edward with their governess, Lavinia Keppel, at the Children's Book Show in Westminster, London on 7 November 1969

15/15 Prince Andrew

Prince Andrew (bottom left) with his parents Queen Elizabeth II and Prince Philip and siblings, Prince Charles, Princess Anne, and little Prince Edward at Windsor Castle, 1965

Getty Images
"[He] may have taken lewd photographs of [Ms Roberts] with his hidden cameras and transported [them] to his other residences and elsewhere."
Speaking to the Mail, Ms Roberts makes no suggestion that Prince Andrew knew Epstein paid her for the alleged sexual services. It has not been alleged that the Duke knew Epstein was forcing Ms Roberts to have sex with him.
"The Prince didn't give me money with his own hands," she said. "Jeffrey always took care of paying me after I 'entertained' his friends."
Harvard law professor Alan Dershowitz - also named in the US court papers - said the claims against him were part of a pattern of "made-up stories" against prominent people, and advised the Duke to do everything in his power to clear his name.
"My only feeling is, if she's lied about me, which I know to an absolute certainty she has, she should not be believed about anyone else," he told the BBC Radio 4 Today programme.
In a statement released through her lawyers to several newspapers, the woman hit back, saying: "These types of aggressive attacks on me are exactly the reason why sexual abuse victims typically remain silent and the reason why I did for a long time. That trend should change. I'm not going to be bullied back into silence."
Epstein's lawyer Jack Goldberg told the Mail the allegations were old and salacious and had been consistently proven to have no merit.
The full statement from Buckingham Palace reads: "It is emphatically denied that the Duke of York had any form of sexual contact or relationship with Virginia Roberts. The allegations made are false and without any foundation."
Reuse content