As pranks to fool the press into printing false stories go, Thalia's on-going joke is particularly strange.
The legendary Mexican singer – who is one of the best-selling pop artists in Latin American history – has long been the subject of surgery rumours and speculation.
And she's known for playing up to them, too, teasing fans for years by repeatedly suggesting she has had two ribs surgically removed in order to make her waist appear slimmer.
The 42-year-old star reignited somewhat macabre interest in her thoracic vertebrae when she mentioned the alleged surgery again during a televised interview last week.
And then she posted this – a sun-drenched, inter-changing Instagram image of her posing for a selfie with a jar. In said jar appears to be some sort of pickling fluid, and a number of small rib bones.
"To all my loving Filipino fans, here is the proof!" she captioned it. "I love my famous ribs, I kept them with me all these years! And the saga continues..."
"You think I removed my ribs? Yes, no? #ThaliasRibs #Myth" she posted alongside a second image of her clutching her bare abdomen.
Naturally, the images were met with a mixture of surprise and concern from her fans.
And excitement by some members of the entertainment media, who wrote that Thalia had "finally confirmed" what many had suspected for some time by posting the pictures.
But it was she who had the last, maniacal laugh when she later revealed them to be animal bones, and not her own ribs at all:
"And the #myth will continue... 'Myth is not a true story, it is a story that is true,'" she cryptically followed up.
"Myths are a special kind of literature not written or created by a single individual, but produced by the imagination and experience of an entire age and culture and can be seen as the distillation of the dreams and experiences of a whole generation."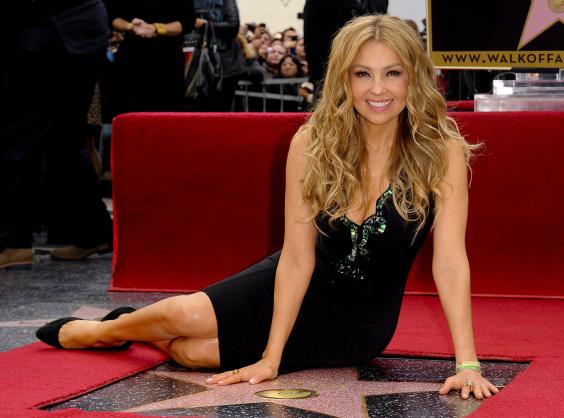 Thalia, real name Ariadna Thalia Sodi Miranda, starred in her first ever commercial at the age of one.
She has gone on to sell more than 40million records, and enjoyed a successful career as a Latin American soap actress.
Reuse content