The ongoing feud between Jack White and The Black Keys appeared to have come to an end last year when the former White Stripes singer apologised for his comments about the band "ripping off" his sound.
But now The Black Keys' drummer Patrick Carney has claimed that White attempted to fight him in a bar in New York on Sunday night.
In a series of tweets that have since been deleted, Carney described the alleged incident while calling White "sad and pathetic", a "40-year-old bully" and "Billy Corgan's dumb ass zero T-shirt in human form".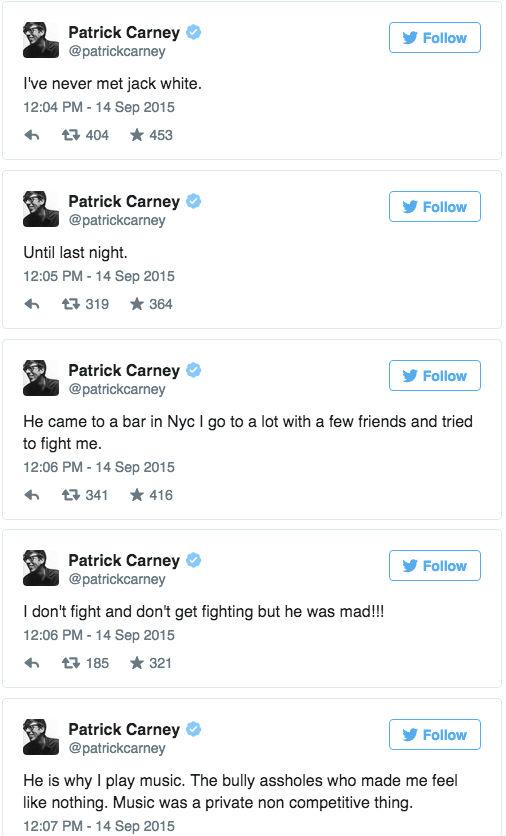 The tweets read: "I've never met Jack White.
"Until last night.
"He came to a bar in NYC I go to a lot with a few friends and tried to fight me.
"I don't fight and don't get fighting but he was mad!!!"
"He is why I play music. The bully assholes who made me feel like nothing. Music was a private non-competitive thing.
Record Store Day 2015: Best UK exclusives
Record Store Day 2015: Best UK exclusives
1/10 The White Stripes – Get Behind Me Satan

Firstly, it's naturally going to be pressed on red and white vinyl which will look super cool. Secondly, Jack White has announced he won't be touring for a 'long period of time' after Coachella so this can be your reminder of his greatness and thirdly, it's the album's 10th anniversary, so it just makes sense. Never before released on vinyl, amazingly.

2/10 Jimi Hendrix – "Purple Haze"/ "Freedom"

It's on purple vinyl! Limited to 1000 copies and reissued on 7" from 1967, this is a live recording of the guitar master in action. His mainstream career spanned just four years but Hendrix remains right up there in all influential guitarist lists. Hard to beat.

3/10 Manic Street Preachers – The Holy Bible

There are 1500 copies of this special 20th anniversary picture disc from our favourite Welsh alt-rockers. The group's lyricist and guitarist at the time this album was recorded, Richey Edwards, went missing soon afterwards, and no more of his work has ever been heard.

4/10 Mumford & Sons – "Believe"/ "The Wolf"

Take from upcoming third album Wilder Mind and pressed on deluxe 7", there are just 1,000 copies available of this one, all hand numbered and hand stamped. Time to decide whether you can bear the lack of banjo or not.

GETTY IMAGES

5/10 David Bowie – "Changes"/ "Eight Line Poem"

Finally, the "Changes" picture disc is here, so collectors can no longer bemoan its absence from the 40th anniversary series. First released in 1972, the famous song was the first of two singles taken from Hunky Dory (the other was "Life on Mars?"). The mono image on this vinyl is a previously unpublished shot from the album recording session.

6/10 Brian Eno – My Squelchy Life

Some tracks from this rare "lost" album featured on Eno's subsequent releases after it was suddenly withdrawn in 1991. Now, 750 vinyl lovers have the chance to get their mitts on it, and will enjoy never-before-heard additional track "Rapid Eye" for their efforts.

7/10 Foo Fighters – Songs From the Laundry Room

Dave Grohl is a firm fan of Record Store Day and is joining in the fun this year. Expect a cover of Kim Wilde's 1981 hit "Kids in America" on this four-track 10" release, that also promises early versions of "Big Me" and "Alone + Easy". There's a new track too, "Empty Handed".

8/10 Brand New – Deja Entendu

The double 12" has been re-pressed on 180g black vinyl especially for Record Store Day. Fans can expect a lyric book insert, download card and sticker sheet with the purchase, which could be made to celebrate the Noughties band re-entering the studio to make some more sweet music recently.

9/10 Courtney Barnett – "Kim's Caravan"/ "Close Watch"

This Aussie singer-songwriter is making quite the name for herself with her deadpan vocal style and witty lyrics. Her debut album, Sometimes I Sit and Think and Sometimes I Just Sit was released last month and "Kim's Caravan" is one of its best tunes. The B-side to this vinyl, a cover of "Close Watch" by The Velvet Underground's John Cale, is pretty special too

10/10 Run The Jewels – "Bust No Moves"

This EP features previously unreleased track "Bust No Moves" ft. rapper SL Jones, alongside four other songs from past albums – "Pew Pew Pew", "Love Again" and "Blockbuster Night Pt. 2". EI-P and Killer Mike don't like to disappoint, and this one will excite their fans no end.
"Not sure what he's unhappy with cuz I just liked Zeppelin a lot and wanted to play guitar. Cut my pinky off and ended up being a drummer.
"Not the best drummer but a passionate one. But anyway Jack White. A 40-year-old bully tried to fight the 35 year old nerd.
"It might get loud but it might also get really really sad and pathetic.
"Jack White is basically Billy Corgan's dumb ass zero t-shirt in human form."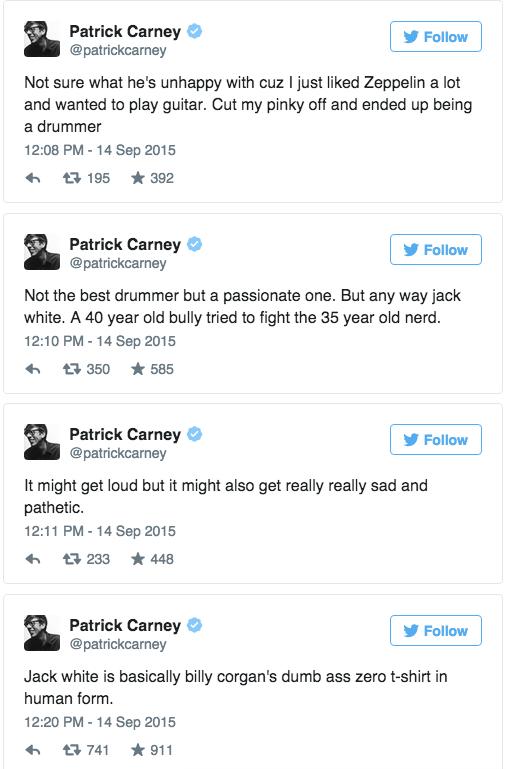 White has since responded to Carney's claims. In a statement released to Pitchfork, White said: "Nobody tried to fight you, Patrick. Nobody touched you or 'bullied' you. You were asked a question you couldn't answer so you walked away.
"So quit whining to the internet and speak face to face like a human being. End of story."
Talked to jack for an hour he's cool. All good.

— Patrick Carney (@patrickcarney) September 14, 2015
White has made repeated assertions that the Black Keys have "ripped off" his sounds, but last year he apologised for his comments and said: "I wish the band the Black Keys all the success that they can get."
Since White made his comments to Pitchfork the pair appear to have made up, as Carney later tweeted: "Talked to Jack for an hour he's cool. All good."
Reuse content