In 2015, we're well into the digital age and social media has become the most effective way for people with huge followings to assert their influence. 
Through Twitter, Instagram, Facebook, Youtube and more, a number of individuals have acquired thousands of followers who watch, listen to and cling on to their every word.  
Some social media influencers have become famous just from their burgeoning (and in some cases, now deleted) accounts, while others are already well-known but have built an influential reach through their Instagram and Facebook accounts. 
Others use social media as a force for change. Take plus-size model and body positivity campaigner Tess Holliday, or the Humans of New York photographer Brandon Stanton, who's humanisation of the refugee crisis has attracted the attention of world leaders.
Here are the most important social media influencers of 2015:
Felix Kjellberg (PewDiePie)
Known online as PewDiePie, the professional gamer made headlines when he was recognised by Forbes as the highest-earning YouTuber of 2015 with an annual income of $12million, much of which comes from advertising
His wealth was a controversial topic which led to him receiving criticism. Kjellberg then issued a response to the "haters" saying, "I don't think there's any good reason why anyone should care. And on top of that I guess there's no good reason why I should care either. So we're just going to end it there."
The 25-year-old is best known for videos of him playing video games while often cursing away at the screen.
His 37.7million subscribers and 9 billion views across the videos demonstrate his reach.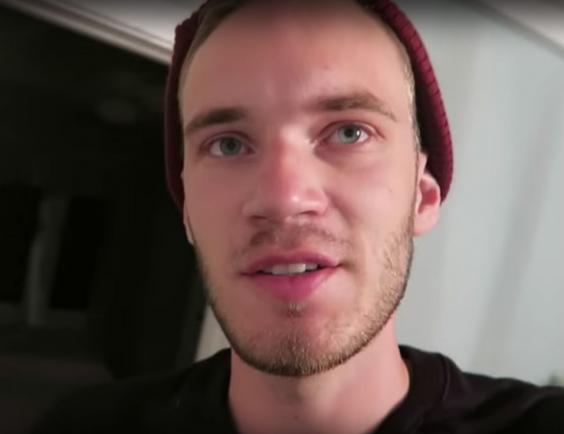 Stina Sanders
Following Essena O'Neill's decry of the fakeness of social media (continues below), Sanders took part in a social (media) experiment by posting everyday photos.
The fact that she apparently lost thousands of followers after posting images of her bleaching her facial hair, undergoing colonic irrigation and visiting her therapist, supported claims that social media isn't a true reflection of reality. 
Sanders claimed the "stigma" around modelling career made her want to reveal "what life is really like behind the mask".
Despite losing followers, Sanders opened up a much-needed discussion initiated by O'Neill.
Her experiment also produced some interesting results. After the 'real' posts were shared, she apparently noticed more women liking her images than when she posted photos of herself by a pool in a bikini. She was also praised for speaking openly about psychotherapy and mental illness.
Brandon Stanton
The photographer behind the hugely influential Humans of New York website made his mark in 2015 through a series on the refugee crisis.
Transporting his lens from New York to Europe, where the trail of refugees reached miles long, Stanton provided a human story behind the numbers, scaremongering and political squabbles.
And this year, several photos caught the attention of influential people.
In July, Ellen DeGeneres and Hillary Clinton sent encouraging words to a gay teenager who was pictured crying.
President Obama also commented on photographs. The latest being a scientist and Syrian refugee who lost his family in the civil war and was looking ahead to resettlement in Michigan, USA.
The comment sparked a fundraising campaign from the actor Edward Norton to support the scientist's move to the US and has so far raised over $450,000.
Tess Holliday
The plus-size model uses social media to spread a message of body positivity and self-acceptance to her one million Instagram followers.
She gained the attention of MILK modelling agency after posting shots of herself, becoming the largest size model to be signed by an agency at size 22.
Coining the phrase 'eff your beauty standards' both on social media and through a range of clothing clearly struck chords with many, as by September the hashtag has been shared over 1 million times.
She was also a vocal critic of Project Harpoon, the body shaming social media account, which photoshopped images of famous women to make them seem thinner.
The most influential people on social media in 2015
The most influential people on social media in 2015
1/6 The most influential people on social media in 2015

Felix Kjellberg (PewDiePie)

Youtube

2/6 The most influential people on social media in 2015

Brandon Stanton

3/6 The most influential people on social media in 2015

Tess Holliday

4/6 The most influential people on social media in 2015

Lena Dunham

5/6 The most influential people on social media in 2015

Harry Styles

6/6 The most influential people on social media in 2015

Taylor Swift
Lena Dunham
After creating the critically acclaimed television series Girls, writing a book and becoming known as one of Hollywood's most admired millennial feminists, it was only natural that Dunham's next step should be a lifestyle newsletter.
Teaming up with Girls producer Jenny Konner, the content differs from other 'celebrity' lifestyle websites and has been influential in opening up debate.
The most telling instance came when Dunham brought in arguably one of the most sought after actresses in the world, Jennifer Lawrence, to pen an essay on the gender pay gap in Hollywood. The article received international attention and initiated a powerful discussion on the topic with fellow actors Emma Watson, Carey Mulligan and Bradley Cooper publicly supporting Lawrence.
Much of the content from the twice weekly newsletter has focused on feminism. An interview with Hillary Clinton by Dunham was one of the first articles included, as well as an interview with Gloria Steinem. Other articles openly discussing abortion and voicing support for Planned Parenthood have been penned and widely shared.
Harry Styles
Styles' influence on social media is already proven by the fact that a simple tweet sending love to One Direction fans in the wake of Zayn Malik's departure was the most re-tweeted tweet of the year (745,000 retweets).
All the love as always. H

— Harry Styles. (@Harry_Styles) March 26, 2015
However, it was in July 2015, when he spoke out against the marine park SeaWorld, that his influence could be really measured.
By telling concert goers if they "love dolphins" not go to SeaWorld, the message soon spread. 
ICYMI: @Harry_Styles had a message for fans in #SanDiego last night—don't go to #SeaWorld pic.twitter.com/wfgfr1oKLB

— PETA (@peta) July 10, 2015
In August, Credit Suisse assessed that Styles' involvement did more damage to the water park than the groundbreaking documentary Blackfish in 2013 by increasing the negative internet commentary by 13 per cent. 
Taylor Swift
As the most followed person on Instagram with 59million followers, Swift already has a big enough platform to raise awareness of whatever issue she chooses.
She chose this issue to be with Apple music in June over its decision not to pay artists, writers and producers during their three-month free trial of Apple music.
The singer penned the open letter on Tumblr that soon went viral, and after gaining much support, she actually managed to reverse the decision of one of the biggest companies in the world.
Eddy Cue, the senior vice president of internet software and services at Apple responded by announcing on Twitter that they "hear Taylor Swift" and will make sure the artists got paid.
Apple will always make sure that artist are paid #iTunes #AppleMusic

— Eddy Cue (@cue) June 22, 2015
We hear you @taylorswift13 and indie artists. Love, Apple

— Eddy Cue (@cue) June 22, 2015
Addressing all other musicians worldwide, Swift thanked them for their support and made the empowering statement: "They listened to us".
I am elated and relieved. Thank you for your words of support today. They listened to us.

— Taylor Swift (@taylorswift13) June 22, 2015