The oldest employee working at a McDonald's branch in Europe has decided to spend his 90th birthday at the store where he works.
Bill Dudley, a great grandfather and Second World War veteran from North Wales, started working part-time at a branch in Mold, Flintshire after getting bored of retired life.
Mr Dudley said that his wife wouldn't let him help with the gardening after he retired from his job as a crane driver, so he un-retired and took a job in the customer care team at McDonalds instead.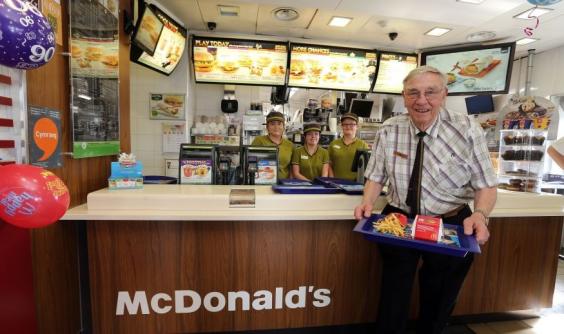 'Old McDonald', as his wife calls him, said: "I was bored pottering around the house and my wife wouldn't let me help out with the gardening, so applied for a job at McDonald's and I haven't looked back.
He added: "Despite being in employment since the age of 12, I still love coming to work. The camaraderie is fantastic and I'm really lucky to be surrounded by a great team who are like my family."
The restaurant is holding celebrations for his 90th birthday today, and we hope he's lovin' it.
Reuse content