Tony Blair was due to announce today his new role in tackling anti-Semitism in Europe, little more than a week after stepping down as envoy for The Quartet group of Middle East mediators.
The former prime minister has been appointed chairman of the European Council on Tolerance and Reconciliation, an organisation campaigning for more stringent laws against extremism to be adopted across the continent.
The organisation, set up by Russian-born businessman Moshe Kantor, President of the European Jewish Congress, and former president of Poland Aleksander Kwasniewski, campaigns for European countries to pass laws to criminalise Holocaust denial and to provide clear definitions of anti-Semitism and racism.
It also looks to persuade governments to offer funding for security at sites including synagogues and Jewish schools.
Mr Blair announced last month announced he was resigning from his role as envoy for The Quartet – a position which he had held for eight years.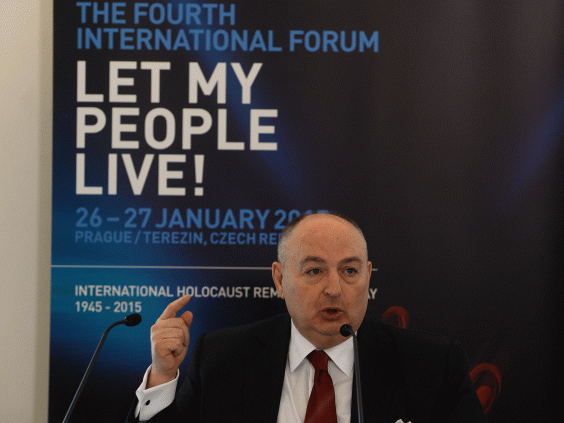 He had hinted in March that he was preparing to stand down in a speech which questioned the "efficacy" of democracy in the region.
In an article in The Times today, Mr Blair and Mr Kantor set out the organisation's role in combating extremism across Europe as they warn anti-Semitism is a problem "infecting the whole of society".
In pictures: Extremists in the EU
In pictures: Extremists in the EU
1/6 France: Marine le Pen

Marine Le Pen, 45, took over the Front National (FN), the party that her father founded, in 2011. He himself described her as "a big, healthy, blonde girl, an ideal physical specimen." She claims to have cleaned up the FN and succeeded in pushing her anti-European, anti-euro and anti-immigration agenda into the EU political mainstream

AFP

2/6 Germany: Udo Voigt

He will be the first German neo-Nazi to enter the European Parliament. The former army officer, born in 1952, was jailed in 1995 for inciting racial hatred. Formerly the leader of the far right National Democratic Party (NPD), Voigt was convicted in 2009 after he was caught handing out flyers at the World Cup which argued that a black player was not entitled to play for Germany, whose national team – the literature argued – should be made up only of white players.

AFP

3/6 Denmark: Morten Messerschmidt

Leader of the Danish People's Party, which won 27 per cent of the vote. His party has rammed 20 laws relating to immigrants and asylum-seekers through the Danish parliament, giving it the most anti-foreigner legislation in Europe. His party calls Islam "a fascist ideology" and rails against "East European criminal gangs". One party strategist said "blood ties" to Denmark should be required for citizenship, though the statement was quickly retracted.

EPA

4/6 Hungary: Krisztina Morvai

A senior member of Jobbik, the anti-Semitic and anti-Roma party on Hungary's far right wing. In 2009, she attracted international publicity after declaring: "So-called proud Hungarian Jews should go back to playing with their little circumcised dicks." In 2009, she cancelled an interview with a British newspaper, declaring in tones of outrage: "I am a decent politician and the mother of three children, yet you in the west keep portraying me as a Nazi and a Fascist."

AP

5/6 Italy: Mario Borghezio

MEP for Italy's notoriously racist Northern League, he has relentlessly attacked the nation's first black cabinet minister, Cecile Kyenge, minister for integration, claiming she would import 'tribal traditions' into the Italian government. Other elected members in the party called her "an orang-utan" and suggested that someone should rape her, so she would understand how the victims of Somali rapists felt. He attracted attention by lobbying for the creation of an EU archive of UFO sightings.

Getty

6/6 Greece: Eleftherios Synadinos

Fabulously mustachioed retired lieutenant-general in the Greek army, he was one of Golden Dawn's top candidates in the European elections, at which the overtly neo-Nazi party obtained more than 9 per cent of the vote. With its black-shirted assault squads, the Hitler photos and the party's swastika-inspired logo, it has been accused of being a criminal organisation. Its website declares: "We aren't the quiet birds of peace time, we are birds of the storm and the hurricane."
They write: "Globalisation is pushing us closer together so the effects of racism and discrimination increasingly undermine the fabric of society as a whole.
"Our individual success depends on that of the collective, which is why states, international organisations and other actors must join together to tackle hate and intolerance. If we wait for our armies to act, it will be too late."
In the article, Mr Blair and Mr Kantor highlight a report by the Kantor Centre at Tel Aviv University, which recorded a total of 766 violent anti-Semitic acts in 2014 – a 38 per cent rise on the previous year.
The report said last year was one of the worst for anti-Semitic incidents in the past decade.
Mr Blair insisted he was to remain involved with the peace process after stepping down from his position with the Quartet last month.
His role was thought to have become increasingly difficult as his relationship with senior Palestinian Authority figures deteriorated.
Additional reporting by PA