Someone claiming to be the lorry driver involved in the crash that put Tracy Morgan in intensive care and killed comedian James McNair has hit out at "lies" about the accident.
A series of tweets were sent from an account appearing to belong to Kevin Roper on Monday saying he wish he had died instead and felt "horrible".
The 35-year-old Walmart delivery driver, from Jonesboro in Georgia, is due in court on Wednesday to face five criminal charges over the accident.
Authorities claimed Roper failed to slow for traffic on Saturday and swerved, smashing into the back of Morgan's bus, killing comedian James "Jimmy Mack" McNair and injuring Morgan and three other people.
They said the driver had been awake for more than 24 hours before the accident – a criminal offence in New Jersey.
A series of tweets from the account claiming to belong to Roper denied being awake for longer than the legal limit and claimed he was being vilified in the media because a celebrity was involved.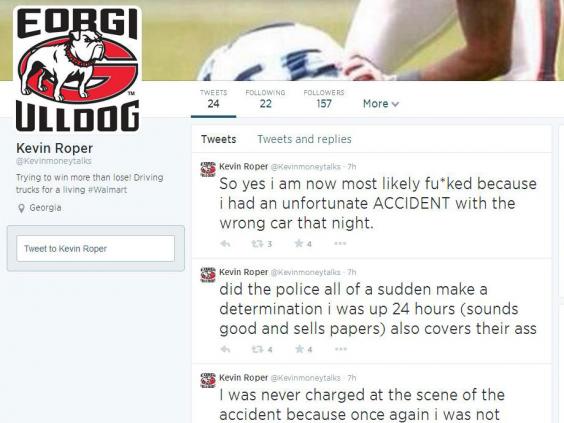 He wrote: "My prayers go out to all the families that were affected.
"My prayers to the man that passed away during the accident (Mr McNair). I wish it was me and I can't express how horrible I feel."
The tweets claimed that Roper "not once" said to police or media that he was awake for 24 hours.
It continued: "The accident was horrific and we lost a precious life, but please remember I was not drunk, high, (I was tested and passed)under any influence of any drug or alcohol.
"I had an 'ACCIDENT' which unfortunately occurred with a lot of media spotlight.
"If my ACCIDENT occurs with no media spotlight i am issued a few traffic tickets. The excuse of me being up 24 hours is complete BS!"
The tweets said Roper was "not guilty of any crime" and concluded: "So yes i am now most likely f****d because I had an unfortunate ACCIDENT with the wrong car that night."
The former Saturday Night Live cast member and 30 Rock star remains in intensive care with a broken femur, a broken nose and several broken ribs.
Reuse content