Tulisa Contostavlos, the former X Factor judge, has revealed that she tried to commit suicide last year after she was charged with supplying Class A drugs.
In a BBC documentary being broadcast tonight, the singer tells for the first time how she took a potentially lethal combination of pills and alcohol following a sting by The Sun on Sunday's Mazher Mahmood.
Seen in the film sobbing hysterically as she describes the "evil" reporters behind the newspaper's operation, she says: "They've f**ked me up good and proper. They're killing me, they're killing me, they're fucking killing me.
"I just want my life back," she says. "They've ruined me. This would never have happened unless they created the situation. They made it happen."
The case against the former N-Dubz singer was based on a sting by The Sun on Sunday, in which journalists posing as film producers approached Contostavlos and flew her to Los Angeles and Las Vegas on the promise of a role in a film with Leonardo DiCaprio.
Courting Controversy: Tulisa's Biggest Headlines
Courting Controversy: Tulisa's Biggest Headlines
1/11 Tulisa pleaded not guilty to supplying an undercover Sun on Sunday journalist with Class A drug cocaine. The singer claims she was set up and led on by Mazher Mahmood. She was arrested in June 2013.

Getty Images

2/11 In March 2012 Tulisa was stopped going through customs after a suspicious vibration in her luggage. 'Most cringe moment of my life… checkin in "Mam..ur suitcase is vibrating..can u open ur case n turn what eva that is off"..just kill me,' she said on Twitter.

3/11 Every celebrity fears the ultimate scandal: a sex tape leak. And that's exactly what Tulisa faced when phone-captured footage of her and ex-boyfriend MC Ultra engaging in a sex act emerged online. She admitted the woman was her in an emotional YouTube clip.

Getty Images

4/11 "This time, Justin messed with the wrong woman," she famously said after winning a court case for damages over the leak following a court injunction on the distribution of the material.

Getty Images

5/11 National sweetheart Gary Barlow said she had "fag ash breath". Which wasn't very nice. And so, Tulisa hit the headlines once more.

6/11 Tulisa and Kelly Rowland were reportedly at log-a-heads for the majority of the 2011 series after Tulisa called Kelly's biggest hopeful, Misha B, a 'bully' live on air.

7/11 Tulisa got an official warning for her weird arm salute thing, which she did every time she walked onto the The X Factor stage during the 2011 series. Ofcom launched an investigation into whether flashing the 'The Female Boss' tattoo counted as an advertisement for her new perfume of the same name.

8/11 Remember when Tulisa announced she was dating her long-time N-Dubz bandmate Fazer? And then they split up? And then the band split up? The papers do.

9/11 Few things are more awkward and note-worthy than a debut album flop. While single "Young" was a number 1 hit, the subsequent album only debuted at number 35 on the charts, despite her X Factor judging stint.

10/11 Tulisa was branded a "home wrecker" by the pregnant girlfriend of Newcastle player Danny Simpson. The singer began dating the football player in November 2012, but faced a public slanging match with Stephanie Ward, who claimed she was in a relationship with Simpson – and three months pregnant with his child – when the former judge started dating him. Tulisa and Danny's relationship cooled off in May 2013.

11/11 She was snapped in a bikini with the words 'Lucky You' and a shamrock just above her female parts. Reports that she has a tattoo that reads 'Lucky Me' just above her rear are yet to have been confirmed.
The paper published its findings in a front-page exclusive under the headline "Tulisa's Cocaine Deal Shame" on 2 June 2013, but the trial was thrown out of court last week after the undercover reporter who persuaded her to boast that she could supply him with cocaine was found to have lied in court.
Mahmood, also known as "the Fake Sheikh", is now being investigated by the Crown Prosecution Service, which is scrutinising the accuracy of evidence given by him in more than 30 previous criminal cases.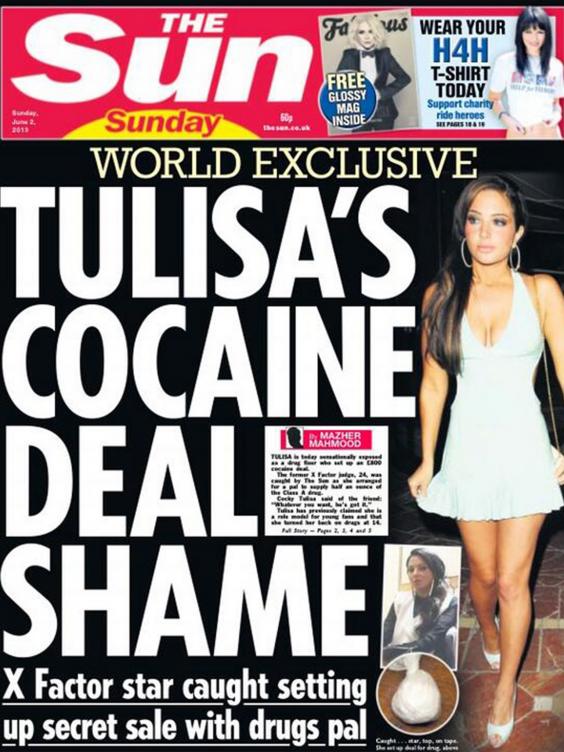 The BBC Three documentary Tulisa: The Price of Fame follows the singer from the moment news of the drug deal broke through what became a year-long ordeal, and includes webcam footage filmed by Contostavlos.
Speaking after her attempted suicide in December 2013, she described how she was an "emotional wreck" when she learned she would be formally charged with the offence, saying she spent hours screaming and crying with her cousin and fellow N-Dubz member Dappy, before "necking" a cocktail of pills and alcohol.
"I'd had a drink so everything felt even more intensified," she said. " I don't even know what I was planning to do."
Video: The Tulisa drugs trial
A friend called an ambulance but Contostavlos refused to go to hospital. "Luckily I was just drowsy," she said. "I woke up the next day just numb."
Describing the feelings that led her to that point, the singer said: "I don't have the energy any more to do this and even if I get through it, then what? I'm just going to be drained as a person.
"I'm going to be numb by the end of this. I don't know how much of me I'm going to have left. And I was like, shall I just end it? Shall I just get on with it and just never have to feel like this ever again?"
Contostavlos has spoken openly in the past about her teenage suicide attempts. The singer, who grew up on a Camden council estate, overdosed on pills aged 14 and cut her wrists when she was 17.
As media interest in the case grew, Contostavlos left her £4.5m mansion in Hertfordshire and moved into in a small flat in north London, after she began to feel unsafe in her own home.
"I am going to sell that house," she says in the documentary. "After everything that's happened, I don't feel safe there at all. I don't even want to drive back there to pick up my stuff because I'm afraid that someone will follow me."
Reuse content