Mazher Mahmood, otherwise known as the 'Fake Sheikh', tried to persuade Tulisa Contostavlos to have sex with him in exchange for a £3.5million film part, court documents claim.
Tulisa was charged with helping to supply the undercover The Sun on Sunday reporter, who was posing as Bollywood producer Samir Khan, with £820 worth of cocaine. However, the trial collapsed on Monday (21 July) because Judge Alistair McCreath believed there were "strong grounds" to believe that Mahmood had "lied" at a pre-trial hearing.
In the court documents, which were originally submitted at a pre-trial hearing and can now be reported, Tulisa's barrister Jeremy Dein QC claimed that Mahmood and his team had used unethical tactics to entrap the singer, including "sex for payment".
Tulisa and her small entourage, which included her PA Gareth Varey, met with the undercover reporters on 10 May 2013 at the Metropolitan Hotel in London for six hours, during which they drank heavily. The meeting included Samir[Mahmood] and Nish[Mahmood's colleague], who were playing the role of filmmakers.
Courting Controversy: Tulisa's Biggest Headlines
Courting Controversy: Tulisa's Biggest Headlines
1/11 Tulisa pleaded not guilty to supplying an undercover Sun on Sunday journalist with Class A drug cocaine. The singer claims she was set up and led on by Mazher Mahmood. She was arrested in June 2013.

Getty Images

2/11 In March 2012 Tulisa was stopped going through customs after a suspicious vibration in her luggage. 'Most cringe moment of my life… checkin in "Mam..ur suitcase is vibrating..can u open ur case n turn what eva that is off"..just kill me,' she said on Twitter.

3/11 Every celebrity fears the ultimate scandal: a sex tape leak. And that's exactly what Tulisa faced when phone-captured footage of her and ex-boyfriend MC Ultra engaging in a sex act emerged online. She admitted the woman was her in an emotional YouTube clip.

Getty Images

4/11 "This time, Justin messed with the wrong woman," she famously said after winning a court case for damages over the leak following a court injunction on the distribution of the material.

Getty Images

5/11 National sweetheart Gary Barlow said she had "fag ash breath". Which wasn't very nice. And so, Tulisa hit the headlines once more.

6/11 Tulisa and Kelly Rowland were reportedly at log-a-heads for the majority of the 2011 series after Tulisa called Kelly's biggest hopeful, Misha B, a 'bully' live on air.

7/11 Tulisa got an official warning for her weird arm salute thing, which she did every time she walked onto the The X Factor stage during the 2011 series. Ofcom launched an investigation into whether flashing the 'The Female Boss' tattoo counted as an advertisement for her new perfume of the same name.

8/11 Remember when Tulisa announced she was dating her long-time N-Dubz bandmate Fazer? And then they split up? And then the band split up? The papers do.

9/11 Few things are more awkward and note-worthy than a debut album flop. While single "Young" was a number 1 hit, the subsequent album only debuted at number 35 on the charts, despite her X Factor judging stint.

10/11 Tulisa was branded a "home wrecker" by the pregnant girlfriend of Newcastle player Danny Simpson. The singer began dating the football player in November 2012, but faced a public slanging match with Stephanie Ward, who claimed she was in a relationship with Simpson – and three months pregnant with his child – when the former judge started dating him. Tulisa and Danny's relationship cooled off in May 2013.

11/11 She was snapped in a bikini with the words 'Lucky You' and a shamrock just above her female parts. Reports that she has a tattoo that reads 'Lucky Me' just above her rear are yet to have been confirmed.
The document states: "Throughout the evening, Samir and his teams were plying TC and her companions with alcohol, in particular Mojitos and Platinum tequila shots.
"Samir commented on the expensive drinks he was ordering, but encouraged TC and her party to drink.
"He and his associate were, unbeknownst to TC, not in fact consuming alcohol; all the while they were cajoling and persuading [their] victims to drink so much they became intoxicated.
"As a consequence of drink, the events of the evening have become blurred for TC.
"She recalls parts, but not all. Her recollection as to detail is inevitably impaired.
Video: Tulisa trial collapses
"There was discussion of a very wide range of topics. At one stage, TC referred to her problems with depression and the assistance she had in falling asleep from occasional use of 'weed'.
"Thereafter, Samir referred repeatedly to weed, and encouraged discussion of it."
It continues: "In the thick of these events, TC was accompanied to the lavatory by Nish. There, Nish told TC that she could expect a fee of £3.5m for her part in the film.
"Nish pretended that she really wanted TC to get the part and commented that TC needed to show she was suitable for the role.
"Nish said words to the effect that TC should remember her past.
"This was highly manipulative conduct designed to lure TC into further drug-related talk and activity, while creating an enormous financial incentive for her to do so.
"TC responded to Samir's luring and 'egging on' by talking further about cocaine, believing that this was what Samir wanted to hear, she hoped to increase her prospect of securing the part by doing so, and believed she could.
"TC's talk of involvement and connection with cocaine was similarly made up by her, but well received by Samir.
"This was done to please the film-makers, to increase her prospects, not because it was true.
"In addition, TC recalls that Samir diverted the conversation to celebrity prostitution, with reference to someone known to Samir.
"TC understood Samir to be hinting at sex with TC for payment.
"There was a stage of events when Nish attempted to 'prise' GV away from the party, suggesting that it would be best if the businessman were left with TC and [friend] Michelle who, by now, was extremely drunk.
"GV was fearful for TC's safety if left alone with Samir and he resisted the suggestion.'
The document claims that Mahmood started talking about "liking white girls" before "'Nish eventually suggested that TC go to Samir's bedroom alone".
"Again, TC perceived that sex for payment was being suggested. She declined the offer."
The group went up to Mahmood's hotel room together, the document alleges.
 "Whilst there, in the bedroom, Michelle appeared to lose consciousness on the bathroom floor.
"TC has concluded, in view of the extreme and unpleasant reaction she, GV and Michelle experience, that the drinks of all three of them must have been spiked.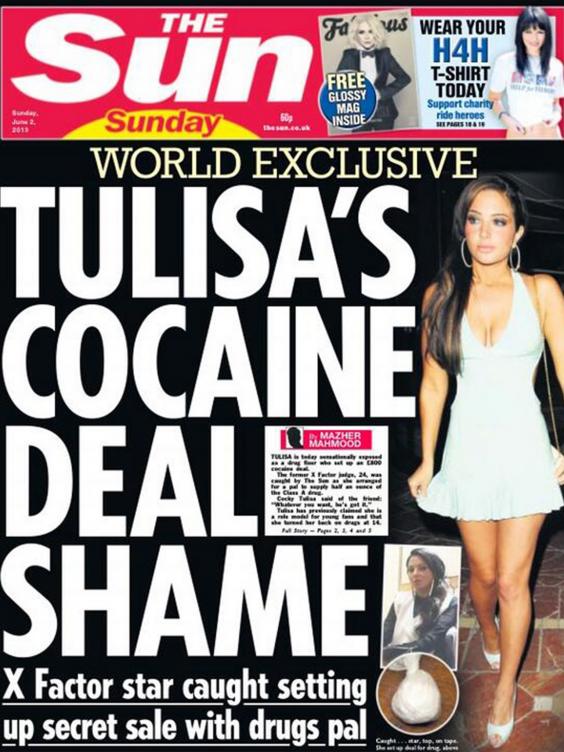 "As a consequence of the alcohol drunk, GV did not wake up until 3.30pm, next day.
"He had blacked out, something he would not usually do. When GV woke up he was fully clothed, lying on the floor in his bedroom."
The court papers go on to claim that Tulisa had no prior knowledge of the drug deal that took place between Mike GLC (Michael Coombs or MC) or of when it was alleged to have taken place.
Coombs pleaded guilty to supplying the Class A drug last week, but his charges were also dropped.
"As far as TC was aware, MC was not a drug dealer," it read.
The document was concluded with the claim that Mahmood has a "suspect, tainted and chequered history".
"Moreover, from start to finish, evidence has been gathered in a background of lies, deceit, manipulation and falsity,"QC Dein said.
Details of the pre-trial hearing were initially held back because Judge McCreath felt that its publication might prejudice the jury.
Mazhir Mahmood has since been suspended by The Sun on Sunday pending an internal investigation.
Tulisa is set to discuss the 'Fake Sheikh' drugs sing in a forthcoming BBC3 documentary.
Reuse content