The US women's football star Hope Solo has been arrested for suspected domestic violence following an incident at her home in Seattle.
Police said they believed the 32-year-old, who has been capped 152 times for the US national team and won two Olympic gold medals, had struck her sister and 17-year-old nephew, leaving them both with visible injuries.
According to a statement, officers responding to a 911 call at Solo's home in the suburb of Kirkland arrived a little after midnight to the sounds of the "disturbance" spilling out onto the street.
Solo was hosting a party at the house at the time, the Seattle Times reported, and police said she seemed "intoxicated and upset" when they arrived.
A Kirkland Police Department report quoted a male 911 caller as saying Solo had been "hitting people" at the family gathering, and after speaking to people at the party and seeing the injuries to her nephew and sister, officers arrested the footballer.
She is being investigated on two counts of fourth-degree domestic violence assault and was expected to remain in custody until a court appearance on Monday, police said.
Solo's lawyer, Todd Maybrown, said: "Hope is not guilty of any crime. In fact, our investigation reveals that Hope was assaulted and injured during this unfortunate incident.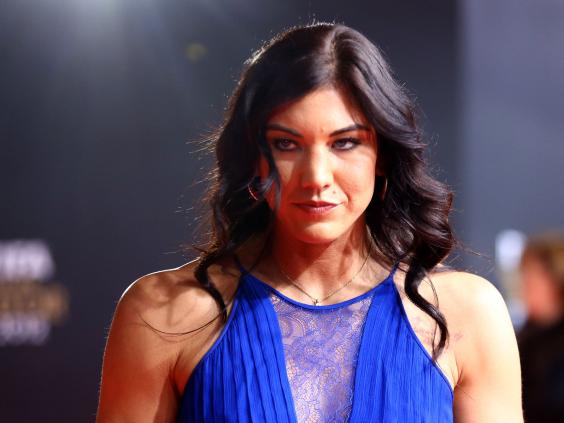 "We look forward to the opportunity to present the true facts in court and to having this matter behind Hope very soon."
Solo currently plays her club football for the Seattle-based Reign FC, and the club told the New York Post they would be playing without her in a match on Sunday against the Western New York Flash.
The team posted on its official Twitter feed: "We are aware of the situation with Hope and are now gathering information."
Though police did not identify Solo's sister, the star did write in her 2012 memoir Solo: A Memoir of Hope that she has a half-sister named Terry.
This is also not the first time Solo has been involved in an investigation into an alleged domestic disturbance.
In 2012, she married former Seattle Seahawks American footballer Jerramy Stevens. He was arrested on the night before their wedding for investigation of assault after a disturbance involving her, but was not charged. Mr Maybrown represented him in that case.
Solo said soon afterwards that there never was an assault and that she and her new husband were happy.
"It's unfortunate what the media can do to judge before the facts are out there," she said. "It's hard to see, but it's a hard truth, and it's part of life. I'm happy. I'm happily married. I would never stand for domestic violence. I've never been hit in my life."