In an explosive book to be published tomorrow, the former French First Lady Valérie Trierweiler says that she tried to take an overdose of sleeping pills when she heard that President François Hollande was having an affair with an actress.
The incident – denied by the Elysée Palace at the time – is described in an extract from the book published today by the magazine Paris Match.
Ms Trierweiler says that she wanted to "sleep" and did not want to "live through" the humiliation which lay ahead.  She does not say that she intended to kill herself but she admits wrestling with the President to take as many pills as she could.
"The news about [Hollande's affair with] Julie Gayet was top of the news that morning. I cracked. I couldn't listen to it any more. I ran into the bathroom and grabbed the little plastic bag of sleeping pills," Ms Trierweiler writes.
"François followed me. He tried to rip the bag out of my hand. I ran into the bedroom. He got hold of the bag and it ripped. Pills fell all over the bed and the floor. I got hold of some of them and swallowed as many as I could."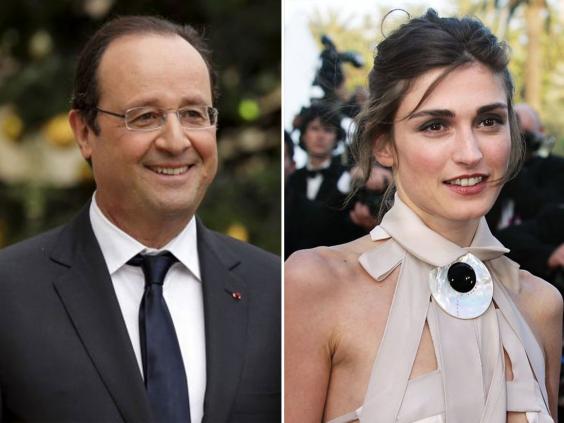 "I wanted to sleep. I didn't want to live through the hours (of humiliation) that were coming. I knew that a storm was going to break over my head and I didn't have the strength to go through it. I wanted to run from it. I lost consciousness."
The 320-page book "Merci pour ce moment" – "Thank you for this short time together" – has been written and printed in great secrecy and will appear in bookshops in France tomorrow.
Although Ms Trierweiler was originally reported to have promised not to attack Mr Hollande, friends have told the French media that the book is a "neutron bomb" which will leave the President's reputation "in shreds".
Two or three other short extracts were published this morning by Paris Match, the magazine for which Ms Trierweiler, 49, used to work.
In one passage, the former first Lady – dumped by Mr Hollande soon after the news of his affair broke – speaks of the fury of the American First Lady, Michelle Obama after the publication of a "selfie" of Barack Obama and the Danish prime minister, Helle Thorning-Schmidt.
"At least I am not the only person who suffers from jealousy," she writes.
Over 200,000 copies of the book have been printed – by a firm in Germany to try to prevent leaks. Ms Trierweiler is reported to have received a €100,000 advance from the publishers, Les Arenes.
Reuse content