There are parts of London that feel protected from the chaos and confusion that otherwise marks the capital, with its crowds and shops and traffic jams backing up at red lights.
Vicky Pryce lives in one of them. Her home sits amid a grove of Regency townhouses that surround an elliptical private garden located only a few metres from the kebab shops and bars of Clapham High Street.
The house is in the heart of the city but isolated from it; a place of flower beds and wooden benches where imposing white-framed windows peer down on wrought-iron gates, accessible only via a discreet alleyway. A private place. A pretty place. The type of place used as a backdrop by TV historical dramas. A place where privilege lives.
The cul-de-sac used to have a barrier at its entrance to keep people out, I learn when the front door opens and I am let in by Mrs Pryce. She is still bird-like thin but no longer has that haunted, breakable look seen during the collapse of her marriage to the Liberal Democrat Cabinet minister Chris Huhne, and the subsequent trial that led to her imprisonment for accepting points on her driving licence which should have gone to her then-husband.
A gate had spanned the narrow entrance before the Second World War, I hear, until it was blown off by a German bomb that had landed on nearby Clapham Common. Some of Pryce's neighbours now want it put back to stop intrusions from the uninvited (and, come pub closing, drinkers looking for an open-air latrine). My host makes clear her opposition to that. I would have been surprised to hear anything different. If her recent experience tells us anything, it is that nothing can offer protection against suddenly having your supposed security blown apart.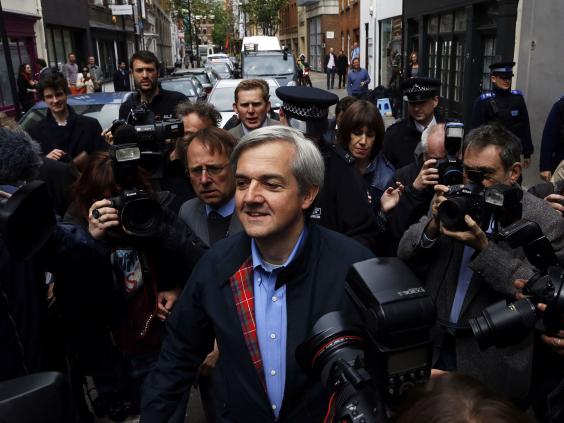 "Prison was an extremely important part of my life," she admits. "It would be extremely crazy and hypocritical to pretend this thing did not happen. Everyone who had to deal with me has to accept it is part of me.
"When I was moved from Holloway [where she spent the first part of her sentence] to an open prison, I would just soak up the air and sit under a tree, listening to the birds. Little things like that you don't forget.
"There are a few things I brought back with me [after release] and I don't want them to  finish. Not because I want to remind myself of it but because it was part of my life. You had to buy shampoo and I still have a little left in my bathroom. I have not used it up although, of course, I have used loads of other shampoos since. I have a box of tissues I brought there that is distinctive. It is red with white dots. It is still next to my bed and when it finishes I fill it up."
It is a year almost to the day since she emerged on 13 May from East Sutton Park prison, still with another two months of her sentence to run, which she was required to spend electronically tagged. It was the latest in a series of public humiliations for the 61-year-old. Her husband had shattered her family by leaving her after 26 years of marriage for a former lesbian a decade her junior. Her desire to get revenge by destroying Huhne's career through the points scandal backfired when her attempts to publicise the story succeeded, but her attempts to keep her own name out of it failed disastrously, and she was charged with perverting the course of justice.
The subsequent court case saw her personal and professional life targeted by the prosecution, as her attempt to argue marital coercion failed. Perhaps the lowest point came when a series of text messages from her son, Peter, to his father, Mr Huhne, were read out in court. They revealed the full extent of the emotional toll that had been wrought. "I hate you, so fuck off," one exchange from Peter ended.
In March 2013, both Pryce and Huhne were convicted of perverting the course of justice; each was sentenced to eight months in prison.
A natural response, once released, would have been to hide. But Vicky Pryce did not do that. Indeed, when we meet, she is dressed in an elegant grey business suit, having just returned from a business-networking event in town, and it takes only a short while in her company to be almost overwhelmed by the speaking engagements, book deals, various advisory boards, charitable organisations and commercial consultancies that she rattles off.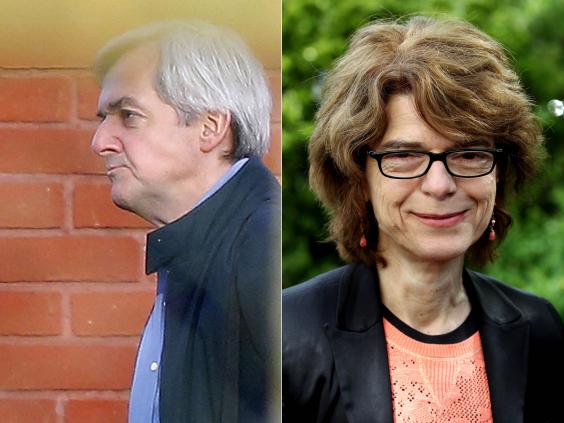 "As soon as I came out, I got a letter from the House of Lords inviting me to give evidence to the committee which looks at European issues, and I went," she says. "What do you do? I was certainly not going to say no. You always wonder what people think, of course. You do get recognised immediately and people know what  happened. But the extraordinary thing is that you get welcomed. People have been absolutely amazing. Clearly there is prejudice out there, but most people have been very warm to me.
"When you write something somewhere,  you can see the comments [online] and there are people writing stuff like, she has been in jail,  which I am used to. It is not comments people say to you. It is comments posted when I have written an article. In the street, people are very kind. People stop and hug me. I am surprised when they do – and then really pleased. Really pleased."
Vasiliki Courmouzis, as she was then, first came to London from Greece at the age of 17 to study at the London School at Economics. What followed was an apparently seamless rise through London society to become one of the true insiders of Britain's commercial and governmental firmaments. She was chief economist at a series of banks and, from 1986, at KPMG. By 2002 she was at the Department of Trade and Industry as chief economic adviser and then became head of the Government's Economic Service.
She first met Chris Huhne in 1982, when he was a business journalist at The Guardian. Pryce had married young, to an LSE academic with whom she had two children. They had since divorced and, in 1984, she and Huhne married, going on to have three more children. This helped propel her into the worlds of politics and media, as her husband became first an MEP and then the Liberal Democrat MP for Eastleigh in Hampshire. Vince Cable, now Business Secretary, and Lord Oakeshott, the Coalition's former Treasury spokesman in the Lords, were among their close friends.
At her trial, no less a figure than Sir John Gieve, once the Home Office's top civil servant, gave her a character reference. He praised her intellectual talents and called her "energetic and confident". As we talk in her living-room, it is easy to see why. Pryce is bent into a corner of one of the sofas, with her thin hands waved in front of her to emphasise or defend a point as conversation spins from the situation in Greece – "You can still feel the pain of the people" – to where the Coalition got it wrong in its economic response to the recession – "The mistake made was to cut capital spending so dramatically" – to the problems still faced by women in the workplace.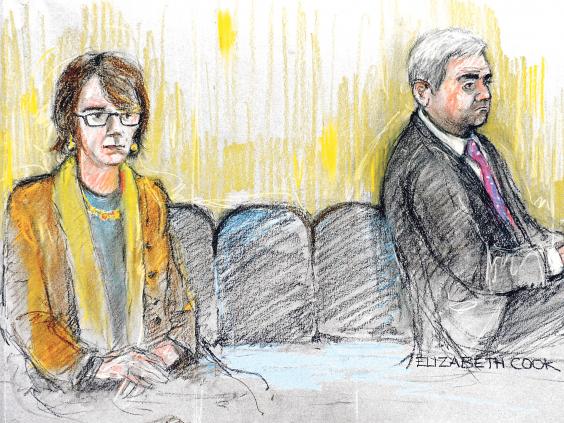 This last subject is to be the source of one of her two upcoming books, provisionally to be subtitled "The Economic Case for Quotas".  She has daughters who have their own children, she says, and knows exactly the scale of the challenges they face as professionals.
It is all very engaging and impressive – firmly giving the impression that the tribulations of  12 months ago never happened, or at least were a blip that has firmly been put to one side. When she lists the activities she is undertaking and name-checks the people with whom she is now working, it is clear that the Establishment has happily taken back in one of its own. This despite Pryce's actions during the events which resulted in her jail sentence: ringing up and seeking the confidence of journalists over the most personal elements of her marriage; taping calls with Huhne in which she sought to trick him into  a confession. To an outsider, she appeared at times almost deranged – but it is not only in the sanctum of the House of Lords where she has been lucky enough to have once again been made welcome; even the Department for Business has now invited her into the fold – this time on to the panel of economists advising Vince Cable, although in an unpaid role.
Pryce is too smart and ultimately too self-aware not to recognise that the invitations she has received have come her way not only because of her professional track record but because those making them "are your mates". "They are people you grew up with," she says. "You don't say no." She is also too smart and self-aware not to recognise that this put her in an extremely fortunate position, and one few ex-offenders are privileged enough to enjoy. It is this knowledge, she insists, that now largely drives much of her work. Her experience in prison, brief though it ultimately was, exposed her not only to the unfairness and inefficiency of the system but also the way stigma surrounding offenders can prevent them from gaining work on release, and therefore risk driving them to criminality.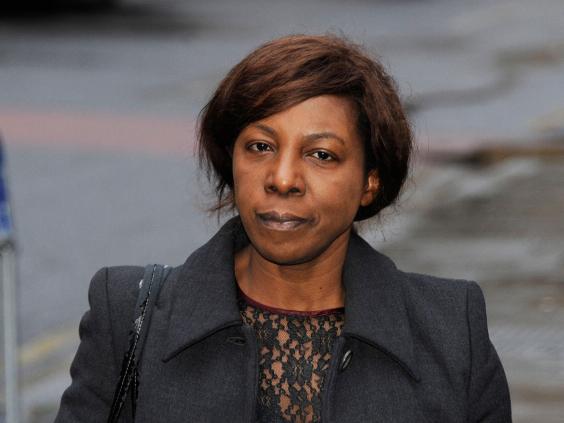 "It is crazy," she says, "the number of people who find it impossible to get a job or have to do so well below their skill levels. These are people who would be very grateful for anything. Clearly I was lucky in relation to many. I was better educated than many. I had a home to go to. Many do not have a home to go to and many end up homeless. There are horrid statistics that a very large percentage of women in prison had been abused as children. Also, the extraordinary statistic that something like 30 per cent of women in prison had been in care when growing up."
To an extent, her new role as prison campaigner is a familiar path. Many prominent individuals have emerged from time behind bars to petition on penal reform or, in the tradition of John Profumo, dedicate themselves to social causes. And there is no question that Pryce is doing her bit. The proceeds of the book she wrote on her prison experience, Prisonomics, go to the charity Working Chance, which acts to help find work for female prisoners on release (she is also a patron). She has appeared on panels dealing with the criminal justice system and hired an ex-offender as her PA. She wants the justice department to make educating prisoners a right not a perk. As she argues in the book, this would cut the cost of re-offending, which the Prison Reform Trust estimates at up to £13bn.
But what is so unexpected about Pryce is her insistence that such charitable endeavours are not the mark of someone whose eyes have been opened, but simply normal behaviour for those in positions of power in this country.
She has a glowing, surprisingly paternalistic view of the way that the Establishment works  in the 21st century – one that whatever she k experienced in jail or suffered during the media frenzy that focused on her or her family has done nothing to dent. It is all rather Downton Abbey as, to her, we are fortunate enough to be governed by people who care. The Establishment is not recognised enough by the general public for what it gives back, she believes, not least as good manners means its members normally do not draw attention to it themselves. Her present work is merely her contribution from this gilded circle in which she firmly places herself.
"There are thousands of us doing this. It is part of the culture. It is part of what we are meant to be doing," she insists. "When you look at the people at the top, I would say that 80 per cent  of those I know have some involvement, though previously I did not know it. There are prison visitors; there are people involved in charities helping the homeless. A friend at a leading consultancy has spent years mentoring the governor at my old prison, Holloway. I had no idea. The incredible thing is, we had never talked about this before. We had never mentioned it."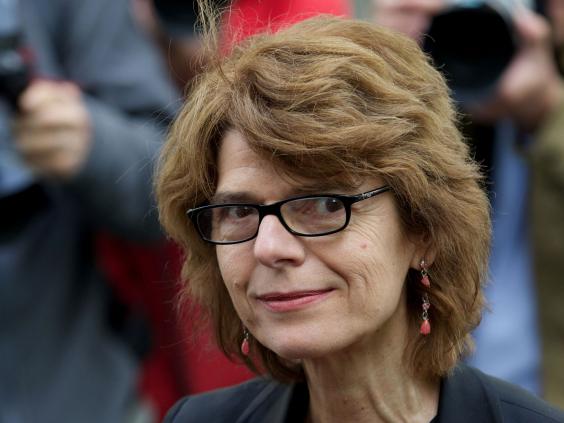 Taken aback, I ask if that is not a rather rose-hued view at this time of bonus-hunting and growing inequality between rich and poor, in which those who have are having more and those who don't have even less? "I am not saying every single one [is involved in such activity]," she says, "but a very high percentage of the so-called Islington set – of the Establishment, OK – are involved." But what of her own efforts – are they nothing unusual? "It's what we do," she says.
The "we" is particularly striking. Pryce is lucky enough to still live in the house she and Huhne once shared. Downstairs is dominated by the kitchen, which is a comfortable, familial mass of domestic mess, with its piles of newspapers and cards stuck to the walls and kitchen cabinets, including one "For the World's Best Mum". Upstairs, the drawing-rooms are tastefully laid out with sculptures and fine art, the walls a rich yellow hue. It is Hello! magazine-ready; everything is as it should be: on one stand, black-and- white pictures of Pryce's parents in Greece when they were young and newly married; tables filled with photographs of children on holiday.
She is not, however, happy to talk about those children, for whom the media spotlight must have been particularly nasty to bear. "We are very, very close," is all she will say of her kids  – 28-year-old Nicholas; Lydia, 24; and 21- year-old Peter. Nor will she elaborate on her reported relationship with the former MP Denis MacShane, himself currently in prison for making bogus expense claims. "I don't want to talk about personal things of that sort, but Denis is a great friend and he seems to be OK."
Her reticence to talk on these matters is understandable, not least as the case that consumed her life is still not entirely over. Ten days ago, Constance Briscoe, a part-time judge and friend of Pryce accused of making false witness statements during the speeding points case, was found guilty of lying to police. Pryce politely but firmly refuses to comment on either Briscoe or her fate, but her trial had brought up fresh accusations about Huhne's supposed bisexuality and again exposed the hatred that had existed between the two and the extent to which Pryce, at that time, became the wife scorned, not the rational power-broker she presents today.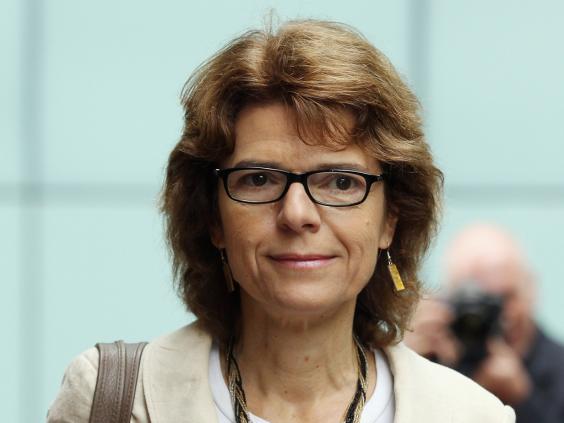 There have been no therapy sessions, she says. Nor a sudden turning to religion. Cynicism is not the response to her experiences. "I don't hold grudges. It makes you rethink human  nature, but it does not take away your faith in human nature. The support I got, the support  I saw, was extraordinary." Rather, her answer to how to rebuild her life has been to return to what she did before and has always done – work – and with those she had always done it.
"I am not in denial," she insists, "that is the interesting thing. I am not in denial about what happened or the plight of the people [in prison]. Everything to deal with prison reform I look at very carefully. Really feel passionate about."
When the interview is finished, we are quickly out of the house so she can make her next engagement, a talk in town on the relative merits of quantitative easing. We walk together through the alleyway that separates her home and the beauty of its surrounding terrace from the world outside. In the grove where she lives, a bird can be heard singing. On the main road, there is just the sound of cars passing and buses pulling to  a stop. It is so loud I can barely hear her as she says goodbye, but she seems utterly unaffected: still elegantly dressed; still poised; still calm; now sporting a slightly self-conscious half-smile as she disappears up the street to get to the  City, heading back once more into the welcoming sanctuary of her world. 1
'Prisonomics', by Vicky Pryce, is published  by Biteback, priced £16.99
Reuse content