Viv Albertine of the Slits says that the kidnapped Nigerian school girls might be punk's last hope.
While she doesn't think that a genre revolution as wild as punk will ever happen in the first world again, she believes more oppressed regions could still use music to break down the patriarchy.
"I'd love to see all those Nigerian school girls form a band - that would be rebellious," she told The Independent. "Can you imagine that? That would be something. Using their music and singing honestly about what they do; expressing their sexuality and throwing it back in the faces of these oppressive men.
"They would be in danger like The Slits were in danger then. That's what we did; we threw it back it their faces and stood up where we were oppressed and squashed and thought of as filth. Meanwhile all the Saviles and judges were doing their pervy little things behind closed doors, but squashing the proletariat."
In pictures: Punk female icons
In pictures: Punk female icons
1/10 Punk female icons

Patti Smith performing in 2005

Getty Images

2/10 Punk female icons

Lydia Lunch in 1979

3/10 Punk female icons

Siousie Sioux in 2006

Getty Images

4/10 Punk female icons

Wendy O. Williams in 1981

Rex Features

5/10 Punk female icons

Poly Styrene with X-ray Spex on stage in their 1970s heyday

REX FEATURES

6/10 Punk female icons

Blondie in 1999

Getty

7/10 Punk female icons

Kathleen Hanna, former lead singer of Bikini Kill in 'The Punk Singer'

8/10 Punk female icons

Carrie Brownstein, Janet Weiss and Corin Tucker of Sleater-Kinney perform in 2005

Getty Images

9/10 Punk female icons

Joan Jett in 2001

getty

10/10 Punk female icons

The Raincoats' music video

The Raincoats' music video
In April, Islamist group Boko Haram (whose name means "Western education is forbidden") kidnapped more than 200 girls from their boarding school in Chibok, in Borno state. A campaign was launched called #BringBackOurGirls, supported by high-profile names including Michelle Obama , Anne Hathaway, Cara Delevingne and even David Cameron, who was criticised for his involvement.
Albertine was the guitarist of Seventies punk band The Slits, who changed the perception of women in music with their fearless, defiant, lyricism and attitude.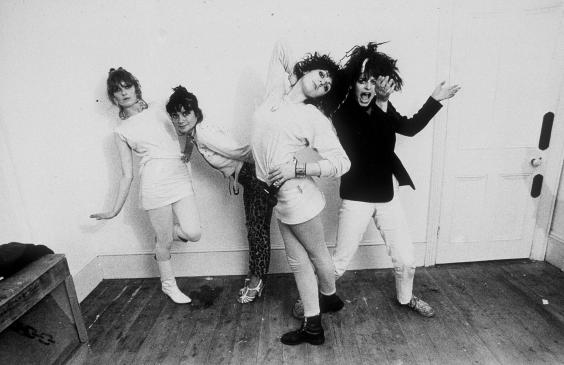 However, she said different tactics would need to employed to make as big a change in society today.
"The whole environment has changed; technology has moved on," she said of the place punk has in the modern world. "You'd be a fool to use the same means 40 years later. It's the same with war; you wouldn't use the same guns. I'm afraid it isn't going to happen twice, it's different now and the means of expression and communication is different. Not in the first world, but maybe in more oppressed worlds.
"It needs to be different to the way the Russian girls did it, but something that is honest true and not taking your clothes off. Maybe in some of those society, music has a chance. I think there are still many places that if women formed a band it would be shocking and they would be in danger. But maybe there are different ways to do it now, like the school girl Malala Yousafzai or with Angelina Jolie's humanitarian work."
Reuse content