With his heavy build and bulldog features, Warren Clarke, who has died at the age of 67 after a short illness, was perfect for the role of Detective Superintendent Andy Dalziel, the curmudgeonly half of the eponymous policing duo in Dalziel and Pascoe, which ran on BBC1 from 1996 until 2007.
"One of the reasons I did the series was because I loved the fact that he doesn't bow to liberal views of society," said Clarke. "He's this bloke from the North who's farting, scratching and behaving badly with women. Dalziel is a perfect pig. He's vulgar, loud and rude. But he is in fact also a great humanitarian and he gets very good results." Adapted for its first three series from the novels by Reginald Hill, Dalziel and Pascoe traded on the yin-and-yang differences between the two detectives – Colin Buchanan played Peter Pascoe, polite sociology graduate – and maintained its popularity across 12 series.
Clarke was himself a bloke from the North. He was born Alan James Clarke in Oldham and raised in a council house; his father made stained-glass windows while his mother was a secretary. Though he harboured early ambitions to play professional football, preferably in the sky blue of Manchester City, for whom he had retained a lifelong affection since he was seven years old, his first job was at 15 as a copy boy on the Manchester Evening News.
He acted in amateur dramatics and at Huddersfield Rep before deciding to go into acting full-time. His career got off to a promising start, with two parts in Coronation Street in 1966 and '68.
His big break came before too long, when he was cast by Stanley Kubrick as Dim, one of the droogs in A Clockwork Orange. More than a minion, he is pivotal to the plot: when Dim smashes a milk bottle into the face of Alex, played by Malcolm McDowell, the gang's leader is caught by police and ends up a victim of the dystopian justice system. In 2011, on the 40th anniversary of the controversial film's release, Clarke recalled what it was like to work with the notoriously demanding director.
"If he thought your performance was false he would ask: 'Why are you doing that?'" said Clarke. "If you didn't have an answer, he'd shout at you. But I got on well with him and I would shout at him if I thought he was pushing us too hard." He worked with McDowell again in Lindsay Anderson's 1973 If... sequel, O Lucky Man! Working with Kubrick had led to offers from Hollywood, but Clarke turned them all down. "It was stuff I didn't want to be involved with," he said.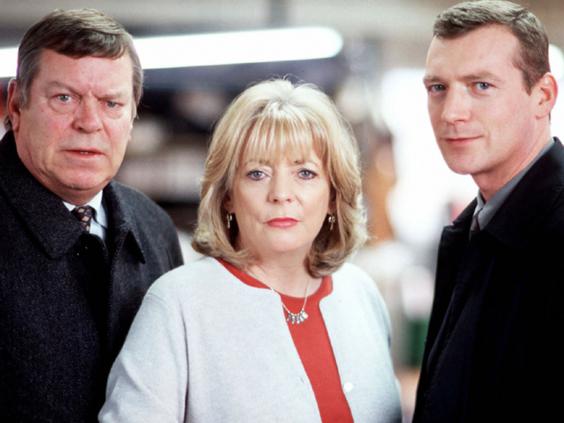 His jowly visage was perfect, instead, to play Winston Churchill in the 1974 ITV drama Jennie, and he portrayed the great man again nearly 40 years later in 2011 in Ben Brown's Three Days in May; there was dogged courage but also a crucial vulnerability to the bulldog in his portrayal, especially contemplating what might happen at Dunkirk .
That role, in a production one critic described as "quietly riveting", was the highlight of a varied stage career which also included playing opposite John Gielgud and Ralph Richardson in David Storey's Home in the 1970s. Clarke told Alan Strachan, who directed him in Three Days in May, that the theatrical knights both took to him greatly.
Despite looks which might appear ripe for typecasting, Clarke was remarkably versatile: one of his most notable small-screen roles was as the gay Corporal, "Sophie" Dixon, in The Jewel in the Crown on ITV in 1984, though perhaps more typical was his terrifying portrayal of a football hooligan in Philip Davis's 1995 film ID. His list of other TV roles was long and diverse, including parts in Tinker, Tailor, Soldier, Spy, Blackadder the Third (in which he showed his finest comic chops), Lovejoy and Boon.
In 2000-01 he played half of a couple (with Pauline Quirke) who decamp from London and the rat race to rural Devon in Down to Earth, while in 2005 he excelled as the loud but good-hearted former soldier Lawrence Boythorn in the BBC's acclaimed and award-winning 15-part adaptation of Bleak House. He reeked of corruption as a detective in the grimly compelling 2009 adaptation of David Peace's Red Riding Quartet, and last year he featured as a slovenly, abusive husband in  an episode of the acclaimed drama series Call the Midwife. Next year he will be seen in a new adaptation of Winston Graham's Poldark novels. It was his last job.
Clarke's first marriage ended a few years after his parents died; they had a son together. He married again, and he and his wife tried for a baby for 20 years. "When I thought it would never happen, it did," he recalled, "and  then I thought, 'Oh my God, I'm old enough to be a grandfather."
In 2011 he reminisced about his career, calling himself "a lucky bastard ... although I've worked nearly 50 years for this, through the tough times as well as the good times." His wife, he recalled, once sold her engagement ring to put food on the table.
Away from stage and screen, Clarke was a decent golfer, while his beloved Manchester City tweeted a tribute to him yesterday.
Alan James Clarke (Warren Clarke), actor: born Oldham 26 April 1947;  married twice (one son, one daughter); died 12 November 2014.
Reuse content