It was business as usual for Jay Z and Beyoncé yesterday, as they turned up to take their pews at the Miami Heat v Brooklyn Nets game in New York City.
The pair were seen laughing and joking with an equally chipper Jake Gyllenhaal, all seemingly oblivious to the endless stream of hilarious memes flooding social media feeds the world over following the leak of shocking footage that appeared to show Solange attacking the rapper in a lift.
The video footage, obtained by TMZ from inside an elevator in the Standard Hotel in New York after the Met Ball Gala last week, saw Beyoncé's sister transform into a furious battery of fists and legs as she lashed out at the rapper, who at no point retaliated, other than to grab her foot to prevent it from colliding with his face.
A security guard wrestled her backwards and slammed on the emergency stop at the twelfth floor, as Beyoncé remained entirely placid and motionless.
What Jay Z Said To Solange... In Memes
What Jay Z Said To Solange... In Memes
1/9 The tour-related meme

2/9 Carlton Banks Z meme

3/9 Someone hacked Solange's Wikipage... Hilariously

4/9 The Matrix = The obvious meme

5/9 Thrown like Jazzy Jeff out of the elevator. By Solange, obviously

6/9 The button mashing meme

7/9 Blue Ivy reaps revenge meme

8/9 Michele Obama's 'Save Our Solange' meme

9/9 The 'Lolz Beyonce literally did nothing' at the B Ball with Jake Gyllenhaal meme
They then left the lift as if nothing had happened, Jay with a hand to one cheek, Solange with a face like thunder, Beyoncé, as if nothing abnormal had ever occurred in the first place.
The day afterwards, Beyoncé posted a not-so-cryptic prayer message about relationships via her official Instagram account that appeared to suggest all was far from well in the Knowles household: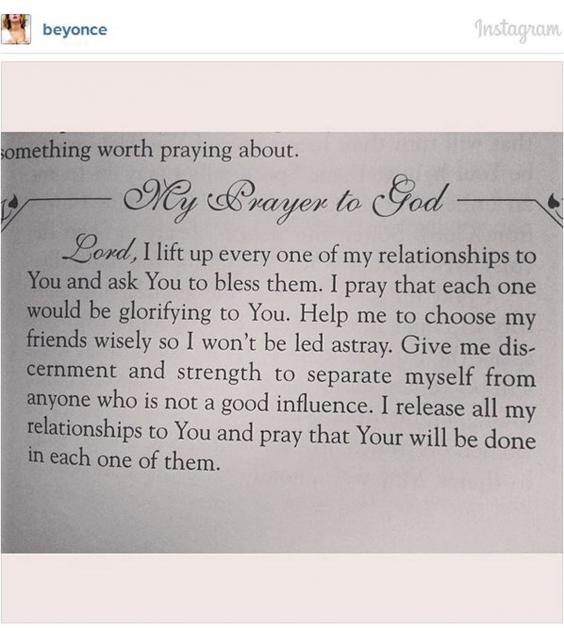 But the sisters reportedly jetted off to Costa Rica soon afterwards for Kelly Rowland's secret wedding to her long-time boyfriend Tim Witherspoon in a "quick, simple ceremony - only around 30 people," according to US Weekly.
Indeed, just days ago, Solange tweeted that "This might have been top 10 days ever in life", despite the fact she appears to have deleted every single family snap of herself and Beyoncé (bar one shot from 2013) from her record label Instagram account.
As for Jay Z, it's been all but quiet on the music mogul's front.
Since the video was made public, the Standard Hotel (where the incident took place) has launched a full investigation to find out exactly who sold the footage to the tabloid press.
"We are shocked and disappointed that there was a clear breach of our security system and the confidentiality that we count on providing our guests," they wrote in a statement. "We are investigating with the utmost urgency the circumstances surrounding the situation and, as is our customary practice, will discipline and prosecute the individuals involved to our fullest capacity."
But for many, said security didn't do their 'breaching of confidentiality' jobs well enough. The crucial part of this leak is missing, and they'd sell their left kidneys just to get their hands on it – the audio.
What was it that Jay Z actually said for his sister-in-law Solange to react with such aggression?
As of yet, neither of the three have passed comment on the incident, leaving it entirely down to the internet to switch from 'likely theory' to 'wild speculation' mode.
The hashtag #WhatJayZsaidtoSolange trended within minutes of the video being made public, sparking some of the funniest memes (see the gallery above) and theories going.
But before we go into those, here's a somewhat concerning tweet we unearthed from Solange's account from back in 2009.
#wheniwaslittle I tried to kill my sisters teenage boyfriend (not a secret scince she blabbed about it on letterman) I had a GREAT plan. :)

solange knowles (@solangeknowles) September 8, 2009
And here's what the internet really thinks was said – but almost definitely wasn't – in that lift:
#WhatJayZSaidToSolange "I bought you a fur coat so you wouldn't be so cold standing in Beyoncè's shadow"

DJ Theory (@DJTheory) May 12, 2014
#WhatJayZSaidToSolange Putin called. He wants his arms back.

Hillary Happens (@3amFAIL) May 13, 2014
Solange: The elevator isn't going anywhere! Jay-Z: Like your career!#WhatJayZSaidToSolange

Stina Sanders (@stinasanders) May 13, 2014
#WhatJayZSaidToSolange I think The Phantom Menace is the best #StarWars movie. EVER.

Jedi Order PR (@JediOrderPR) May 13, 2014
"Joffrey dies"#WhatJayZSaidToSolange

— Rachel Zarrell (@rachelzarrell) May 12, 2014
CAN SOMEONE FIND THE CHILL?! RT @POWTV: When Solange left the elevator tho pic.twitter.com/KBMSxgoSih

Jian Piero Ledezma (@JianPiero) May 12, 2014
"Tell me why this elevator music is better than any of your songs" - Jay Z #WhatJayZSaidtoSolange #Solange pic.twitter.com/NnSeDMLXhf

Ronnie Chapman (@ronniechapman) May 13, 2014
#WhatJayZSaidToSolange u can sign to roc nation as blue's nanny...

Ty Hunter (@TyMillz21) May 12, 2014
#WhatJayZSaidToSolange Solange: I think this elevator broke. Jay: Like your bank account??

IG: __seanphillips (@MarajInMe) May 12, 2014
Reuse content