Every World Cup has its golden boys and Brazilian player Neymar is this tournament's young wunderkind.
This is the 22-year-old's first World Cup, but it undoubtedly won't be his last. His footballing prowess teamed with his fun-loving personality has made him one of the tournament's most popular players – this week his name was trending above Brazil, proving that he is a powerful tour de footballing force.
So we know he's impressive on the pitch, but what's his personal story?
His childhood was "humble and happy"
Neymar da Silva Santos Júnior was born in Sao Paulo and was named after his father who was also a footballer. He spent his childhood playing street football, flying kites, riding bikes, tag and indulging in games of hide-and-seek. His aunt and uncle play the cavaquinho (a type of guitar), so there was always music at home.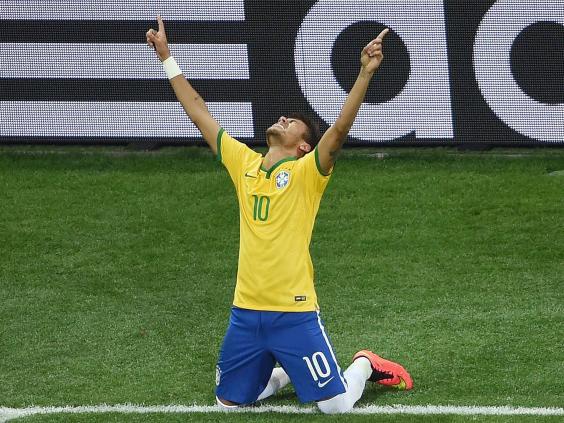 His father is his hero
Neymar grew up watching his father play football and says he's had a big influence on the way he plays. It was his father who taught him the nuances of the game and he still offers him sporting advice today. Neymar's flamboyant post-goal celebrations (he likes to dance and do handstands) were also inherited. "A little while ago we watched a video of a match in which [dad] scored a goal with his head and in the celebration he looks like a madman, doing a handstand and ending up dancing," Neymar told Highsnobiety. "I think my inspiration when I celebrate comes from him."
World Cup 2014: The most entertaining and controversial players
World Cup 2014: The most entertaining and controversial players
1/11 Luis Suarez, Uruguay

One of the most controversial figures in football, Suarez most recently made headlines for biting Chelsea defender Branislav Ivanovic on the arm during a Liverpool game. He is perhaps more famous, however, for stopping Ghana's Dominic Adiyiah from scoring in the final minute of the 2010 World Cup quarter-finals with a deliberate handball on the line – for which he was sent off. Other past misdemeanours have included making offensive gestures to Fulham fans, racially abusing Manchester United's Patrice Evra during a Premiere League match and punching West Brom's Chile defender Gonzalo Jara.

EPA

2/11 Mario Balotelli, Italy

Jose Mourinho once described Balotelli as "unmanageable", such is the striker's reputation for being difficult. His well-documented off-field pursuits are diverse to say the least; he has been known to fire air pistols in the open in Milan's Piazza della Repubblica; spend time with members of the Mafia; and to casually visit an Italian women's prison to "have a look round". He also famously once set fire to his own house after conducting his own fireworks display. Curiously, he was later made Greater Manchester's ambassador for firework safety and, even more oddly, was also celebrated with a 12-metre tall bonfire effigy of Balotelli was unveiled at Edenbridge's annual fireworks display. The love life of Balotelli – also known as Super Mario – is a complicated affair. Although newly engaged to girlfriend Fanny Neguesha, he acknowledged that he was the father of his 18-month daughter, Pia, following DNA tests, and is currently fighting for visitation rights with ex-girlfriend Raffaella Fico.

Reuters

3/11 David Luiz, Brazil

One of the most carefree characters in football, Luiz is best known for his curly mane of hair, which has been likened to that of Simpsons character Sideshow Bob. Pictures of him having apparently shorn off his locks caused a stir on Twitter recently, but the photos, thankfully, turned out to be a hoax. Luiz, a devout Christian, is often pictured with his tongue out and making a thumb's up sign, reaffirming his much-loved laidback and upbeat reputation. "Even if everything goes wrong, smile!," he once said.

GETTY IMAGES

4/11 Raheem Sterling, England

Sterling hit headlines last year over allegations that he assaulted his former girlfriend after a night out in Manchester. The 19-year-old was cleared of the charges, after model Shana Ana Rose gave "disappointing" evidence in court.

EPA

5/11 Samuel Eto'o, Cameroon

Jose Mourinho was secretly recorded recently discussing the age of Eto'o, the captain of the Cameroon team, joking that the Chelsea footballer may be older than everyone thought. Not one to cause a rift, Eto'o made light of the situation and used the corner flag to help prop himself up after scoring in a Tottenham game, in the manner of an OAP.

Getty Images

6/11 Neymar da Silva Santos Júnior, Brazil

Brazil's golden boy, Neymar has been compared to footballing great Lionel Messi in terms of skill, but aptitude aside, he is worth watching for his post-goal Samba dancing. The 22-year-old is quite the mover; his 2011 video in which he danced in front of his teammates in the Santos locker room to the tune of Michel Teló's hit "Ai se eu te pego!" went viral and in 2013 he featured in a rap music video for MC Guime, entitled "Pais do Futebol".

Getty Images

7/11 Chris-Smalling, England

As far as unpolitically correct costumes go, Chris Smalling's much-documented fancy dress ensemble was extreme to say the least. The Manchester United defender decided to dress as a suicide bomber for a Christmas party, strapping bottles of Jagermeister and Red Bull to his body as an elaborate play on Jagerbombs. He quickly apologised for his "insensitive" outfit and for any "offence caused". It's unlikely that he'll wear anything similar during the tournament.

GETTY IMAGES

8/11 Didier Drogba, Ivory Coast

Drogba is on our list for more charitable reasons. He has been credited for having brought peace to his country, after calling to combatants in his native, civil war-striken country to lay down their arms – at which point reconciliation began. A United Nations Development Programme Goodwill Ambassador, Drogba has recently urged for more action to be taken against malaria, one of the many missions of his charitable foundation which provides financial and material support in both health and education to African people. He also donates all that he earns from endorsements to building hospitals in the country. So impressive is he that Jeremy Clarkson controversially named his dog after him – probably the least impressive of Drogba's achievements.

GETTY IMAGES

9/11 Cristiano Ronaldo, Portugal

Even for those not into football, Ronaldo's on-field theatrics are unarguably impressive – ranging from dramatic gesticulation and wild diving to pained, tortured expressions. He celebrated his winning goal against Atletico Madrid in the Champions League final in May by ripping off his shirt, flexing his muscles and roaring. His famous self-confidence was demonstrated on a recent issue of Spanish Vogue, in which he appeared naked – his modesty covered by model girlfriend Irina Shayk – in a pose that would make Derek Zoolander look shy. "People are jealous of me as I am young handsome and rich," he said in 2011, but he recently argued that he has matured since then and no longer feels the same way.

10/11 Wayne Rooney, England

Rooney has received much flak for apparently not deserving his place on the England squad (not that Jose Mourniho agrees), but what would the nation's team without its hot-headed striker? He has a firm reputation for losing his temper on the pitch and with the press, mainly during the earlier stages of his career. His private life has been marred with a string of infidelity rumours, but he remains married to Coleen Rooney with whom he has two children.

Getty Images

11/11 Raul Meireles, Portugal

Arguably one of the most dapper players in the World Cup 2014 tournament, Meireles is one of the only tournament's footballers to own his own clothes shop. The midfielder's love of fashion is no secret; he married wife Ivone wearing matching the same high-end designer Fatima Lopez. Easily recognisable by his bushy beard and tattoos (he once said he wanted to win the "tattoos championship", he opened a small fashion store in Ermesinde, Portugal, in 2012.

GETTY IMAGES
He always looks on the bright side
Neymar is about as far from a sporting bad boy as you can imagine. "Since I was little, I have always been very cheerful and playful with everyone," he said. "I like to enjoy myself!"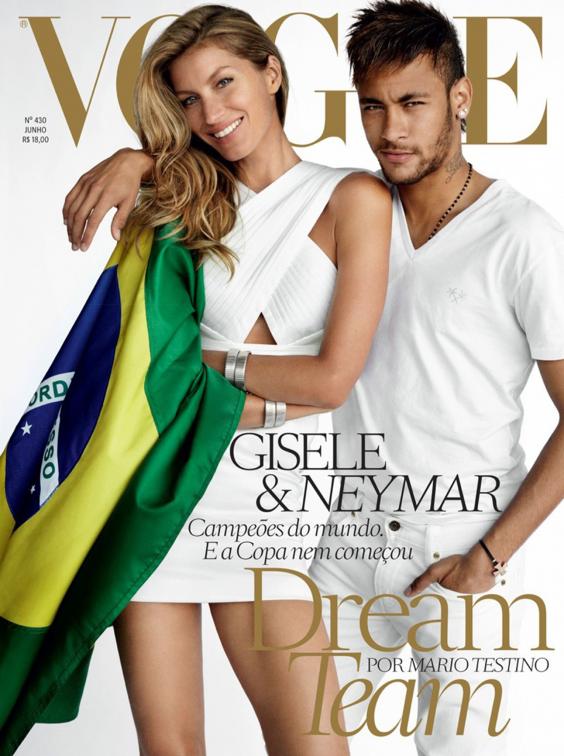 He's big into fashion…
He starred on the cover of Brazilian Vogue with his country's most famous and successful supermodel, Gisele, photographed by Mario Testino. He models underwear for Brazilian label Lupo, and isn't shy to bare his muscles on a regular basis.
…but not he's not as groomed as Ronaldo
His Mohawk haircut has been widely copied across Brazil (and it surely takes a while to style every morning), but Neymar insists he isn't "excessive" when it comes to grooming. "You have to look after yourself, use cologne, moisturiser – particularly in Barcelona where it can be cold – but without being over the top about it," he said.
In fact he thinks he's better-looking than Ronaldo
"Cristiano Ronaldo might have style, but I'm the handsome one," he famously joked once.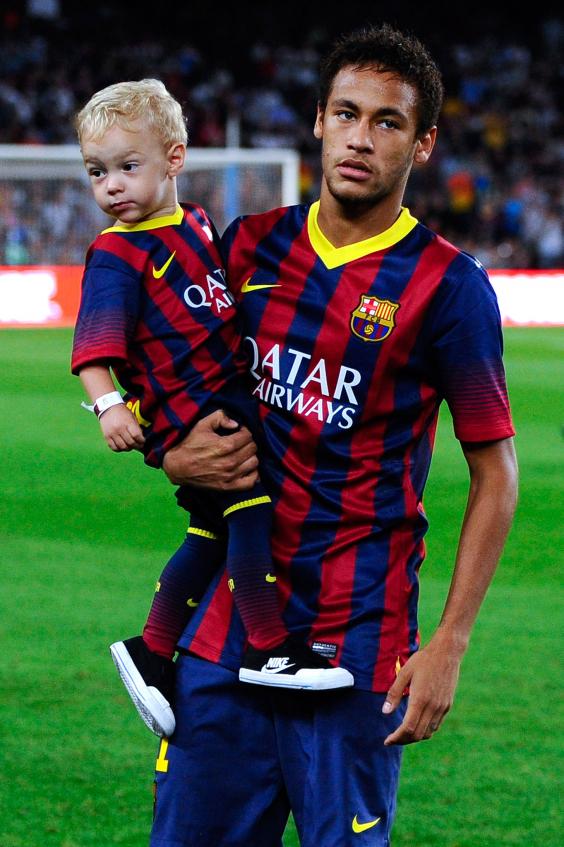 His girlfriend is a Brazilian model
Her name is Gabriella Lenzi, and she's been spotted in the stands during the tournament. She's a swimmer, a gymnast and is also signed to David Foster Talent Agency. Lenzi is a big fan of selfies and is followed by over 40,000 on Instagram.
He's quite a mover and a YouTube phenomenon
Footballing aptitude aside, Neymar is worth watching for his post-goal Samba dancing. The 22-year-old is quite the mover; his 2011 video in which he danced in front of his teammates in the Santos locker room to the tune of Michel Teló's hit "Ai se eu te pego!" went viral and in 2013 he featured in a rap music video for MC Guime, entitled "Pais do Futebol".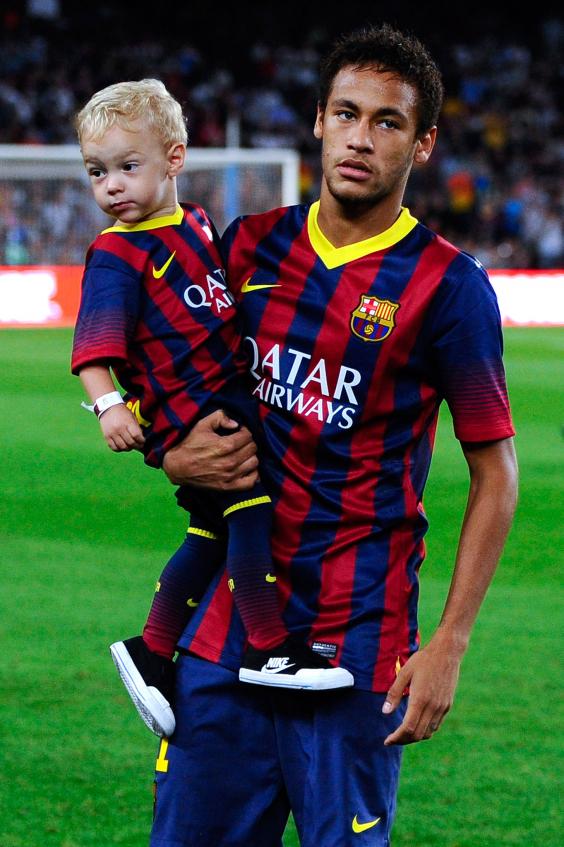 He's a One Direction fan
He met Niall Horan and was delighted to share a selfie of himself with the boyband member on his Instagram page, with the caption: "Honour to meet you. I'm a fan and I admire the whole group."
He's a Christian
Neymar prays before every match and has previously said that, "Life only makes sense when our highest ideal is to serve Christ!"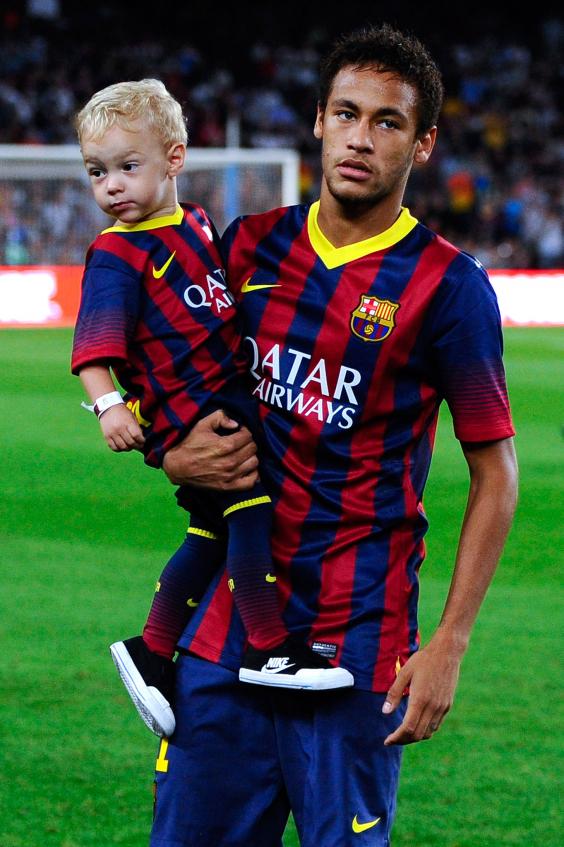 He's a father of one
His former girlfriend Carolina Dantas gave birth to his son in August 2011, when Neymar was 19. "I cried when I learned that I would be his father," he said. "At first, I felt fear. Then joy. It is a new responsibility and I am now enjoying it."
He shares his birthday with a trio of footballing pros
His birthday on 5 February is also shared with Cristiano Ronaldo, Carlos Tevez and Paulo Maldini. Imagine the party.
He is apparently the world's most marketable player
In May 2013, SportsPro magazine named Neymar as the most marketable athlete on the planet for the second consecutive year, measured by monetary value, age, force in domestic markets,  charisma and market potential in the next three years.