Zayn Malik's first official public appearance since his shock decision to quit One Direction reportedly sparked a tussle between waiting fans arguing over his new haircut.
Malik attended the fifth Annual Asian Awards with his mother, where he was presented with the award for Outstanding Contribution to Music.
The 22-year-old spent time signing autographs before heading inside to the ceremony. However, after he entered the hotel, a "tussle" broke out among the crowd of fans as they argued about his new hairstyle, according to the Press Association.
The singer was signed off tour with stress last month before announcing he was quitting the band in order to spend some time as a "normal 22-year-old".
Accepting his award, Malik paid tribute to his former One Direction bandmates who he said were usually the ones making the speeches, describing himself as "not really a guy of many words".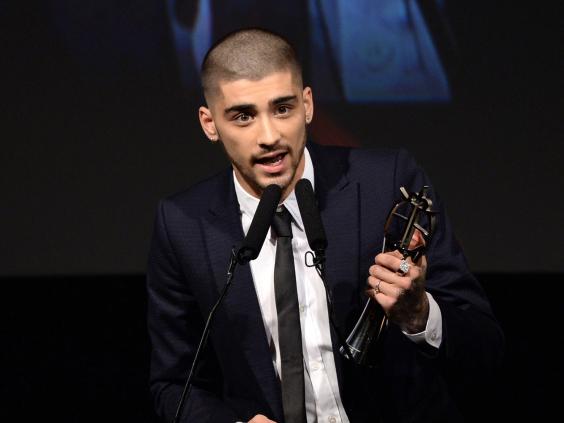 He continued: "I'd also like to take this moment to thank four of the best guys that I ever met whilst being in the band and doing all the amazing things that I did.
"Some of the things that we did will stay with me for the rest of my life."
Malik's departure from the band caused heartache for millions of One Directioners across the world, while 1D admitted they were "gutted" about losing him after five years performing together but vowed to "carry on stronger than ever".
In pictures: Zayn Malik
In pictures: Zayn Malik
1/15 2010

Zayn performed Mario's 'Let Me Love You' in his audition in front of the X Factor judges

2/15 2010

December 2010: Zayn (second right) and his bandmates ahead of the X Factor final

Getty Images

3/15 2011

Zayn performing in Germany on tour with the band's first album, 'Up All Night'

REX

4/15 2011

Zayn Malik made it his New Year's resolution to quit smoking to improve his voice after being criticised by One Direction's management team

REX

5/15 2012

February 2012: One Direction pick up the British Single award for their song featuring Rizzle Kicks 'What Makes You Beautiful', at the Brits

Getty Images

6/15 2012

The band perform on NBC's 'Today' show as they look to crack America

Getty Images

7/15 2013

Zayn getting inked in Weymouth. The singer likes "getting tattoos and loves the whole culture behind them"

Rex

8/15 2013

August 2013: Zayn gets engaged to Perrie Edwards, a singer with the group Little Mix

Rex Features

9/15 2013

Zayn signing promotional material at Alexandra Palace following the release of One Direction's book 'Where We Are'

REX

10/15 2013

Zayn Malik and Harry Styles from One Direction attend the 'One Direction This Is Us' world premiere at the Empire Leicester Square

Getty Images

11/15 2014

February 2014: One Direction win for British Video and Global Success at the Brit awards

Getty Images

12/15 2014

May 2014: a video of Zayn Malik and his fellow bandmate Louis Tomlinson smoking a "suspicious-looking cigarette" was leaked online

Rex

13/15 2015

19 March 2015: Zayn and bandmate Louis Tomlinson are told to post bonds of $5,000 each before they are allowed to take to the stage for a scheduled One Direction performance in Manila

Getty Images

14/15 2015

20 March 2015: Zayn flies home from One Direction's World Tour due to stress

Getty Images

15/15 2015

25 March 2015: Zayn becomes the first member to leave One Direction. 'I have to do what feels right in my heart,' he says

Getty Images
Malik is currently working on new material with producer Naughty Boy, the mastermind behind Sam Smith's Grammy-winning debut album.
It hasn't been a completely smooth exit however, with Louis Tomlinson reacting furiously at Naughty Boy for "deliberately provoking" One Direction fans after a song was leaked online.