Zlatan Ibrahimovic has reportedly shot dead a 500kg moose with "one shot through its heart", sparking outrage amongst animal rights groups.
The controversial PSG striker, who recently expressed his fury at being voted only Sweden's second greatest sportsman ever, has been enjoying a mid-season break away from Paris.
The 33-year-old returned to him homeland where it's alleged he went on a hunting trip during which he shot dead the moose. The story ran on the front page of Swedish newspaper Expressen over the weekend. The report said the animal was killed "with one shot through its heart" and that Ibrahimovic  was "very happy" with his trophy.
Ibrahimovic has made no statement regarding the story, however the striker is a known hunting enthusiast. The former Juventus and Barcelona player even appeared in a Volvo advert earlier this year in which he points a gun at a moose.
The claims that the advert became a reality over the Christmas holidays has led to anger from animal rights activists.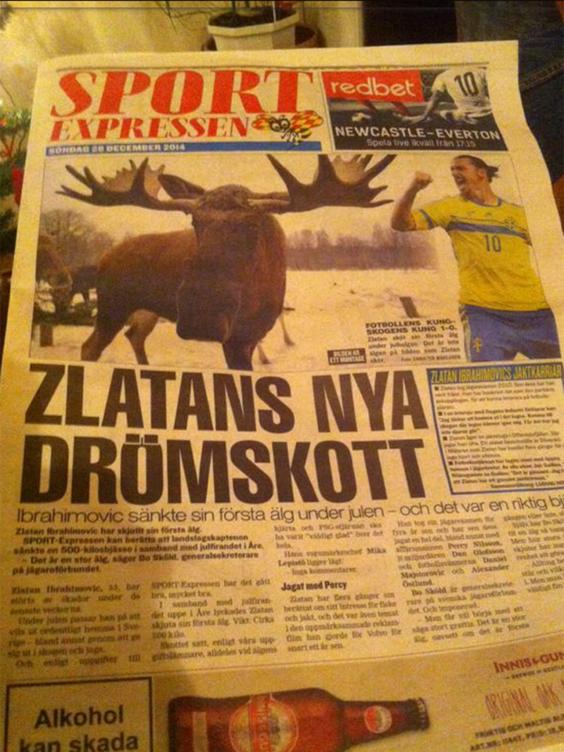 "It is problematic," Camilla Björkbom of Sweden's Animal Rights' Union told Expressen. "It is always problematic when famous people do things like that, because then it looks like they support this type of activities."
Hunting is a popular pastime in Sweden with an estimated 100,000 moose killed every year.
PSG are in action tonight in a friendly match against Ibrahimovic's former team Inter Milan.
Reuse content