Londoners are more outraged by politicians wrongly claiming expenses than if they are caught smoking crack cocaine, a YouGov poll has shown.
Voters in the capital are tougher on corrupt MPs than those who succumb to drugs or alcohol and are willing to go even easier on those who pay for sex, according to the research.
Of the 1470 people asked, 85 per cent would demand a politician resigned if they fiddled expenses, 83 per cent thought dodging taxes was inadmissible and 81 per cent thought it was unacceptable to receive cash gifts while in office.
This compares with 72 per cent who thought smoking crack was unacceptable and a mere 64 per cent who thought visiting a prostitute was a reason for resignation.
The results go some way to explaining why Toronto Mayor Rob Ford's popularity has exploded since he admitted smoking crack cocaine while in a drunken stupor and suggests the results could be applicable outside London.
A limited edition charity bobblehead doll of Rob Ford has now sold out after hundreds lined up at city hall for Ford himself to sign them. He has refused all calls to resign.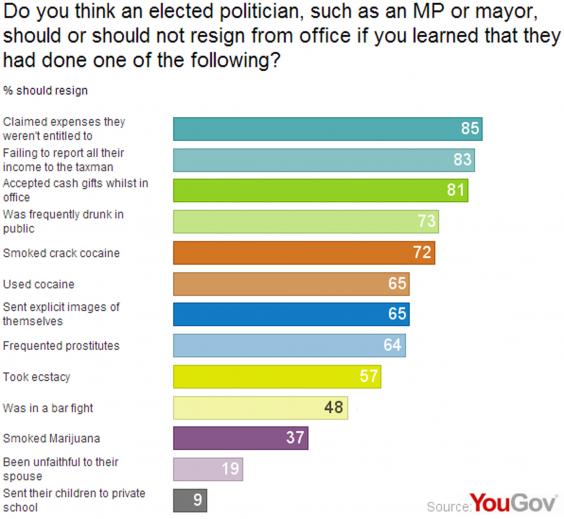 Meanwhile, a fresh spate of expenses scandals have dogged British MPs. Nadine Dorries came under fire on Monday after failing to declare her fee for appearing on ITV's I'm a Celebrity … Get Me Out of Here! programme last year and was ordered to apologise.
Conservative MP Nadhim Zahawi was also forced to say sorry after charging the taxpayer to heat his stables. It emerged on Tuesday that the millionaire MP had claimed 31p on his expenses for paperclips.
Among the other petty office items charged to the taxpayer were 53p to buy a hole punch, 63p for ballpoint pens and 89p for a stapler, according to reports in the Daily Mirror.