Pope Francis has denounced the surge in fighting in eastern Ukraine, saying it is a "scandal" that Christians are fighting among themselves.
During his weekly general audience on Wednesday, Francis called for greater international efforts to bring Russian-backed separatists and Ukrainian troops back to negotiations.
Francis said: "I think about you, Ukrainian brothers and sisters, and I think that this is a war among Christians! You have the same baptism, and you're fighting among Christians. Think about this, this scandal."
In urging prayers for peace, he said prayer was a "protest before God in times of war."
The UN says indiscriminate shelling and an escalation in the fighting have killed at least 224 civilians in the past three weeks, raising the overall death toll to 5,358 people since April.
In pictures: 'The many popes of Pope Francis'
In pictures: 'The many popes of Pope Francis'
1/12 The Pro-Gay Pope

In just a year, Pope Francis has managed to change the public perception of the Catholic Church, and the stance it takes on civil issues, like gay rights. Despite originally protesting the legalisation of gay marriage in his native Argentina some years ago, he told reporters this year: "If someone is gay and seeks the Lord with good will, who am I to judge?"

Getty Images

2/12 The Rebel Pope

No other Pope has urged a shake-up of the Catholic Church quite like Pope Francis, a true rebel of the dioceses. Who, incidentally, used to be a night club bouncer.

Getty Images

3/12 The Graffiti Pope

Pope Francis become... SUPER POPE in this Vatican-approved street art. But was he happy with the reference to the fictional DC comic character?"To depict the pope as a sort of superman, a sort of star, seems offensive to me. The pope is a man who laughs, cries, sleeps tranquilly and has friends like everyone else, a normal person," he said. So, that's a no, then.

4/12 The Biker Pope

Yes, the Pope used to own a Harley Davidson. And yes, he auctioned it off this year and donated the proceeds to a charity that feeds the hungry in Rome. Very Papal.

5/12 The 'Blue' Pope

Dropping the 'F' bomb during Sunday service? Classic Pope Francis. Sadly, down to a Spanish-speaking slip of the Italian language rather than pure bad-assery.

6/12 The 'Because I'm Worth It' Pope

That awkward moment when your Papal hat blows off, forcing your barnet into Sesame Street-like spikes. Pope Francis has been there.

7/12 The Chocolate Pope

Imagine the Pope's delight (horror?) when he was presented with a giant chocolate replica of himself outside the Vatican by by students on a chocolatier course at the Accademia of Maestri Cioccolatieri, near Venice.

EPA/Osservatore Romano

8/12 The Rock Star pope

The one and only religious leader ever to grace the cover of Rolling Stone magazine? Introducing... Pope Francis.

9/12 The People's Pope

His U-turn attitude towards sexuality won him Time magazine's coveted Person of the Year accolade, and the cover of gay rights magazine The Advocate.

Time

10/12 The Merchandise Pope

Thongs, mugs, onesies, earrings and even a baby mobile adorned with decapitated Pope heads, the 'Francis Effect' has seen sales of Papal merchandise soar by 200% over the last year.

11/12 The Fashion Pope

The only Pope, as far as we're aware, to be compared to fashion royalty (Karl Lagerfeld. Yes way.) and win Esquire's Most Stylish Man of 2013 award, too.

EPA

12/12 The Modern Pope

Let it be said, Pope Francis knows a thing or two about social media. He might be a way off 'doing a Dalai' and opting for Instagram, but he's not above posing for the odd 'Selfie' on Twitter.
Heavy shelling in the rebel stronghold of Donetsk in eastern Ukraine today killed at least five people and damaged a hospital, six schools and five kindergartens, local officials said.
The fighting between Russia-backed separatists and government troops in eastern Ukraine resumed in January after a month of relative calm, killing more than 200 people in the past three weeks, according to the United Nations.
The city hall in Donetsk said the number of casualties from Wednesday's shelling in the west part of Donetsk early afternoon was not immediately established but the rebel-run Donetsk News Agency reported five killed inside and near the hospital in Tekstilshchik district.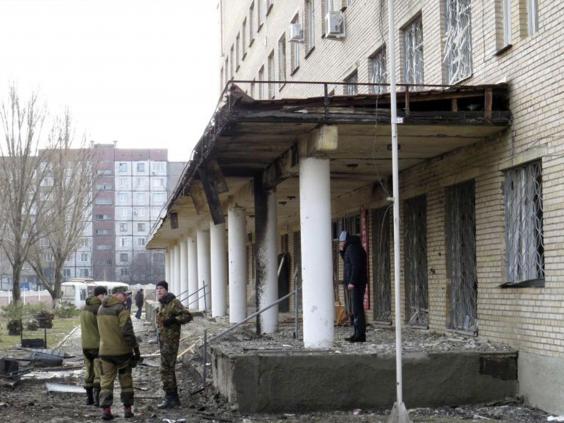 As the conflict intensifies, Ukrainian President Petro Poroshenko says he is confident that the United States will agree to send weapons to his country to help it fight pro-Russian rebels, a step the Americans reportedly are considering.
On a visit to a government-controlled city in eastern Ukraine on Tuesday, Poroshenko said that his government badly needs the lethal aid to help repel the separatist attacks in the conflict that that has left 5,300 people dead.
U.S. President Barack Obama has opposed sending lethal assistance to Ukraine's government, but a senior administration official told The Associated Press earlier this week the surge in fighting has spurred the White House to review the policy.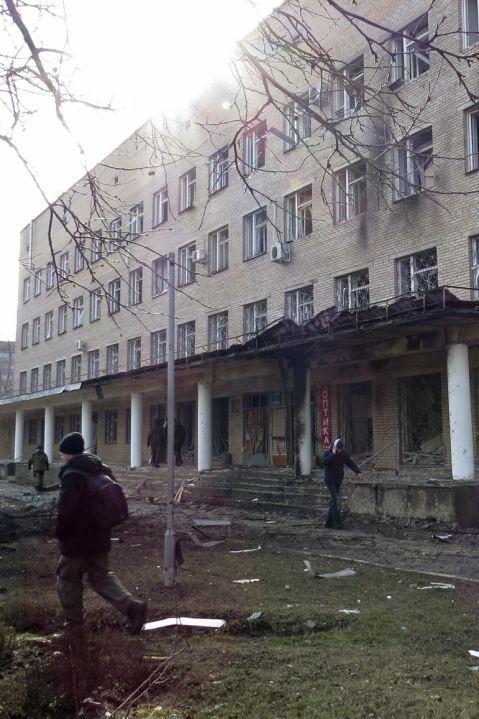 Poroshenko will have an opportunity on Thursday to make his case to U.S. Secretary of State John Kerry, who is scheduled to visit Kiev.
"I don't have a slightest doubt that the decision to supply Ukraine with weapons will be made by the United States as well as by other partners of ours," he said on a visit to Kharkiv, "because we need to have the capabilities to defend ourselves."
German Chancellor Angela Merkel on Tuesday said that she was opposed to the idea.
In Kiev, military spokesman Vladislav Seleznev said two Ukrainian troops have been killed and 18 injured in the past 24 hours. The most intense fighting is now focused about the railway hub of Debaltseve where, according to Seleznev, the rebels mounted an offensive against Ukrainian troops.
In Donetsk, separatist official Eduard Basurin told reporters that four civilians have been killed in the past days before Wednesday's shelling.
Read more:
A dangerous shift in tempo
Ukraine rebels vow to raise army of 100,000 troops
AP
Reuse content