Open-top SUVs aren't exactly common. Proper off-roaders often come with canvas hoods (think Wrangler, Jimny, Defender, DKW Munga, Tarpan Honker and so forth) – but if you're after a full-on Chelsea tractor in which to toss your blonde mane at the world, your choice is limited to the Range Rover Evoque Convertible.
So what do we compare it to, then? Certainly not a Wrangler or Jimny.
In the absence of another ragtop sport-ute, here's the Mercedes C-Class Cabriolet. Even less likely to be seen off-road than the Range Rover, but just as likely to be seen carrying four beautiful people with shades by Sqandr and hair by Cosmo at Salon Kopi Luwak.
The Merc is a C 220 d AMG Line auto and lists at £41,575. The Evoque, a 2.0 TD4 180 HSE Dynamic, pushes you to £47,500.
Both give you plenty of kit for your money – DAB, nav, climate, seat heaters and a rear-view camera are standard on both. The C-Class also has LEDs and Merc's now-familiar Airscarf, while the Rangey tosses real leather into the mix.
It also tosses in a dash with a more substantial feel to it, though Merc's is more modern and that's how its design looks. You definitely want the Evoque if you want to carry adults in the back, though – in each car, you get a better deal up front than in the back, but only the Rangey is really suitable here for grown-ups at all.
The C-Class' roof operates more quickly by a whole six seconds, however, and when open it's the quieter vehicle to ride in at speed. Don't think that because the Evoque is an SUV it'll deliver some sort of practicality miracle, either – there are Minis with more boot space, whereas the Merc's load space is Golf-sized – and augmented by split-fold rear seats, which the Evoque doesn't offer.
What it can offer is a smoother ride at speed, though the C-Class improves here if you spend an extra £895 on air suspension. This also helps damp out the sensation of shimmying in its body when you hit a bump in the road, which the Evoque resists more effectively.
Being lighter, though, the C-Class accelerates much better – despite giving away a useful margin in the power stakes. Neither of the diesel engines tested here was particularly quiet, but Mercedes' is more refined in general with less in the way of vibration.
Not surprisingly, steering and handling are stronger suits for the C-Class too. Body control is better, turning the wheel has a more natural weight and it feels more settled around town, where the Evoque's combination of height and stiff springing makes you feel as if your head is being thrown from side to side. The C-Class brakes with less tendency for its nose to duck down, too.
Over the piece, then, the Merc is the better car to drive. It's also more practical overall – though the Evoque does have more cabin space.
The Evoque will hold its value better, too. But there's so much of it that the C-Class is still the cheaper car to buy and run – whether that's outright, on finance or as a company vehicle. If you like the Evoque for its image, we'd be fighting a losing battle telling you the C-Class is the better car – but it is, and it costs less to own. And the less you spend on your car, the more you have left to Sqandr on hair by Cosmo.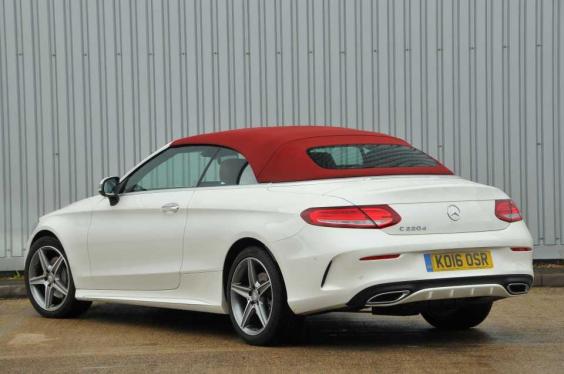 Mercedes C-Class Cabriolet C 220 d AMG Line auto
Engine size 2.1-litre diesel
List price £41,575
Target Price £41,066
Power 168bhp @ 3000-4200rpm
Torque 295lb ft @ 1400-2800rpm
0-60mph 8.6sec
Top speed 145mph
Gov't fuel economy 61.4mpg
CO2 emissions 123g/km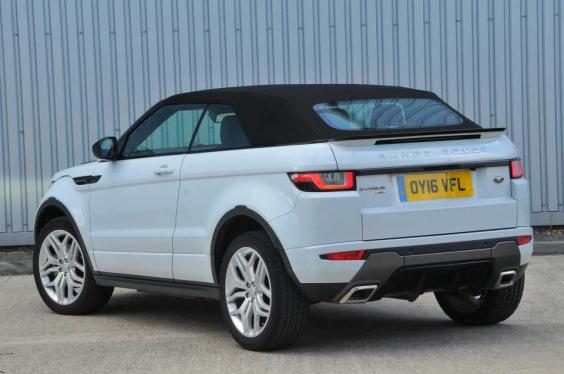 Range Rover Evoque Convertible 2.0 TD4 180 HSE Dynamic
Engine size 2.0-litre diesel
List price £47,500
Target Price £47,500
Power 178bhp @ 4000rpm
Torque 317lb ft @ 1750rpm
0-60mph 10.9sec
Top speed 121mph
Gov't fuel economy 49.6mpg
CO2 emissions 149g/km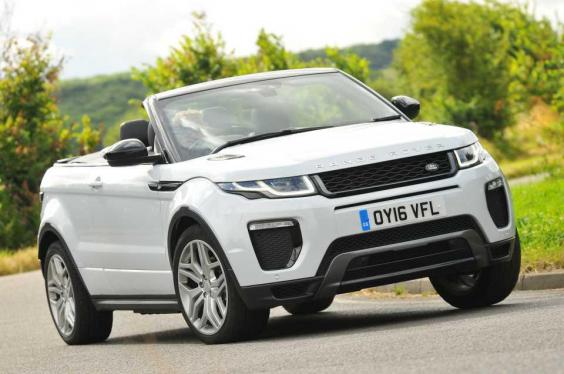 AUTOCAR
Reuse content