Russia is considering conducting air strikes against Isis in Syria, but has ruled out the possibility of Russian troops taking part in ground operations, President Vladimir Putin has said.
More than 250,000 Syrians have been killed over four years of armed conflict, which saw anti-government protests escalate into civil war. The conflict has driven Europe's on-going refugee crisis.
Mr Putin spoke after meeting Barack Obama following the UN General Assembly, where the two leaders' speeches highlighted their differences in how they would end the Syrian civil war. 
"We have discussed with President Obama the different ways of achieving a Syrian settlement, including fighting terrorist organisations on Syrian territory", President Putin said.
"As to Russian participation, we've been thinking what we could additionally do to support those who are fighting terrorists on the ground.
"Our talks were very constructive, business-like and surprisingly frank. There was a lot of common ground, but there were also differences, which are well known. I think there is a chance for us to work out our differences together."
Russia would conduct air strikes only if they were approved by the United Nations, Mr Putin also said.
He was responding to calls made by Mr Obama and French President Francois Hollande calling for Syrian President Bashar al-Assad to stand down.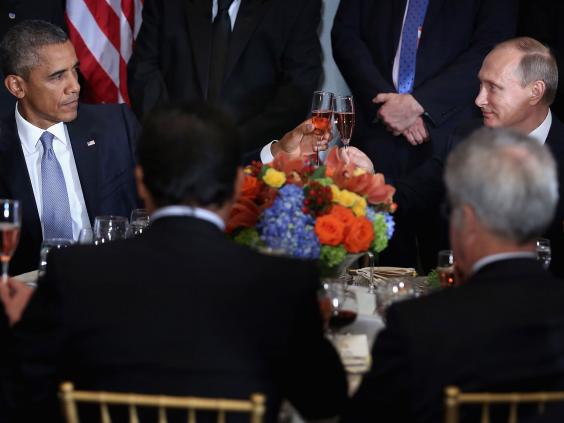 A photo taken of the two leaders toasting each other shows their contrasting visions and opposing approaches as they touch glasses. President Putin appears to smirk while Mr Obama attempts to hide his disdain.
A senior US government official said neither president was "seeking to score points" in the talks, the BBC reports. 
The official added that both sides had agreed to open lines of communication to avoid accidental military conflict in the region.
Speaking at the UN General Assembly on Monday, President Putin castigated the West, calling the isolation of President Assad an "enormous mistake". He also vowed to seek a Security Council resolution to form an anti-terror coalition, which he likened to the forces that joined to fight Hitler.  
In his own address, Mr Obama insisted that countries which eschew democracy in favour of repression are doomed to fail.
Discussing the Syrian conflict, he said: "Let's remember how this started. Assad reacted to peaceful protest by escalating repression and killing and in turn created the environment for the current strife."
Reuse content