Italy is celebrating the greatest single recovery of its looted cultural patrimony after 5,361 ancient artifacts stolen by Italian and Swiss criminals were displayed by authorities in Rome, following a complex, 14-year criminal investigation.
The precious haul, said to be worth more than €50m (£38m), contains objects dating from the eighth century BC to the third century AD.
"It is the largest recovery in history in terms of quantity and quality," said General Mariano Mossa, the head of the Carabinieri cultural heritage protection division, the Tutela Patrimonio Culturale (TPC).
General Mossa said the stolen antiquities, recovered from warehouses in Switzerland, were to be restored there before being sold on to Germany, Britain, the US, Japan and Australia using forged ownership documents. Many of the recovered vases, jewels, frescoes and bronze statues, displayed to journalists at the National Roman Museum, are thought to have been removed from illegal digs in the southern regions of Puglia, Sicily, Sardinia and Calabria.
Plundered artefacts returned to Italy
Plundered artefacts returned to Italy
1/5 Plundered artefacts returned to Italy

Rare Greek and Roman amphoras, statues, vases and frescoes are pictured downtown Rome

Reuters

2/5 Plundered artefacts returned to Italy

Some of the 5,361 ancient objects – which had been stolen by Italian and Swiss criminals – in Rome this week

Remo Casilli/Reuters

3/5 Plundered artefacts returned to Italy

Rare Greek and Roman amphoras, statues, vases and frescoes are pictured downtown Rome

Reuters

4/5 Plundered artefacts returned to Italy

Italian and Swiss police have broken up an art trafficking organisation and recovered more than 5,000 ancient artefacts worth over 50 million euros ($57.92 million)

Reuters

5/5 Plundered artefacts returned to Italy

A Carabinieri police stands next to rare Greek and Roman amphoras, statues, vases and frescoes

Reuters
Experts said today, however, that the most precious single item was probably an amphora (a narrow-necked, two-handled wine jar) from the sixth century BC decorated with black figures that tell the myth of Theseus. This item may have been looted from a burial site of the Etruscans, the ancient, pre-Roman civilisation that once flourished in central and northern Italy.
Rome's special superintendent for archaeology, Mariarosaria Barbera, hailed the importance of the recovered artifacts. 
"It's vitally important that we have recovered these precious objects," she said. "This exposition provides a lesson to our generation and the ones that follow it, because these things represent our past. These are our roots that have been devastated in this way.
"I feel joy, but also bitterness that our archaeological areas have been plundered and ruined. Unfortunately, we can only guess where and in what context these objects belong. It will be a huge challenge for our archaeologists [to work this out]."
Authorities in Rome have pledged to put all the objects on display, eventually, to the public.
A spokesman for the TPC told The Independent that photographs and important documentation were also seized during the raids in Switzerland, and that these might aid the recovery of artifacts that had already been sold abroad. Some may even have been purchased in good faith by reputable museums.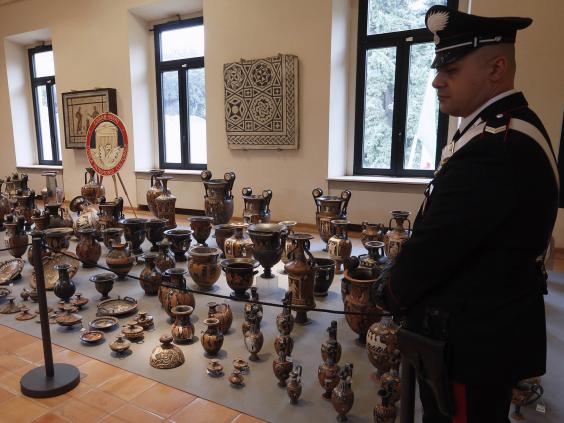 The recovery of the stolen treasures came after the Rome prosecutor's office contacted authorities in Basel, upon hearing news relating to the recovery of an antiquity stolen from the Getty Museum, in California.
This led to checks on Gianfranco Becchina, a figure believed to be a key intermediary in the trade of plundered artifacts. Mr Becchina was a hotel employee who later became the owner of an art gallery in Switzerland with a multi-million euro turnover,  the newspaper Corriere della Sera reported.
The investigations revealed a sophisticated smuggling network between the two countries and police launched raids on several sites in Basel, where hundreds of artifacts were recovered. "Becchina was already known to the police," said Carabinieri commander Major Antonio Coppola, who said he had already been held in 2001, at Milan's Linate Airport, while his wife was arrested by the Swiss authorities. "But, since then, it's taken years to get to the bottom of events because so many people were involved."
Italy's unique cultural patrimony has long been an attractive target for criminals. In July 2010, Italian police used Rome's Colosseum as a stage to unveil 337 Greek urns, marbles, vases, frescoes fragments and other antiquities, worth €15m, that were illegally excavated and smuggled out of the country before being recovered in Switzerland. They were being held in storage in Geneva by a Japanese art dealer.
Reuse content