The people in the Mission Operations Centre — "the MOC" — had been tracking Nasa's New Horizons spacecraft for 9½ years as it journeyed the breadth of the solar system. It was just 10 days away from the dwarf planet Pluto when, at 1:55 pm on July 4, it vanished.
Gone.
"OUT OF LOCK," a computer screen declared.
No more data, no connection at all. As if the spacecraft had plunged into a black hole. Or hit an asteroid and disintegrated.
Mission Operations manager Alice Bowman called the project manager, Glen Fountain, who was spending the afternoon of July 4 at home.
"We just lost telemetry," she told him.
He raced to the MOC, in the Johns Hopkins University Applied Physics Laboratory (APL) in Laurel, Maryland. Also arriving within minutes was the mission's leader, Alan Stern, a planetary scientist. Everyone cancelled July 4 plans. They weren't going home tonight. This was a sleep-on-the-office-floor crisis.
 
"I stayed on the floor, and it was probably one of the best 15- or 20-minute sleeps I've ever had," Bowman says.
The official story from Nasa and APL officials over the next two days was this was an "anomaly," and the team had resolved the issues and gotten the spacecraft back in shape for the Pluto flyby. But this was no mere glitch. This was almost a disaster. This was, as Stern would later admit, "our Apollo 13."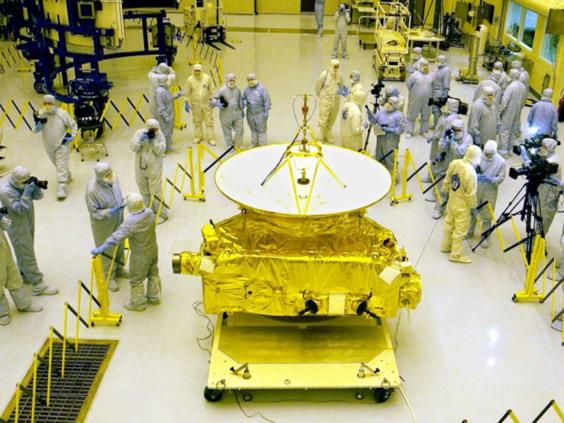 The disappearance of the spacecraft challenged the New Horizons team to perform at its highest level and under the greatest of deadline pressures.
The nature of the New Horizons mission did not permit any wiggle room, any delays, any do-overs, because it was a flyby. The spacecraft had one shot at Pluto, tightly scheduled: When it vanished, New Horizons was going about 32,000 miles per hour and on track to make its closest pass to Pluto, about 7,800 miles, at precisely 7:49 am July 14.
But as the New Horizons team gathered in the control room on July 4, no one knew whether their spacecraft was still alive.
The scene of all this drama is a place with a proud history but a remarkably low profile. Raise your hand if you've heard of the Applied Physics Laboratory. Raise the other hand if you've heard of its slogan, "Critical Contributions to Critical Challenges."
It's a sprawling place, hidden in plain sight just west of Route 29 between Washington and Baltimore. The campus has 20 major buildings on 453 acres. It has 5,000 full-time and 400 part-time employees, making it the largest employer in Howard County.
But its staff can't discuss many specifics. The stealthy nature of the lab reflects its heavy load of classified research. Major funders include the military (the Navy, in particular), the Department of Homeland Security and the intelligence community.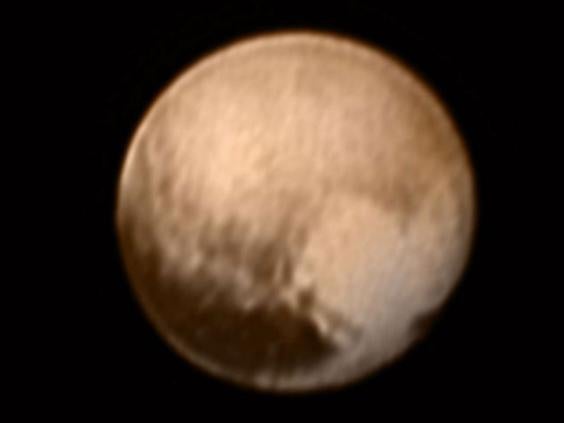 APL was established during World War II and originally housed in a used-car dealership in Silver Spring. It has racked up a long list of technological achievements including missile guidance and satellite-based navigation. Researchers here today are finding ways to protect soldiers from blast injuries. They have created a prosthetic arm with 26 joints and 17 motors that can curl 45 pounds, tweeze 20 pounds between two fingers and be controlled entirely by brain signals.
When people think of a lab that makes robotic probes that explore the solar system, they usually think of Nasa's Jet Propulsion Laboratory in Pasadena, California. But APL has a boutique spaceflight operation funded by Nasa contracts, accounting for about 20 per cent of the lab's overall workload. APL has built and operated 68 spacecraft over the years, including the Messenger spacecraft that recently explored Mercury. But despite many successes, APL has never had a mission guaranteed to get as much media coverage as New Horizons.
"This is a big deal," says Ralph Semmel, the director of APL.
Because New Horizons is so far away, it takes 4 1/2 hours for a one-way message between the spacecraft and the MOC. That means whatever happened to New Horizons on July 4 had actually happened 4 1/2 hours before the people in Mission Operations knew about it.
That also meant that any instructions to the spacecraft would take 4 1/2 hours to get there.
This wasn't like talking to a robotic vehicle parked on the moon; a signal there or back takes little more than one second.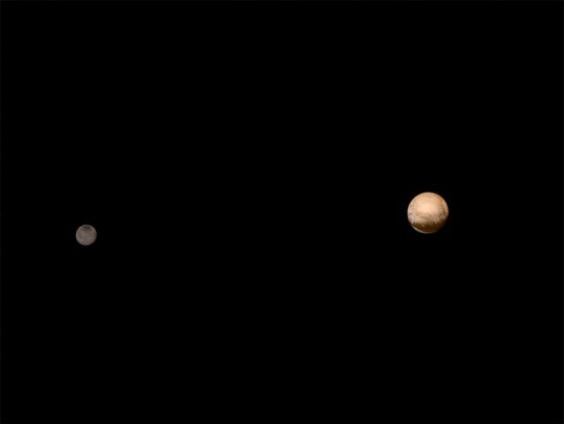 The team in the MOC knew that one possibility, very remote, was that the spacecraft had hit something. It's going so fast that it could be disabled by a collision with something as small as a grain of rice. But there's no rice near Pluto and, although there are dust particles, rocks, boulders and a few moons, space is really spacious in three dimensions. The odds of New Horizons hitting anything during this journey — especially while still millions of miles from the Pluto system — are extremely low.
"That would be extraordinarily bad luck," project manager Fountain said.
Still, with the spacecraft lost at the edge of the solar system, no one knew what had happened or whether they would ever hear from it again.
They ran through the most likely causes of the anomaly. They had two fairly simple scenarios. The first was that, for some reason, the main computer had rebooted itself. That had happened a few times in the past.
The second scenario was that the spacecraft sensed something amiss and, as it is programmed to do, powered down the main computer and switched operations to the backup computer. That had never happened before.
If the backup computer had, in fact, taken over communications with Earth, it would use a slightly different radio frequency and transmission rate.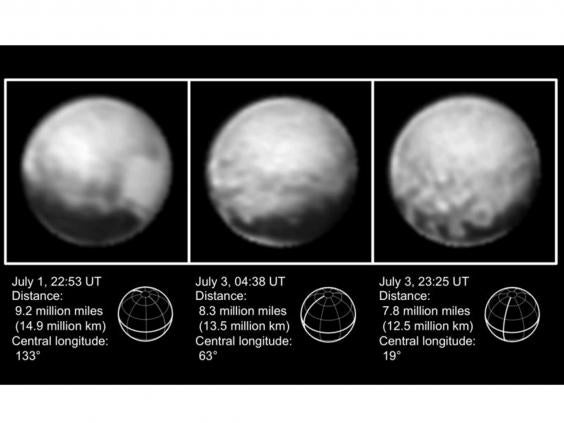 The APL team decided to check that second scenario straightaway. The team sent a new set of instructions to Nasas Deep Space Network — the trio of huge radio antennas in California, Spain and Australia that are responsible for communicating with New Horizons and many other spacecraft. The dish in Australia began searching for New Horizons at the new frequency.
Everyone waited.
Three o'clock came and went.
At 3:11 p.m., one word flashed on screen in the MOC.
"LOCKED."
The big dish and New Horizons had established a radio handshake, with data following almost immediately.
Bowman thought: Thank God, the spacecraft's there, it's alive.
The crisis was hardly over. New Horizons had gone into safe mode. That involves shutting down instruments and noncritical systems. The spacecraft also automatically turns back toward Earth and goes into a controlled spin of five revolutions per minute. The spinning makes navigation easier, but it also makes most scientific observations impossible. A spinning New Horizons could not take photos of Pluto.
The team figured out what had gone wrong. The spacecraft's main computer had been compressing new scientific data for downloading much later. At the same time, it was supposed to execute some previously uploaded commands. It got overloaded; the spacecraft has an "autonomy" system that can decide what to do if something's not quite right. That system decided to switch from the main to the backup computer and go into safe mode.
The spacecraft had been in safe mode before — but this was terrible timing. They were just days from Pluto.
"We were down to the wire," Bowman said.
No one on the team got angry or lost his or her poise, she said: "All of us, I think, were feeling terrible that this had happened, but we were focused solely on getting that spacecraft back into an operational state so that we could do this flyby."
On Twitter, anyone following the mission July 4 learned of the "anomaly."
An official New Horizons account (@NewHorizons2015) offered an elliptical statement: "New Horizons in safe mode. We're working it folks."
The APL team had to reconfigure New Horizons the way you would rouse a drunk on a Sunday morning to get him ready for church. This required many commands, everything made slower by the nine-hour round-trip communication challenge across the 3 billion miles of space. Bowman slept on her office floor a second night on Sunday.
One key decision: return control of the spacecraft to the main computer. They trusted the main computer, knew its quirks, had tested it repeatedly — unlike the backup computer. Their plan didn't require them to ask the main computer to do the kind of heavy-duty work that caused the glitch Saturday.
Nasa's most stunning pictures of space
Nasa's most stunning pictures of space
1/30 Earth from the ISS

From the International Space Station, Expedition 42 Flight Engineer Terry W. Virts took this photograph of the Gulf of Mexico and U.S. Gulf Coast at sunset

Nasa

2/30 Frosty slopes of Mars

This image of an area on the surface of Mars, approximately 1.5 by 3 kilometers in size, shows frosted gullies on a south-facing slope within a crater. The image was taken by Nasa's HiRISE camera, which is mounted on its Mars Reconaissance Orbiter

Nasa

3/30 Orion Capsule splashes down

The Orion capsule jetted off into space before heading back a few hours later — having proved that it can be used, one day, to carry humans to Mars

Nasa

4/30 The Soyuz TMA-15M rocket launch

The Soyuz TMA-15M rocket launches from the Baikonur Cosmodrome in Kazakhstan on Monday, Nov. 24, 2014, carrying three new astronauts to the International Space Station. It also took caviar, ready for the satellite's inhabitants to celebrate the holidays

Nasa

5/30 Yellowstone from space

NASA astronaut Reid Wiseman shared this image of Yellowstone via his twitter account

Nasa

6/30 Black Hole Friday

Nasa celebrated Black Friday by looking into space instead — sharing pictures of black holes

Nasa

7/30 NuSTAR

X-rays stream off the sun in this image showing observations from by NASA's Nuclear Spectroscopic Telescope Array, or NuSTAR, overlaid on a picture taken by NASA's Solar Dynamics Observatory (SDO)

Nasa

8/30 Saturn

This near-infrared color image shows a specular reflection, or sunglint, off of a hydrocarbon lake named Kivu Lacus on Saturn's moon Titan

Nasa

9/30 Worlds Apart

Although Mimas and Pandora, shown here, both orbit Saturn, they are very different moons. Pandora, "small" by moon standards (50 miles or 81 kilometers across) is elongated and irregular in shape. Mimas (246 miles or 396 kilometers across), a "medium-sized" moon, formed into a sphere due to self-gravity imposed by its higher mass

Nasa

10/30 Solar Flare

An X1.6 class solar flare flashes in the middle of the sun in this image taken 10 September, captured by NASA's Solar Dynamics Observatory

Nasa

11/30 Solar Flare

An image from Nasa's Solar Dynamics Observatory (SDO) shows a 200,000 mile long solar filament ripping through the Sun's corona in September 2013

Nasa

12/30 Cassiopeia A c

A false colour image of Cassiopeia A comprised with data from the Spitzer and Hubble Space Telescopes and the Chandra X-Ray observatory

Nasa

13/30 Large Magellanic Cloud galaxy

An image of the Large Magellanic Cloud galaxy seen in infrared light by the Herschel Space Observatory. Regions of space such as this are where new stars are born from a mixture of elements and cosmic dust

Nasa

14/30 Mars Rover Spirit

Nasa's Mars Rover Spirit took the first picture from Spirit since problems with communications began a week earlier. The image shows the robotic arm extended to the rock called Adirondack

Nasa

15/30 Morning Aurora From the Space Station

Nasa astronaut Scott Kelly captured this photograph of the green lights of the aurora from the International Space Station

16/30 Launch of History - Making STS-41G Mission in 1984

The Space Shuttle Challenger launches from Florida at dawn. On this mission, Kathryn Sullivan became the first U.S. woman to perform a spacewalk and Marc Garneau became the first Canadian in space. The crew of seven was the largest to fly on a spacecraft at that time, and STS-41G was the first flight to include two female astronauts

17/30 A Fresh Perspective on an Extraordinary Cluster of Galaxies

Galaxy clusters are often described by superlatives. After all, they are huge conglomerations of galaxies, hot gas, and dark matter and represent the largest structures in the Universe held together by gravity

18/30 Veil Nebula Supernova Remnant

Nasa's Hubble Space Telescope has unveiled in stunning detail a small section of the Veil Nebula - expanding remains of a massive star that exploded about 8,000 years ago

19/30 Hubble Sees a Galactic Sunflower

The arrangement of the spiral arms in the galaxy Messier 63, seen here in an image from the Nasa Hubble Space Telescope, recall the pattern at the center of a sunflower

20/30 A Hubble Cosmic Couple

The spectacular cosmic pairing of the star Hen 2-427 — more commonly known as WR 124 — and the nebula M1-67 which surrounds it

21/30 Pluto image

Four images from New Horizons' Long Range Reconnaissance Imager (LORRI) were combined with colour data from the Ralph instrument to create this enhanced colour global view of Pluto

22/30 Fresh Crater Near Sirenum Fossae Region of Mars

The HiRISE camera aboard Nasa's Mars Reconnaissance Orbiter acquired this closeup image of a "fresh" (on a geological scale, though quite old on a human scale) impact crater in the Sirenum Fossae region of Mars. This impact crater appears relatively recent as it has a sharp rim and well-preserved ejecta

23/30 Earth Observations From Gemini IV in 1965

This photograph of the Florida Straits and Grand Bahama Bank was taken during the Gemini IV mission during orbit no. 19 in 1965. The Gemini IV crew conducted scientific experiments, including photography of Earth's weather and terrain, for the remainder of their four-day mission following Ed White's historic spacewalk on June 3

24/30 Nasa Celebrates 50 Years of Spacewalking

For 50 years, NASA has been "suiting up" for spacewalking. In this 1984 photograph of the first untethered spacewalk, NASA astronaut Bruce McCandless is in the midst of the first "field" tryout of a nitrogen-propelled backpack device called the Manned Maneuvering Unit (MMU)

25/30 Hubble Peers into the Most Crowded Place in the Milky Way

This Nasa Hubble Space Telescope image presents the Arches Cluster, the densest known star cluster in the Milky Way

26/30 An Astronaut's View from Space

Nasa astronaut Reid Wiseman tweeted this photo from the International Space Station on 2 September 2014

27/30 Giant Landform on Mars

On Mars, we can observe four classes of sandy landforms formed by the wind, or aeolian bedforms: ripples, transverse aeolian ridges, dunes, and what are called "draa"

28/30 Expedition 39 Landing

A sokol suit helmet can be seen against the window of the Soyuz TMA-11M capsule shortly after the spacecraft landed with Expedition 39 Commander Koichi Wakata of the Japan Aerospace Exploration Agency (JAXA), Soyuz Commander Mikhail Tyurin of Roscosmos, and Flight Engineer Rick Mastracchio of NASA near the town of Zhezkazgan, Kazakhstan

29/30 Jupiter's Great Red Spot Viewed by Voyager I

Jupiter is the largest planet in the solar system and perhaps the most majestic. Vibrant bands of clouds carried by winds that can exceed 400 mph continuously circle the planet's atmosphere

30/30 Chandra Observatory Sees a Heart in the Darkness

This Chandra X-Ray Observatory image of the young star cluster NGC 346 highlights a heart-shaped cloud of 8 million-degree Celsius gas in the central region
On Tuesday morning, July 7, the New Horizons team returned their spacecraft to no-spin mode and prepared it for the Pluto encounter.
This period of reconfiguration was a bit nerve-racking inside the MOC, because it required another blackout period of an hour and 15 minutes as the spacecraft lost contact with the ground.
At 10:21 am Tuesday, the spacecraft popped back up on the screen — healthy, on track, wide awake. At 12:30 p.m. Tuesday, New Horizons began executing the encounter sequence as programmed.
Huge relief at APL: On to Pluto!
In a news briefing Monday afternoon, with the recovery process ongoing, Stern had described the "anomaly" of July 4 as "a speed bump." He and his colleagues downplayed the distressing nature of the event. That's standard procedure for engineers and scientists: Admit no alarm. Proclaim competence and preparedness.
But in an e-mail later, Stern compared the incident to Nasa's most famous emergency: "No lives were at stake, but in terms of mission success and time criticality, this was our Apollo 13. And it was our spacecraft and operations team's finest hour."
As she stood this week in the MOC, a few feet from a mural declaring "The Year of Pluto," Bowman acknowledged the obvious: "It was very intense."
Copyright: Washington Post
Reuse content