The partial skull of an anatomically modern human who lived alongside the Neanderthals about 55,000 years ago has been unearthed from a cave in northern Israel, scientists say.
It is one of the oldest non-African skulls of Homo sapiens and comes close to the date when modern humans migrated out of Africa, eventually to colonise Asia, Europe, Australia and the Americas.
Scientists unearthed the cranial fragments from Manot Cave in West Galilee, a prehistoric site with an impressive archaeological record of flint and bone artefacts. Dating has placed the skull within the period 50,000 to 60,000 years ago, a time when Neanderthals were also known to have inhabited the same region.
"It has been suspected that modern man and Neanderthals were in the same place at the same time, but we didn't have the physical evidence. Now we do have it in the new skull fossil," said Bruce Latimer, a palaeontologist at Case Western Reserve University in Cleveland, Ohio, who took part in the study.
"Modern humans and Neanderthals likely encountered each other foraging for food," Dr Latimer said.

Modern humans share a small percentage of their DNA with Neanderthals, suggesting that limited interbreeding had taken place at some point in the past. However, it is not known when this contact took place, or whether it had occurred somewhere in Europe or the Middle East.
The overall shape of the Manot cranium is more similar to the ancient fossil skulls found in Europe compared to other modern human skulls found in the Middle East, according to the study published in Nature led by Israel Hershkovitz of Tel Aviv University.
Recent archaeological discoveries
Recent archaeological discoveries
1/11 Recent archaeologist's discoveries

Divers Alberto Nava and Susan Bird discover the world's oldest skull found in an underwater cave in Mexico, believed to be the earliest trace of first Americans

2/11 Recent archaeologist's discoveries

Paleontologist Gary Morgan stands over the fossil of a stegomastodon skull discovered in a remote area of Elephant Butte State Park, N.M. in June 2012

AP Photo/Albuquerque Journal, Roberto Rosales

3/11 Recent archaeologist's discoveries

Scientists discovered the world's oldest face, which belongs to this 419 million-year-old fish - an ancient sea predator that might also re-write the history of our evolution from the seas

4/11 Recent archaeologist's discoveries

An archaeologist discovered a tomb of an intact mummy of the Wari prehispanic culture in Lima's Huaca Pucllana ceremonial complex, at Miraflores district

Reuters

5/11 Recent archaeologist's discoveries

One of the 46 fossils found at the site in southern Chile

Wolfgang Stinnesbeck

6/11 Recent archaeologist's discoveries

Archaeologist James Best holding a Roman skull found during the building of a utility tunnel at Crossrail's Liverpool Street station site, London

PA

7/11 Recent archaeologist's discoveries

In 2012 archaeologists unearthed two skeletons from the Middle Ages pierced through the chest with iron rods to keep them from turning into vampires. They were discovered in the Black Sea town of Sozopol, Bulgaria

AFP/Getty Images

8/11 Recent archaeologist's discoveries

Several horse shoes dating from the 2nd century AD have been found stuck in cart ruts in this area. Archaeologists believe the metal shoes, which were strapped rather than nailed to horses, came off as the animals were led up to a timber bridge over the Walbrook River

PA

9/11 Recent archaeologist's discoveries

An archaeologist digs out a skull from the site of the graveyard of the Bethlehem, or Bedlam, hospital

Reuters

10/11 Recent archaeologist's discoveries

Archaeologists discovered a dinosaur tail in Mexico's desert with the 50 vertebrae of the tail completely intact

AP

11/11 Recent archaeologist's discoveries

Archaeologist found a terracotta warrior at the excavation site inside the No. 1 pit of the Museum of Qin Terracotta Warriors and Horses, on the outskirts of Xi'an, Shaanxi province, in June 2010

© Jason Lee / Reuters
"This suggests that the Manot people could be closely related to the first modern humans who later successfully colonised Europe," the authors said, adding that the skull suggests that interbreeding with Neanderthals could have taken place in the Middle East rather than in Europe.
Professor Chris Stringer, head of human origins at the Natural History Museum in London, said the skull is the first "well dated" modern human to have lived in the time frame when interbreeding with Neanderthals was a possibility.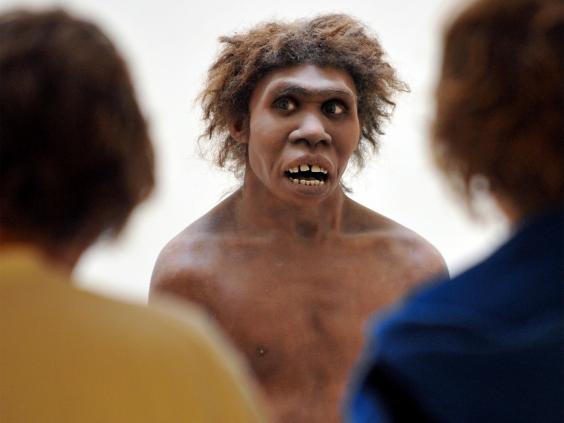 "Without accompanying DNA data it is impossible to say whether the Manot skull contains Neanderthal DNA from an interbreeding event, but its resemblance to [Europeans and Africans] suggests that any Neanderthal influence on its skull shape is minimal." Professor Stringer said.
"Manot might represent some of the elusive first migrants in the hypothesised out-of-Africa event about 60,000 years ago, a population whose descendants ultimately spread right across Asia, and also into Europe," he said.
"Its discovery raises hopes of more complete specimens from this critical region and time period," he added.
Reuse content