A mountain-sized asteroid could hit Earth within the next 150 years, causing huge damage if it collides with the planet as it spins around it every three years.
The rock poses no immediate threat, but if it hit the Earth the impact would be 1000 times as large as a meteor that slipped through the atmosphere by surprise and crashed down near a Russian town in 2013. Scientists said at the time that impact should be a reminder of how dangerous smaller asteroids can be.
Because of the difficulty of tracking such rocks — whose paths are changed by the gravitational pull of the many planets that they pass by as they fly through space — it will be important to keep an eye on the asteroid in case it gets dangerously close to earth, said Vladimir Lipunov, of Moscow State University, who spotted the asteroid. The rock flies close to Earth every three years.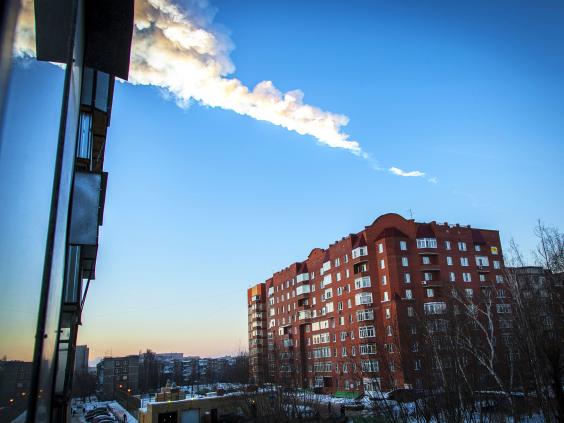 "We need to permanently track this asteroid, because even a small mistake in calculations could have serious consequences," said Lipunov.
The rock is about 400 meters wide and "returns to the Earth's neighbourhood periodically", Nasa said in a statement, while telling people not to worry.
Asteroid collisions with earth are not unheard of, and one crashed down in Russia, damaging buildings. Some scientists — including Brian Cox and Lord Martin Rees, the astronomer royal — have called for an asteroid detection programme to help spot asteroids before they arrive.
But 2014 UR116 is unlikely to hit Earth any time soon, said Nasa.
Where to explore in the solar system
Where to explore in the solar system
1/10 Mars - Olympus Mons

Olympus Mons is the largest volcano in the Solar System. At 22km high Olympus Mons is nearly three times as high as Mt Everest

2/10 Mars - Mount Sharp

Mount Sharp is the current focus point of the Mars Science Laboratory's Curiosity rover. Sitting at the forefront of Martian research this location will hopefully unlock the secrets of Mars's past.

3/10 Ida and Dactyl

Nestled deep within the asteroid belt is the asteroid 243 Ida. During a fly by of the Galileo space probe it was discovered that Ida had a companion. Orbiting around Ida was a tiny moon that was named Dactyl.

4/10 Jupiter - The Red Spot

Getting tired of leisurely cruises through the Caribbean? Why not float a dirigible through one of the oldest known storms in the Solar System. Jupiter's Great Red Spot is large enough to contain three Earths and has been present for over 300 years.

5/10 Moon - Sea of Tranquility

As the landing site of the first ever humans to set foot on the Moon who wouldn't want to walk in the footsteps on Neil Armstrong on the Sea of Tranquility?

6/10 Europa - Underwater seas

Europa's underwater seas are one of the strongest candidates for potential life outside Earth. Scientists are waiting the day we can probe their icy depths.

7/10 Titan - Methane Lakes

Saturn's Moon Titan is home to a nice thick atmosphere. Similar to the Earth it supports a full weather cycle. Unlike the Earth, rather than using water, Titan's cycle is based on methane, often found in gas cookers here on Earth.

8/10 Mimas, the Death Moon

What better location for a holiday snap. The large Herschel crater on Mimas gives this moon an appearance of a certain dark lords ultimate weapon. When viewed from the right angle it appears that the Death Star is in orbit around Saturn.

9/10 Venus

The thick clouds of Venus make it an extremely mysterious place. It also has some of the most extreme weather we can find. Runaway greenhouse gases have shrouded the planet in a thick layer of cloud, heating it to nearly 600°C. It is also home to sulphuric acid rain and crushing atmospheric pressure. Make sure you pack a sturdy umbrella!

10/10 Oceans of Earth

One of the most unexplored places in the Solar System is our own oceans. 70% of the Earth is covered in ocean and as of yet we have only explored around 10% of them. With so much water to explore who knows what we may find lurking in the depths.

NASA
Nasa's Near Earth Object Program said: "While this approximately 400-meter sized asteroid has a three year orbital period around the sun and returns to the Earth's neighborhood periodically, it does not represent a threat because its orbital path does not pass sufficiently close to the Earth's orbit."
It said that one of its scientists had worked out the asteroids path again, using new information. That allowed Tim Spahr, director of the Minor Planet Center in Cambridge, Massachusetts, to work out "rule out this object as an impact threat to Earth (or any other planet) for at least the next 150 years", Nasa said.
Reuse content