Nasa has captured dramatic images of the sun as it emitted three X-class solar flares, the second of which occurred just an hour after the first.
Nasa's Solar Dynamics Observatory observed the sun as a significant solar flare burst from its left side, peaking at 7.42 am EDT on 10 June. The sun then released a second X-class flare which peaked just over an hour later at 8.52am.
The third, classified as an X1.0, erupted today and peaked at 5:06 a.m. EDT.
Nasa explains that solar flares are the most powerful bursts of radiation that cannot pass through Earth's atmosphere to physically affect humans on the ground.
However, the flares can disturb the Earth's atmosphere in the layer where GPS and communications signals travel.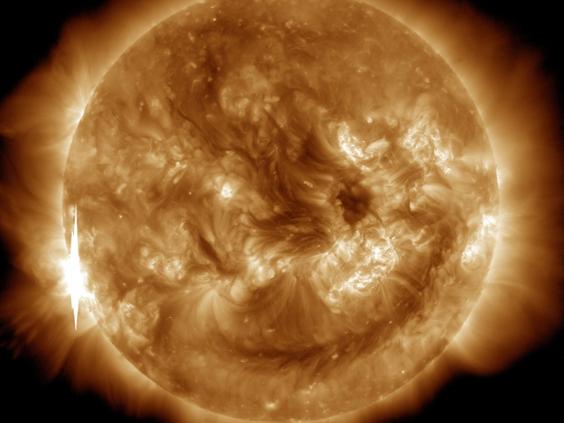 Tuesday's flares, which measured X2.2 and X1.5, were reportedly powerful enough to temporarily interfere with radio communications in Europe.
Dr Dan Brown, an astronomy expert at Nottingham Trent University, said the flares can create a radio blackout event classed as "R3" which are common during the sun's activity cycle. 
Michael Lockwood, a Professor of Space Environment Physics at the University of Reading, said any interference would have been short-lived. He told The Independent: "You do get radio noise from solar flares and if you can see the actual flare then you will pick up radio noise. It can affect radar communications systems, but it is quite a brief pulse.
"More significant is if there is an associated coronal mass ejection (CME) - very large amounts of material being blown out of atmosphere into space. From the position of this, it won't be directed towards us – they have to be much nearer to the centre of the visible disc of the sun to hit us."
NASA: Space in pictures
NASA: Space in pictures
1/12 NASA

A false colour image of Cassiopeia A comprised with data from the Spitzer and Hubble Space Telescopes and the Chandra X-Ray observatory

Nasa

2/12 NASA

The Barred Spiral Galaxy (NGC 6217) in the Ursa Minor constellation is pictured in Space

3/12 NASA

A team of astrophysicists has detected so-called gravitational waves – predicted by Albert Einstein a century ago – which are the first tremors of the Big Bang when time and space began about 13.7 billion years ago

Rex Features/Mood Board

4/12 NASA

The barred spiral galaxy M83, also known as the Southern Pinwheel. The Hubble photograph captures thousands of star clusters, hundreds of thousands of individual stars, and 'ghosts' of dead stars called supernova remnants

5/12 NASA

Acosmic creepy-crawly known as the Tarantula Nebula in infrared light

6/12 NASA

A spiral galaxy ESO 373-8 - together with at least seven of its galactic neighbours, this galaxy is a member of the NGC 2997 group

7/12 NASA

A massive galaxy cluster Abell 2744, according to NASA these are some of the faintest and youngest galaxies ever detected in space

8/12 NASA

A giant cloud of solar particles, a coronal mass ejection, explodes off the sun, lower right, captured by the European Space Agency and NASA's Solar and Heliospheric Observatory

9/12 NASA

Current conditions of the quiet corona and upper transition region of the Sun

10/12 NASA

First color image of the Earth taken by the Apollo 8 astronauts in 1968

11/12 NASA

Fog forming over the the US Great Lakes area and streaming southeast with the wind. A swirling mass of Arctic air moved south into the continental United States

12/12 NASA

Astronaut Mike Hopkins, Expedition 38 Flight Engineer, is shown in the second of two spacewalks designed to allow the crew to change out a faulty water pump on the exterior of the Earth-orbiting International Space Station
The arrival of one of these CMEs would disrupt satellite communications, he explained, but this was not directed at Earth.
"We are talking about the effects purely on radio systems," he added.
The 'X' classification represents the most intense flares, and the number reflects how strong the flare is. For example, an X2 is twice as intense as an X1, and an X3 is three times as intense.
The X2.2 was not the strongest kind of X-ray flare encountered in our solar cycle, said Dr Brown. "This was the X5.4 rated flare in March 2012."
Reuse content