"Space is big," cautioned Douglas Adams in The Hitchhiker's Guide to the Galaxy. "Really big. You just won't believe how vastly, hugely, mind-bogglingly big it is. I mean, you may think it's a long way down the road to the chemist's, but that's just peanuts to space."
Truer words have never been spoken and the images below prove why. Even when we begin to consider something that's massive to us (the Solar System) it's still overwhelmingly tiny on a truly cosmic scale.
Our little corner of the Universe – one star, eight planets  – is one of roughly 30 billion solar systems in the Milky Way, which itself is just one of 100 billion galaxies in the observerable Universe. It can be pretty impossible to get your head around.
But still, these images are a start. Mocked up by Lancashire-based amateur astronomer John Brady for his website Astronomy Central, they show how various planetary bodies and geographical features near us match up to the Earth, with the data and images taken from Nasa.
Speaking toThe Independent, Brady said: "A lot of people are completely astounded when they realise just how huge the Sun is for example. It's exactly the same size as the Moon as we see it in the sky but 400 times further away. Relatively small solar features can easily be many times the size of planet Earth."
Here's a couple of images - but check out the full gallery below: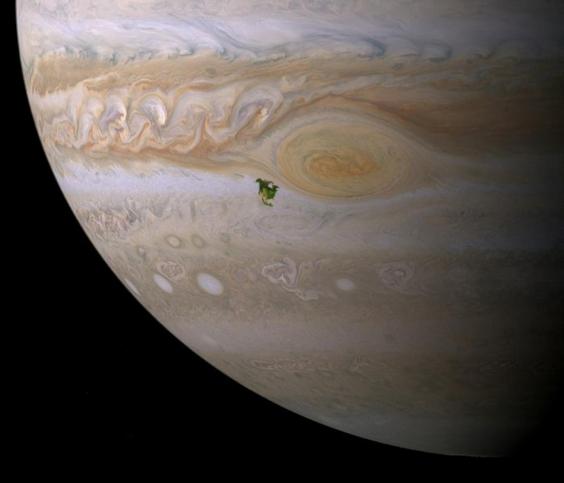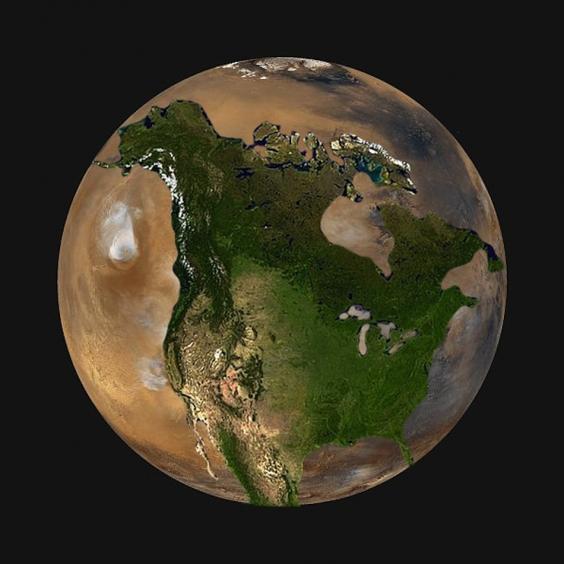 Space in perspective: this is how big the Earth really is compared to the other planets in our Solar System
Space in perspective: this is how big the Earth really is compared to the other planets in our Solar System
1/7 Saturn

"Jupiter holds the title for being the biggest planet in the solar system, but Saturn is no tiddler," says amateur astronomer John Brady, who made these composite images. Like shoulder pads (or a massive hat) those rings let it dress up and seem even bigger than it is - but you could still fit some 764 Earths inside the planet itself.

2/7 Saturn's Rings

The rings themselves are made up of billions of bits of ice and rock debris, ranging in size from tiny grains to mountain-sized chunks. There's a number of gaps in the rings, some of which are patrolled by moons sweep a clear path through the junk like bodyguards, while others -like the largest gap, the Cassini Division - are caused by gravitional resonances between debris and those same moons.

3/7 Neutron Star

There isn't actually a Neutron Star in our Solar System - but we should be thankful for that. It's only 20km across (shown here sitting on the North West coast of England) but has 1.5 times the mass of our Sun - just a teaspoon of the material would weigh more than a billion tonnes. They also spin incredibly fast - faster than a kitchen blender, rotating as quickly as 716 times a second.

4/7 The Sun

Here comes the Sun: it makes up 99.86 per cent of the Solar System's entire mass and puts out more energy in a single second than humans have ever produced in our entire history. All the planets are in fact just byproducts from the Sun's formation and when it goes, we go with it - though that won't be for another 7.6 billion years.

5/7 Olympus Mons

Some of Mars' geographical features dwarf those of Earth. Olympus Mons isn't just the biggest volcano on the planet, it's bigger than any in the Solar System and in this image dwarfs the state of Arizona. Planetary geologists think Mons' massive size is to do with the lack of active plate tectonics on Mars. This means that magma can continually erupt in the same spot without moving. It's so big that it's tough to know how to measure it, but it's generally agreed it's at least 22km high - nearly three times taller than Mount Everest.

6/7 Mars

And here's Mars itself against the same portion of North America. As Brady points out, this shows that you could fly half way around Mars in around eight hours - though of course you'd need an incredibly light plane as Mars' atmospher is only 1 per cent as thick as Earth's. "Earth's rusty neighbour in the solar system is the second smallest of the planets, Mercury being smallest," says Brady. "The actual dry land mass of Mars is around the same as Earth's, because although Mars is much smaller it doesn't of course have any seas."

7/7 Jupiter

Canada and the US combined are dwarfed on the surface of Jupiter - the biggest planet in the solar system, with a total mass greater than all the other planets and moons put together. "Jupiter is the king of the solar system," says Brady. "It's over 11 times the diameter of our planet, with lightning bolts up to 1,000 times more powerful than Earth's, and wind speeds in the upper atmosphere that can reach 100 metres per second. This planet races around in just 10 hours compared to Earth's 24, making it the fastest rotating planet in the solar system."
Reuse content