A rare edition of one of the most important maps ever made has been found by archivists and made available online.
The 1815 Geological Map of England and Wales, made by William Smith, was initially thought lost. It was the first geological map of a nation ever produced, showing the geological strata of England, Wales and a part of Scotland.
The map is thought to be one of the first ten copies made, and is one of about 380 hand-coloured copies of the map that were made by Smith. The find has been made public as a number of geological groups celebrate the 200th anniversary of the map.
Smith pioneered the science of stratigraphy, helping to map the layers that make up the Earth, and has been called the Father of English Geology. The map served as the basis for all the geological surveys that followed in Britain and around the world.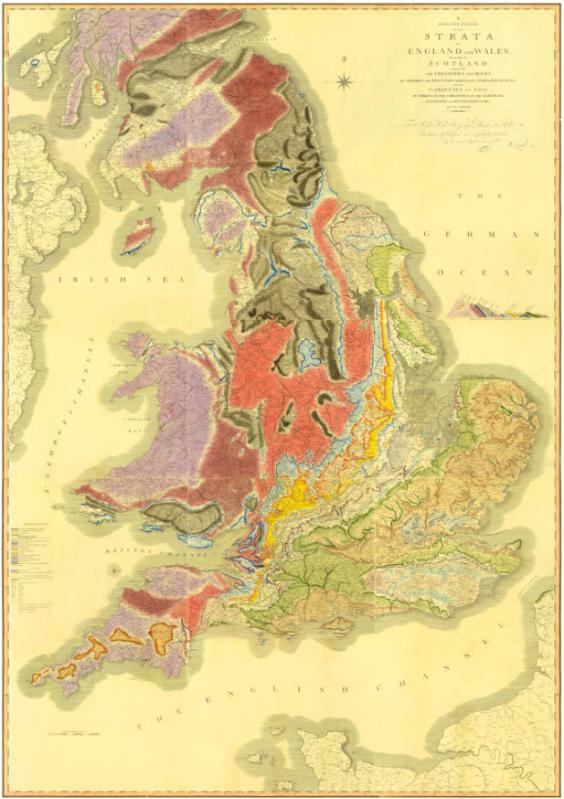 "Smith's importance to the history of our science cannot be overstated," said  John Henry, Chair of the Geological Society's History of Geology Group. "His map is a remarkable piece of work. It helped shape the economic and scientific development of Britain, at a time before geological surveys existed."
An early copy of the map was recently made available for sale at £150,000, but the Geological Society says that it is difficult to estimate exactly how much the newly-found map would be worth. It was discovered by one of the society's archivists, during an audit of the society's holdings.
"The map was found among completely unrelated material, so at first I didn't realise the significance of what I'd uncovered" said Victoria Woodcock, who found the map last year. "Once we had worked out that it was an early copy of one of the earliest geological maps ever made, I was astonished. It's the kind of thing that anyone working in archives dreams of, and definitely the highlight of my career so far!"
London maps from 1575 to present
London maps from 1575 to present
1/9 Earliest extant map of the British capital, created in Cologne by Georg Braun and Franz Hogenberg in 1575

Daniel Crouch Rare Books

2/9 "A ready helpe or Guide to direct Countrey-men and Strangers to finde the nearest way from one place to another," by Thomas Porter in 1655

Daniel Crouch Rare Books

3/9 The first large-scale survey of the city created by the Hugenot John Rocque in 1746

Daniel Crouch Rare Books

4/9 The last attempt to depict every single building in London on a single map by Richard Horwood in 1799

Daniel Crouch Rare Books

5/9 Edward Langley and William Belche's 1812 map

Daniel Crouch Rare Books

6/9 A map made by Christopher Greenwood in 1827, a time when several new bridges were being built

Daniel Crouch Rare Books

7/9 A map produced by George Cruchley in 1843 showing London in early Victorian times

Daniel Crouch Rare Books

8/9 The first "poverty map" of London by Charles Booth in 1899

Daniel Crouch Rare Books

9/9 A depiction of subterranean London including Tube lines, underground rivers, the sewer sytem, government tunnel and bunkers created by Stephen Walters in 2012

Daniel Crouch Rare Books
The map has no serial number, and so is a first edition, and can also be dated by the lack of features that were present in later editions.
Because the map was lost for so long, it has had little exposure to light. That means that the bright colours that were originally in the map have been preserved.
Reuse content