SpaceX will try yet again to launch its Falcon 9 Rocket, at 11.03pm this evening. It'll be the fourth attempt in a week — after bad weather and radar troubles ruined previous attempts.
The mission will be livestreamed, and the company will know shortly after the rocket takes off whether it has managed to land successfully.
Soon after launch, it'll head back towards Earth, trying to land on a barge in the sea — a trick that went spectacularly wrong when the rocket exploded on impact, last time around.
If Elon Musk's private space firm can successfully land this time around, it could be the beginning of a new, cheaper time for space travel. If the company can reliably land the rockets, it will mean that they can be re-used — getting rid of one of the huge costs that make missions into space so expensive.
#DSCOVR launch now targeted for Tues. 2/10 @ 6:05pm ET; backup on Wed. 2/11 @ 6:03pm ET. http://t.co/tdni53IviI pic.twitter.com/uApOiqD2zg

— SpaceX (@SpaceX) February 9, 2015
But the mission might still fail. The latest attempt, last month, saw the rocket fly into the barge at speed and dramatically explode. Musk referred to it as a "rapid unscheduled disassembly", and said that it was "close, but no cigar".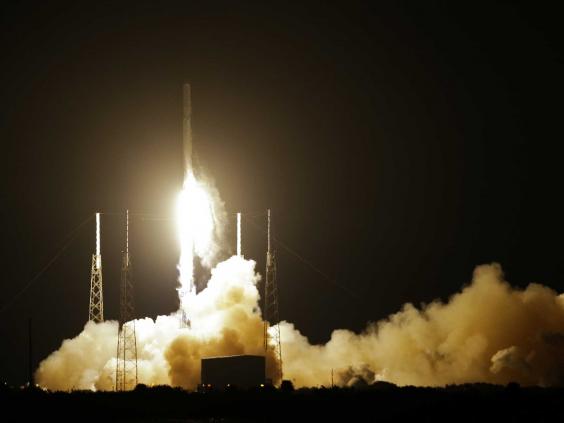 And the launch has already been rescheduled three times this week. On Monday, last-minute problems with a radar meant that it couldn't launch. It was rescheduled for Tuesday but bad weather led it to be called off.
If the rocket manages to take off, it will carry the Deep Space Climate Observatory for NASA, the National Oceanic and Atmospheric Administration and Air Force on the beginning of its 1 million mile journey into space, where it will monitor solar outbursts.
But the Falcon 9 will not get to travel that far, since it will drop the observatory off soon after launch before heading back to touch down on the ocean platform.
Reuse content