It was third time lucky for a SpaceX rocket which managed to blast off on a mission to put a US satellite into deep space, where it will keep tabs on solar storms and image Earth from nearly a million miles up.
The 22-story Falcon 9 rocket soared off its seaside launch pad at Cape Canaveral Air Force Station in Florida.
However, high seas prompted the company to attempt a "soft landing" of their first stage booster in the sea instead of a landing zone platform off the Florida coast.
The company's founder, chief executive Elon Musk, gave its probability of survival just one per cent in a post on his Twitter feed.
"The drone ship was designed to operate in all but the most extreme weather," the company added on their website. "We are experiencing just such weather."  
They said the waves had reached three stories high.
Making matters worse, one of four engines needed to keep the platform steady was not working. 
But Musk said the company were "planning a significant upgrade of the droneship for future missions."
Despite the setback the company vowed to launch the unmanned Falcon 9 rocket holding the Deep Space Climate Observatory.  
The brainchild of former US Vice President, Al Gore, the satellite will make the million mile journey into space to the so called Lagrange point, where it will monitor solar outbursts.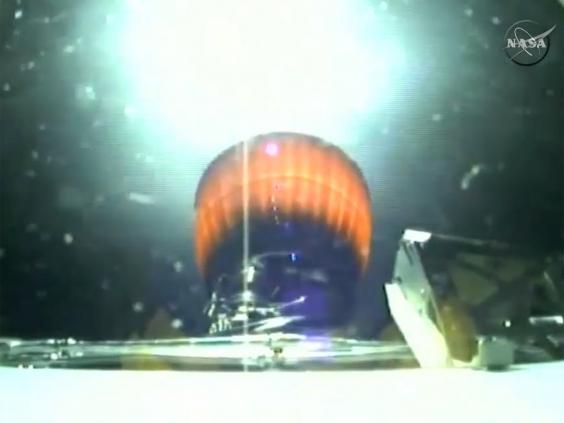 Once it reaches the gravity neutral position in direct line with the sun, it will provide advance warnings of incoming geomagnetic storms that could disrupt power and communications on Earth.
The Falcon 9 will not get to travel that far, since it will drop the observatory off soon after launch before heading back to touch down on the ocean platform.
It is the third time the company has tried and failed to launch the rocket. The first attempt, on Sunday, was called off because of radar trouble, and on Monday, the launch was called off because of rain.
If this launch had failed, it would not have been possible to try again until 20 February.
Those attempts follow a spectacular failure to land the rocket last time around, when it came in too fast and blew up on the barge.
Reuse content